Sign up to Wool.com and create your own personal wool hub.
Shearing Sheds and Sheep Yards
The design of shearing sheds and sheep yards affect the efficiency of sheep work as well as the health and wellbeing of both people and sheep. We work with industry experts to provide woolgrowers with shearing shed designs.
Careful planning the design of new sheds or the renovation of existing ones can:
Improve efficiency and reduce costs of wool harvesting
Make the job easier
Improve operator safety
Ensure animal welfare standards are met
Shearing Shed Consultation & Design Project
Australian Wool Innovation recently collaborated with shearing contractor and woolgrower, Hilton Barrett to design a shearing shed which addresses worker safety and animal welfare considerations, while also achieving improved shed efficiency and good wool quality outcomes.
The design was developed following extensive industry consultation and reviews of existing working sheds. Further design refinements were made following multiples trials.
This design provides positive outcomes for the shearing team, the wool producer and the sheep.
Shearing Shed Design Details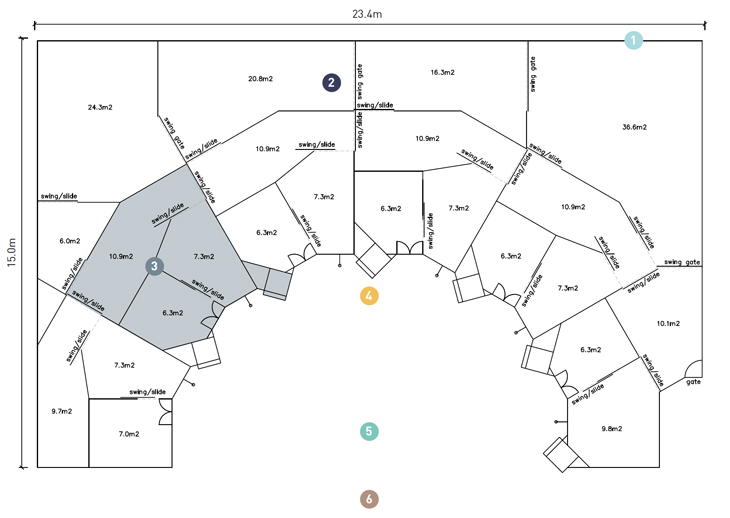 Shed Entry Ramp
Features
Wide ramp and entry
Walkway and rails
Soft grip flooring for sure footing
In-Shed Yards
Features
Boarded fence improves flow and noise
Non directional plastic floor for drainage and minimal light penetration
In-shed storage and covered external yards
Wide swing gates
Module Design
Features
Repeatable three pen and board modular design
Straight drag from catching pen to workstation
Saw tooth design presents shorn sheep to chute
Horse shoe design minimises distance from stand to wool table/bins/press
Board
Features
Straight drag from catching pen to workstation
Adjustable overhead gear positioning
Enough room for shed hands to assist shearer and clear away wool
Timber board/pen division, reduces noise and vibrations
Non-slip, smooth tongue and groove work area surface, improves sheep handling, impact absorption and wool handling
Room on chute for shearer's gear
Woolhandling
Features
Non-stick surface for ease of wool transfer and clean up
Distance from workstation to wool table/bins/press minimised
Even, short distances between stands and wool table
Flexible configuration, portable wool bins, wool table and press(es)
Load bearing floor to allow press(es) to be moved to suit configuration
Well-lit woolhandling/classing areas
Wool Room
Features
Access stairs and safety rail for wool room
Portable wool bins and press
Ample room to store/transfer bales
Load bearing floor across wool room for press(es)
Space for presser's utilities
Truck access
Safety rails
Catching, Filling and Laneway Pens
Features
Painted, high visibility step into the catching pen from fill pen
Sloped catching pen aids filling, presents sheep facing away from shearer, assists with drag
Timber slats parallel to path of drag to assist drag
Catching pen free from obstacles such as recessed chute
Logical pen sizing, three pens together hold over 70 head, on average enough for two runs
Catching Pen Doors
Features
Dual catching pen doors, light weight timber to reduce noise and impact
Double action swing for ease of entry and exit
High enough to baulk sheep, low enough to avoid contact with shearer's elbows
Gap below doors to stop feet getting wedged (sheep and people)
Rounded corners
Right hand chute door clear of impact when swung onto board
Pen Materials
Features
Boarded fences improve sheep flow and reduce noise
Swing/slide gate, easy to open and acts as a wing when filling
Non-directional formed plastic floor for drainage, high wear and minimal light penetration to assist sheep flow
Chute
Features
Wide and recessed to facilitate easy release
Vibration free top for storage of shearing accessories
Drop off at chute entrance to minimise sheep resistance
Graduated slope for controlled decent
Uninterrupted chute exit
Workstation Material
Features
Tongue and groove floor improves, sheep handling, impact absorption and woolhandling
Timber absorbs sound
No sharp edges
Shed safety signage
First aid kit kept on site
Directions, coordinates and contact numbers
Multipurpose concrete storage
Truck access for loading
Shower and toilets
Enclosed kitchen space
Preparation surfaces and kitchen accessories
Table and chairs
Hot and cold water
Large sink and shower head
Perspex corrugated sheeting supplies natural diffracted light
Overhead LED lighting to illuminate workstation and wool for classing
Minimal unwanted light under shed
Formed plastic pen flooring minimises light/ shadows below pens
Large windows and a shutter design encouraging air flow
Air conditioning installed
Will hold more than a run per pen
Clear overhead space, easy access
Undercover sheep storage under wool room
Further Information
Download the floor plan and technical drawings
Highly skilled, professional staff are essential to the the Australian wool industry.
It is important that all employees are provided clean, comfortable and safe accommodation and amenities that at least meet the standards set by each state.
I like to treat people the way I'd want to be treated myself. I want them ringing up wanting to come and shear my sheep. If I give them good facilities, they will give me good results.'
The Rural Workers Accommodation Act in your state sets out the current standards and requirements.
AWI provides shed safety signage kits for woolgrowers to use in their woolsheds.
The kit contains 36 safety signs that are printed on UV-stabilised polypropylene for durability, with pre-drilled holes for easy installation. The kit also includes guidance notes to assist in the proper location and installation of these signs.
Developed and produced by the WA Shearing Industry Association (WASIA), with support from AWI, these signs meet Australian Standards and legislative requirements in all Australian states and will help woolgrowers meet occupational health and safety obligations.
AWI has sponsored the development and production of the kit and is making it available to woolgrowers at the handling and postage cost of $25 (including GST) per kit.
The Shed Safety signage kit is only available for delivery within Australia.
To order a shed safety signage kit fill out this form.