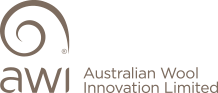 Australian Wool Innovation
Welcome to Australian Wool Innovation, an innovation hub for the woolgrowers of Australia
Market Intelligence
Australian Wool Innovation provides various information services to its partners and woolgrowers. By undertaking a broad review of the global market for wool and competitor fibres, we are able to provide wool production forecasting, retail and trade market reports, consumer insights and trend monitoring, along with fibre market research.
Eastern Market Indicator (EMI)
About AWI
AWI is a not-for-profit enterprise that conducts research, development and marketing along the worldwide supply chain for Australian wool on behalf of about 60,000 woolgrowers that principally fund the company.
Our mission is to make strategically targeted investments to enhance the profitability, international competitiveness and sustainability of the Australian wool industry. To do this, we invests along the global supply chain for Australian wool to deliver outcomes that benefit Australian woolgrowers