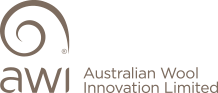 Nuffield Farming Scholarship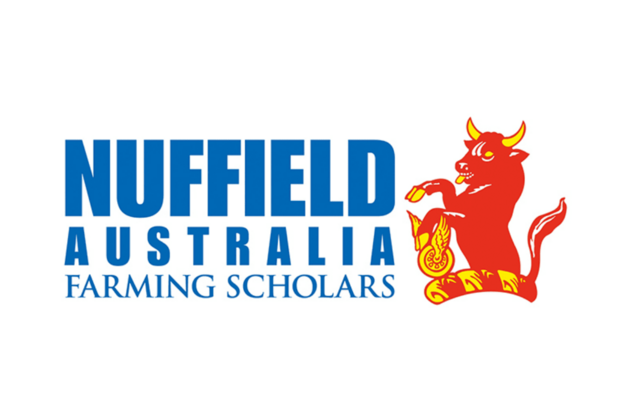 The scholarship is a unique opportunity for a woolgrower to study a particular subject of interest and increase practical farming knowledge and management skills and techniques in the Australian wool industry.
The AWI Nuffield Woolgrower Scholarship is an annual scholarship funded by AWI in collaboration with Nuffield Australia.
The scholarship is a unique opportunity for somebody in the wool industry to study a particular subject of interest, and increase practical farming knowledge and management skills and techniques in the Australian wool industry.
The objective of the Nuffield Farming Scholarship is to increase practical farming knowledge and management skills and techniques generally. These scholarships give Australian citizens the opportunity to study farming practices in New Zealand, Europe, Asia and the Americas and those countries best suited to the scholar.
Upon returning to Australia it is expected that scholars will be able to actively spread the knowledge and understanding they have gained among their fellow farmers and others.
Nuffield Farming Scholarships give a unique opportunity to stand back from your day-to-day occupation, and to study a subject of interest to you. You do not need academic qualifications, but you will need to persuade the selectors that you have the qualities to make the best use of an opportunity that is only given to a few.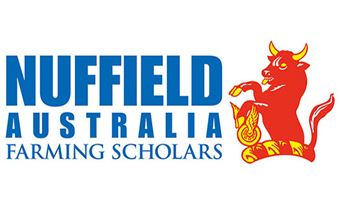 Apply for the AWI Nuffield Scholarship
Applications for 2021 scholarships will open on 1 April 2020. In the meantime, visit the website for the latest updates on the Nuffield scholars.
Visit Website
Recent AWI Nuffield Woolgrower Scholars
2023 - Nicole Logg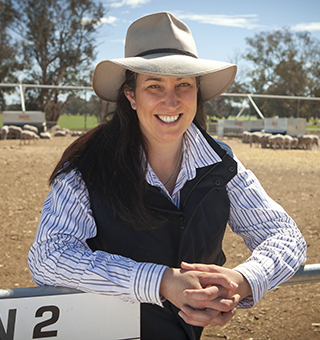 Nicole is investigating strategic use of supplements to improve sheep productivity.
Nicole, who runs a mixed farming operation with her husband in central NSW, is curious about how supplements can go beyond just energy and protein, making the most of nutrition to improve productivity.
With access to better data and information, producers can make more informed decisions – extracting more nutrients from the feed provided whilst reducing stressors and supporting animal health. This strategic approach is ultimately more cost-effective, as it means farmers can maximise efficiency when it comes to labour decisions.
Nicole sees a future where feeding and supplementation plans are completely customised to individual farms, fine-tuning farmer approaches for healthier soils, pastures and livestock.
2022 - Colette Glazik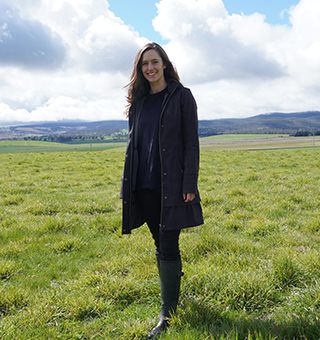 Colette Glazik will research fairer ways to audit the greenhouse gas emissions from wool production in Australia.
A former public sector employee and qualified lawyer, Colette, her partner Joey McKibben and their two children moved to her parents' farm, 'Lewisham' at Ross, as part of their succession plan. They run a self-replacing Poll Merino flock. Colette will compare methodologies and data used to conduct carbon audits on wool producing sheep farms in Australia and internationally. She will also seek to understand which on-farm practices are helping wool producers achieve carbon neutral (or low carbon emissions) status.
2021 - Andrew Rolfe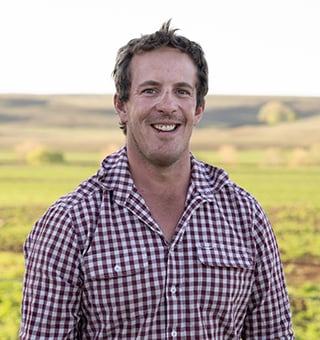 Andrew will research intensive management techniques and models for Merino sheep production, exploring how to develop a productive, sustainable and drought resilient farming system.
Andrew is part-owner of family farming business, Kenilworth Grazing, a self-replacing Merino flock enterprise comprising 5,600 ewes across 4,100 hectares. He is also a private agronomy consultant in his local area.
Experiencing the impacts of prolonged drought first-hand, Andrew is particularly focused on how intensified best practice management techniques can be utilised to drive Merino production and drought preparedness.
2020 - Tom Hooke, Wanganella, NSW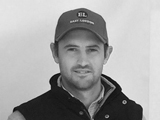 Tom will use his Scholarship to research innovative regenerative agriculture principles to apply to Australian pastoral sheep enterprises.
Tom, together with his brother Marcus, run the family's 25,000-hectare property comprising 9,000 commercial Merino ewes, 1,000 stud Merino ewes and 200 Angus cows across predominantly open pastoral country in the western Riverina region.
As someone passionate about a holistic approach to farming, Tom is keen to further extend the principles of rotational grazing to sheep enterprises in pastoral zones, which largely rely on very low input systems and minimal chemical intervention.
2019 – Anthony Close, Culla, Vic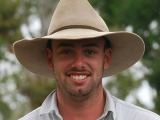 Anthony Close a mixed livestock producer from Culla, Victoria, will research ways that the Merino can once again become a prominent feature of the Australian farming landscape.
Anthony works on his family farm, running 7,000 self-replacing Merino ewes to produce wool, prime lambs and breeding rams. Anthony's family also run a large cattle operation.
Acknowledging the shrinking size of Australia's sheep flock throughout the past 20 years, Anthony said his focus will be researching the range of factors that have caused this reduction, comparing the industry with those overseas to gain a better understanding of what makes progressive industries grow and prosper.
Watch Anthony's presentation here.
2018 – Scott Nicholson, Stawell, Vic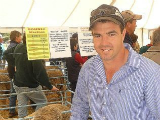 Scott will research ways technology can help modernise and improve profitability in the sheep and wool industry.
He operates Bretton Estate, 2900 hectares of owned and leased land with a mixed farming system that includes 4500 Merino ewes for wool and lamb, broadacre dryland cropping, hay production and a lamb finishing system. Scott is also a partner in Sohnic Merinos at Marnoo, which is focused on breeding Merinos to optimise overall profitability.
Scott believes technology such as the adoption of mandatory electronic identification (EID) tags in Victoria has great potential to boost the industry through its improved traceability of individual sheep. He said the industry can expand on this and will focus on researching technology in DNA and genomics; EID for performance recording and feedback; farm management software; handling and drafting equipment; drones and robotics; virtual fencing and remote sensors.
2017 - Felicity McLeod, Wentworth, NSW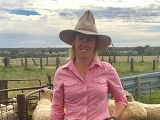 Felicity will investigate how to increase income potential through diversification in pastoral wool enterprises.
She will look at utilisation of the natural resource base, flexibility in species mix and multi-species infrastructure to help woolgrowers looking to improve whole-farm profitability, productivity and sustainability.
Felicity oversees her family owned property, Tor Downs, which is situated halfway between Broken Hill and Wentworth on the Great Anabranch Creek in western NSW. Tor Downs Station is 40,000ha and is currently carrying 90 per cent of the company's Merino flock and 50 per cent of its cattle. The three family owned properties – Coombah, Popio and Tor Downs – total an area of approximately 120,000ha.
By learning more about the entire farm system involved in the wool supply chain as part of her scholarship, Felicity hopes to improve woolgrowers' business bottom line, animal health, quality, total grazing pressure and staff health, safety and retention.
View Felicity's presentation on the Nuffield channel on YouTube
2016 - Jack England, Kingston, South Australia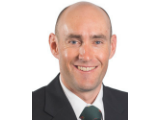 Precision agriculture (PA) and variable rate technology (VRT) have long been used by the cropping industry to enhance productivity, while the livestock sector has often lagged behind in its uptake of these technologies.
However 2016 Nuffield Scholar Jack England has identified a number of clear opportunities for the integration of these systems across livestock businesses with potential to improve both efficiency and environmental outcomes.
Jack manages his family's 3,200 hectare mixed sheep, beef and cropping property near Kingston South East in South Australia. With a background in agronomy, he brought a scientific approach to his research, supported by AWI, which took him to the United Kingdom, Israel, New Zealand and Australia to discuss the use of VRT with cropping and horticultural specialists, researchers and livestock producers. His goal was to establish an understanding of how PA and VRT could be extrapolated across the livestock industries.
View Jack's presentation on the Nuffield channel on YouTube
2015 - Robert Webb, Tarana, NSW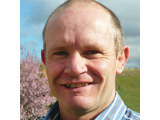 Robert's family owns and operates a seventh-generation fine wool Merino production and beef property. Spread across two properties totalling 1190 hectares, they run approximately 2000 fine wool Merino breeding ewes, 1500 fine wool Merino wethers, 700 prime lamb-producing ewes and 150 beef breeding cows.
He will study the use of fire as a native pasture management tool. Fire rejuvenates native pasture and makes it more productive, which in turn can benefit woolgrowers by improving profitability through increased fleece weight and staple strength. Robert will visit wool producing countries, as well as other grazing enterprises, to gain further knowledge of the use of fire as a grazing management tool for improving native pasture productivity.
2014 - Tim Gubbins, Moyston, Victoria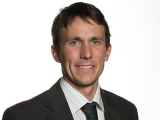 Through an AWI-funded Nuffield scholarship, woolgrower Tim Gubbins from Darlington in the Western District of Victoria investigated ways to maximize the reproductive potential of the Merino breed with a specific focus on the period from conception through to weaning.
"My Nuffield studies have been aimed at finding ways to help woolgrowers simply and effectively unlock the potential that exists within their own flock. To do this we need to achieve higher lambing percentages and weaning rates. Lamb birth weight is the absolute key factor in determining lamb survival."
2013 - Matthew Ipsen, Wareek, Victoria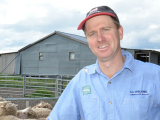 Matthew is a director of a private agricultural company with his parents and together they own and operate an 820ha property in central Victoria, consisting of 3,000 sheep and 400ha of crop.
The major enterprise is wool production along with sheep meat, hay and cereals. They also own and manage a Merino sheep stud and contract harvest business.
As well as working on the farm, Matthew runs a small business in sheep artificial insemination (AI) and pregnancy scanning. This business mix prompted Matthew to focus on the reproductive performance of sheep through his Nuffield scholarship. He will use his scholarship to investigate world's best practice in sheep reproduction and lamb survival.
View Matthew's presentation on the Nuffield channel on Vimeo.
2011 - James Robertson, Renmark, South Australia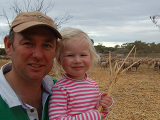 James is the manager of a family-owned operation of four adjoining properties operating as one entity. Chowilla is a wool-growing enterprise, producing 400 bales per year and selling 6,000 sheep.
An average of 15,000 sheep is run on the property at any one time. The family also owns a property near Salt Creek in the southeast of SA which is primarily a prime lamb and beef property supplying local markets.
Through his AWI Nuffield Woolgrower Scholarship, James studied animal nutrition, focussing on weaning and feedlotting. "I wanted to see how methane emissions can be reduced by rumen development and diet," he said. "I can see an industry opportunity in the carbon trading scheme."
James also examined marketing with a particular reference to sustainability and rangeland monitoring.
2009 - David Cussons, Kojonup, Western Australia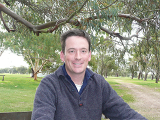 David manages his family's mixed wool and cropping property in southern WA with his wife Kelly and his parents. The 1,000ha property runs 2,400 Merino ewes for wool and prime lamb production, with 270ha of winter cereal production.
Frustration with the growing disconnection between agriculture and the general public led David to study agricultural communication techniques using his AWI Nuffield Woolgrower Scholarship.
"The way in which the world is communicating is evolving at a rapid rate - who would have thought Twitter would rule the world, or that one of America's most significant farmers' markets would now look to bloggers as their preferred media outlet?" said David.
"I worry that Australian agriculture is not keeping up with these trends, so I wanted to find out what the best practitioners were doing around the world, then bring these techniques home."
David visited media marketplaces in Japan, England, Sweden, the USA, Canada and New Zealand - all similar in nature to Australia. He interviewed a range of lobby groups, journalists, interest groups, agri-politicians, universities and public relations professionals. David recommended Australian agriculture:
Understand the demographics of the public to enable effective public relations.
Improve selection and training of agricultural spokespeople.
Embrace the latest social media techniques.
Use electronic traceability for consumer education.
Use sports personalities to promote agriculture.
Consider launching a country-themed lifestyle magazine.
Formalise a written crisis communications plan, no matter how simple it may be.
2008 - Ben Ranford, Cleve, South Australia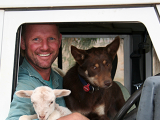 Ben is a fourth generation farmer, cropping cereals and running a 1,200 breeding ewe, self-replacing, dual-purpose sheep flock on 3,000ha. He wants to ensure farming's future, but says being a 'good farmer' is no longer enough to meet business challenges.
Ben used his AWI Nuffield Woolgrower Scholarship to identify how farmer collaboration can capture value for farmers as well as create benefits for supply chains.
"I targeted overseas examples of farmer co-operation, investigated business models and measured the outcomes generated" said Ben. "I wanted to identify the motives behind collaborative participation, and the principles that sustain farmer's commitment. I also looked at why farmers chose to operate individually and why collaborative approaches fail."
Ben found that the economies of scale in farmer owned co-operative structures created the opportunity to engage highly skilled management and apply technology to innovating competitive, sustainable supply chains.
According to Ben, the sustainability of a supply chain relies on adding value to the customer and generating a profit for every business in the chain.
2007 - James Walker, Carrick, Tasmania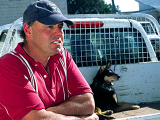 James is both Operational Manager and Managing Director of William Walker Proprietary Limited, a family company owned in conjunction with his family.
They operate a mixed enterprise business of fine Merino and Corriedale wool production, prime lamb production, beef production, stud Corriedale and stud Hampshire sheep, stud Murray Grey cattle, forestry, horticultural production and seed production.
As an AWI Nuffield Woolgrower Scholar, James visited 12 countries to study future trends and opportunities for Australian woolgrowers in the manufacturing of woollen products and consumer sentiment towards wool and sheep production in the country side.
"Australian wool is seen as a quality product and is much sought after by textile manufacturers in China and Italy," said James.
"A number of countries produce quality wool, ensuring continuity of supply, and we should be working co-operatively with them to expand the overall market. Other fibres, e.g., cotton and synthetics, are our competitors, not other wool producing countries."
James recommended farmers, the Australian wool industry and government focus on:
• Marketing and promotion in co-operation with other countries involved in the wool industry.
• Continued research and development, and delivery of results to all stakeholders.
• Continued quality assurance.
• Animal welfare and food safety as a high priority.
• Sustainable farm practices.
• Giving a high priority to biosecurity.