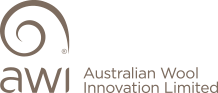 Research into a seaweed to reduce methane from grazing sheep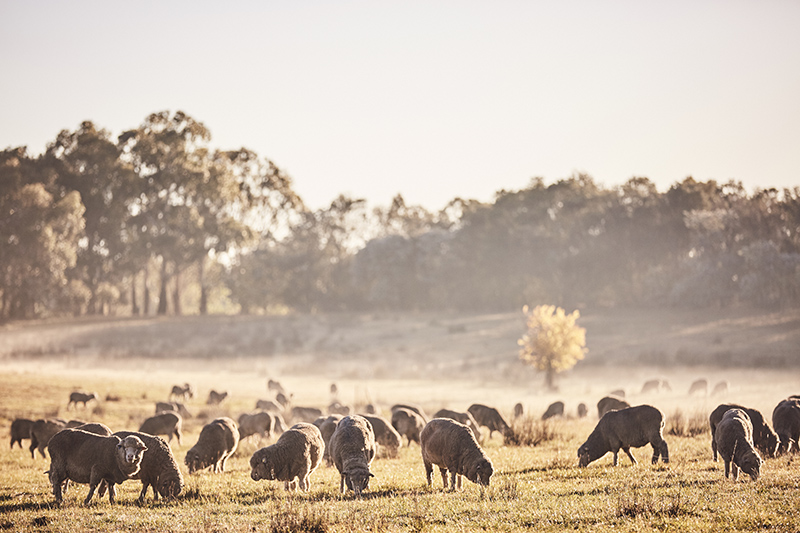 Research supported by AWI is under way into the feeding of a supplement, the red algae Asparagopsis, to grazing sheep to reduce their methane emissions. The research is part of a broader strategy to accurately identify and assess ways to reduce and offset greenhouse gas emissions from sheep.
Research supported by AWI is under way into the feeding of a supplement, the red algae Asparagopsis, to grazing sheep to reduce their methane emissions. The research is part of a broader strategy to accurately identify and assess ways to reduce and offset greenhouse gas emissions from sheep.
Wool is a natural, renewable and biodegradable fibre that is well placed to take advantage of the growing shift towards planet-friendly products. However, to optimise the eco-credentials of Australian wool and ensure that it is acknowledged as a sustainable fibre by all, AWI is devoting resources to remedy any environmental hotspots in the wool supply chain.
The sheep farm production of greenhouse gases (GHGs), primarily methane belched by sheep, is an important area in which the Australian sheep and wool industry is seeking to reduce its environmental impact.
AWI research has identified methane-mitigating feed supplements for grazing sheep as having the greatest potential to significantly reduce the carbon footprint of wool within the next 15 years. It is a priority area for investment.
New research under way
A new AWI-supported project being run by the University of New England (UNE) will undertake two grazing studies in northern NSW with the aim to deliver key information for sheep and wool producers that will enable Asparagopsis feed supplements to be used with efficacy and safety.
In particular, the research will quantify the relationship between the intake of Asparagopsis and the daily methane produced by grazing sheep, plus any associated wool and live weight changes in the sheep. Influencing factors that will be assessed include pasture quantity and quality (eg native and improved pasture), the form of the supplement (eg pellet), and the frequency and method of its delivery.
"Previous industry research has shown that an 80% reduction in enteric methane production can be achieved when Asparagopsis is used as an additive to a forage-based diet for housed sheep," said AWI Program Manager, Fibre Advocacy & Eco Credentials, Angus Ireland.
"However, research needs to be conducted into the supplement's effectiveness with sheep that live on and graze pasture. It's important to examine factors such as whether and how grazing sheep will consume the supplement, what the effective dose and cost would be, and whether there are any animal welfare and human safety issues."
The UNE research is being funded by AWI in combination with a $500,000 grant secured through the Federal Government's Methane Emissions Reduction in Livestock (MERiL) program. Environmental technology company Sea Forest, based in Tasmania, is supplying the Asparagopsis. The research is scheduled for completion by June 2024.
Broader strategy
AWI is also liaising with other industry bodies to help coordinate and co-fund collaborative research to assess other methane-mitigating feed supplements suitable for grazing sheep. This would reduce the risk to the wool industry should Asparagopsis be found to be not viable for grazing sheep and to avoid a supplement monopoly.
Aside from the use of feed supplements, the sheep and livestock industries are investigating other potential ways to reduce on-farm GHG emissions, including the use of low methane pasture species, and increasing flock productivity (producing more lambs and wool from each sheep). Potential ways to offset on-farm GHG emissions include storing carbon in vegetation and trees, and improved management of soil organic matter.
While a focus on carbon neutrality and reducing GHG emissions is primarily aimed at reducing the environmental footprint of the Australian wool industry, it also seeks to open up avenues for woolgrowers, who are taking steps to reduce their farm's carbon footprint, to receive a premium by selling their 'carbon neutral' wool to brands or earning income from carbon mitigation as an 'ecosystem service'.
Wool is not to blame – but we still need to future-proof the industry
The burning of coal, oil and gas (and not agriculture) is the dominant source of GHGs. Globally, agricultural emissions account for just 14% of GHG emissions, with sheep just a small proportion of that.
Furthermore, the prevalent GHG from livestock is 'biogenic methane', which is part of the natural carbon cycle – it breaks down into CO₂ after about 12 years and is then taken up by plant photosynthesis. In contrast, fossil methane and CO₂ from the burning of coal, oil and gas is an extra burden on the atmosphere as it is derived from carbon which had been safely secured underground for millions of years but is now being released.
The rise in global warming has occurred predominantly since the beginning of the 1980s. In contrast, during the same period, the volume of global (and Australian) wool production has decreased. There is no positive correlation between global warming and wool production, in fact there is a negative correlation!
Despite all this, GHG emissions from livestock are something that critics of the industry often highlight, which threatens the industry's financial standing and social licence. Brands and retailers are increasingly committing to carbon neutral supply chains, and there is a high weighting applied to GHG emissions in apparel rating schemes such as the European Union's Product Environment Footprint.
Therefore, reducing the industry's GHG emissions will help future-proof the industry.
The wool industry recognises the importance of this and is acting upon it. A focus of both the Australian wool industry's 10-year plan, Wool 2030 (launched in December 2020), and the Australian sheep and wool industry's Sheep Sustainability Framework (launched in April 2021), is for the industry to reduce and mitigate its GHG emissions and for Australian wool production to strive for carbon neutrality.
This article appeared in the June 2022 edition of AWI's Beyond the Bale magazine. Reproduction of the article is encouraged.