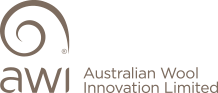 Everledger and Australian Wool Innovation (AWI) to use blockchain as a solution to trace the wool chain of custody from farm to consumer
AWI will use the Everledger transparency platform to capture and make visible secure information about wool provenance and its supply chain to create new sources of value for wool growers, manufacturers and retailers.
AWI will use the Everledger transparency platform to capture and make visible secure information about wool provenance and its supply chain to create new sources of value for wool growers, manufacturers and retailers.
London and Sydney, 25 January 2021
The Australian wool industry and its partners may soon be able to trace the lifetime journey of authentic wool products, thanks to a new partnership between the pioneer in provenance technology and the not-for-profit body for the Australian wool industry.
Everledger, the digital transparency company, and the Australian Wool Innovation (AWI), which is the parent organisation for The Woolmark Company, have today announced their strategic collaboration to capture asset information along the wool supply chain in order to enable provenance and chain of custody verification using blockchain technology.
In line with AWI's push to promote traceability in support of the Australian wool industry, Everledger will build and host an Electronic Chain of Custody Tool (ECCT) on its platform. The aim is to track and validate the exchange of ownership of selected wools as they move up the supply chain from farm, to overseas processing and through to finished products.
Merino sheep are celebrated globally for producing the world's finest, softest and most beautiful wool. Australia produces around 90 percent of the world's fine apparel wool and contributes significantly to the Australian economy.
Protecting an enviable reputation
In this initial stage, ECCT will act as a proof of concept. It will trace the journey of wool from farm to the end consumer, by identifying and capturing the necessary documentation at each stage of the value chain.The ECCT will demonstrate sustainability and compliance best practices and provide more confidence on the authenticity and provenance of the wool product. It means a retailer or end consumer could verify where and when in Australia the original wool was sourced.
Different participants at each stage of the supply chain will be able to connect through standardised data, in line with best practices for the apparel industry. Recorded evidence can be used to demonstrate compliance, while participants can also explore additional technologies to enhance material and chain of custody integrity.
John Roberts, Chief Operations Officer at AWI, explained that running the proof of concept initiative will inform the organisation about the applicability of blockchain technology to showcase and gauge industry appetite. "A proof of concept will allow a more prudent use of growers funds, as from the project findings we will then determine whether we will invest in a full platform or look to participate in an alternative."
"Our organisation and stakeholders have been monitoring the rapid escalation in emphasis being placed on provenance, corporate social responsibility, and the perennial concerns regarding supply chain efficiency and biosecurity," he said. "Traceability and transparency are critical for safeguarding the global reputation of Australian wool. This partnership with Everledger will help us to ease the flow of information up and down the supply chain to all parties, and so communicate wool's benefits to a wider audience. Ultimately, this is good news for our farmers and related small businesses that rely on these remarkable sheep to make a living."
Peter Hughes, Head of Australia & New Zealand at Everledger, said: "Australian merino wool is known as nature's miracle fibre, due to its softness, breathability and ecological footprint – especially when compared to synthetic materials. It's a gold standard Australian export, appreciated around the globe. We're delighted to partner with such an important institution in the country and support 22,000 woolgrowers with state-of-the-art technology."
Everledger CEO Leanne Kemp commented: "AWI's values of transparent provenance and fair social and environmental impact in fashion are ideals we support wholeheartedly at Everledger. In fact, this is the core of what we do. It brings me incredible joy to be able to bridge these two worlds that on the surface seem to be so distant: wool production and technology, interwoven by fashion."
Ms Kemp added: "Blockchain combined with other technologies can generate significant economic value to a range of sectors in Australia, contributing an estimated global annual business value of over $175 billion by 2025. AWI are taking a lead for other traditional industries in Australia to follow. We're delighted to design and manage a solution that will help AWI to deliver a more transparent value chain. By sharing provenance information securely – from farm to consumer – all participants can enjoy the benefits of traceability."
--
ABOUT AUSTRALIAN WOOL INNOVATION:
Australian Wool Innovation (AWI) is a not-for-profit organisation owned by all Australian woolgrowers. AWI invests in research, development, education and marketing along the global supply chain for Australian wool.
AWI makes strategically targeted investments to enhance the profitability, international competitiveness and sustainability of the Australian wool industry. Funded by Australian woolgrowers, the cooperative is focused on delivering results for wool levy payers.
Working along the supply chain of Australian wool, AWI nurtures talent, innovates through research, and actively invests in pushing the boundaries of what wool means to the world.
For more information, visit:​ ​www.wool.com
MEDIA ENQUIRIES: Please contact Kevin Wilde on 0436031277 or Kevin.wilde@wool.com
ABOUT EVERLEDGER:
Founded in 2015, Everledger is an independent technology company helping businesses surface and converge asset information, using a symphony of secure technologies, including blockchain, artificial intelligence, intelligent labelling and Internet of Things. Our purpose is to contribute greater clarity and confidence in marketplaces where transparency matters most.
Everledger is committed to helping every link in the industry value chain to achieve a positive environmental impact from traceability. Our technology brings increased transparency to supply chains, benefiting stakeholders who adopt sustainable practices, while bringing visibility to their end consumers.
We digitally streamline our clients' compliance processes, to help them demonstrate the lifetime story of an asset with greater efficiency and accuracy. As technology partners, we also support in powering resilience and sustainability. With information out in the open, we believe the value of many industries – from diamonds, to fine wines, to e-recycling – will be shared by all stakeholders throughout the value chain.
Everledger is certified with the ISO 27001 standard by the British Assessment Bureau, a testament to our robust, ongoing and systematic approach to information security.
Everledger has been awarded a Technology Pioneer by the World Economic Forum in 2018.
For more information, visit: www.everledger.io

MEDIA RESOURCES:
Everledger spokesperson headshot and bio: https://www.everledger.io/press/press-resources/
MEDIA ENQUIRIES:
International:
Tristan Earl
everledger@rlyl.com
+44 20 7403 8878
China:
Joyce Wang
+86 (21) 5353-7229
Joyce@Inmatt.com