Sign up to Wool.com and create your own personal wool hub.
Wool wedding gowns - A Merino marriage made in heaven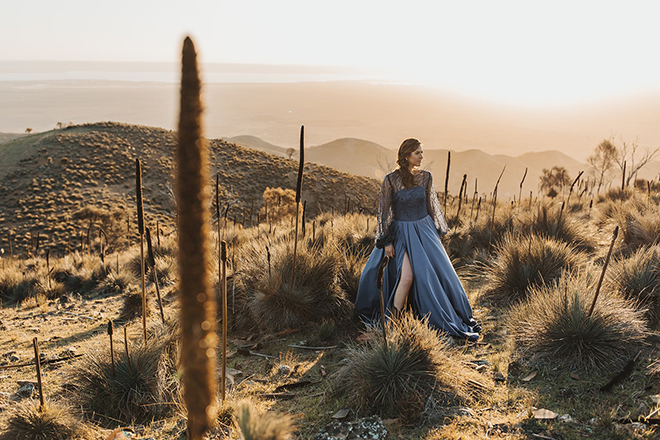 The Horrocks Vale Collections' 'Emily Gown' modelled by fellow South Australian designer and wool advocate Emily Riggs.
Wedding dress designer Nikki Atkinson, who lives with her family on a wool-growing property in South Australia, has launched a new business creating wool-based luxury wedding dresses.
Married for 19 years to third generation woolgrower Dallas Lines, Nikki and her family grow fine Merino wool on their property 'Horrocks Vale', southeast of Port Augusta in South Australia. Nikki is not only an advocate of Merino wool, but is also an expert couture bridal designer, a career that began 25 years ago, before she moved to the country.
"I have always had a huge amount of respect for wool since studying fashion in college many years ago. Over the years, I've become utterly obsessed with Merino wool as a fibre and fabric, and I am consistently amazed at its unexpected silky soft texture, handle and drape – and it is much easier to work with than other fabrics," Nikki said.
"One key piece of advice I give every bride looking for their dream dress is: fashion has a timeline, whereas classic designs and beautiful fabrics last a lifetime."
In September, Nikki launched her new wool-based luxury wedding dress business, Horrocks Vale Collections, which initially comprises five timeless gowns plus accessories.
"I am now so excited to be able to bring together my two loves – wedding gowns and Australian Merino wool – and create garments that not only convey classic beauty but also align with the environmentally friendly movement in the fashion industry," she said.
"When I moved to 'Horrocks Vale, I had no idea that three kids, a fashion boutique and a thriving wool property later I would be a part of this incredibly important sustainable movement in the wedding fashion industry.
"There has been a huge amount of work behind the scenes to launch the collection, from finding the right fabrics, design, pattern making, create and make, photo shoots and many meetings. But this wool collection – paired with laces, beaded fabrics and silks – is one of my favourites to date and I'm incredibly honoured to be able to share it with everyone."
Nikki says wool's eco-credentials are essential in helping her business redefine luxury with wedding dresses that are kind not only to people and but also to the planet.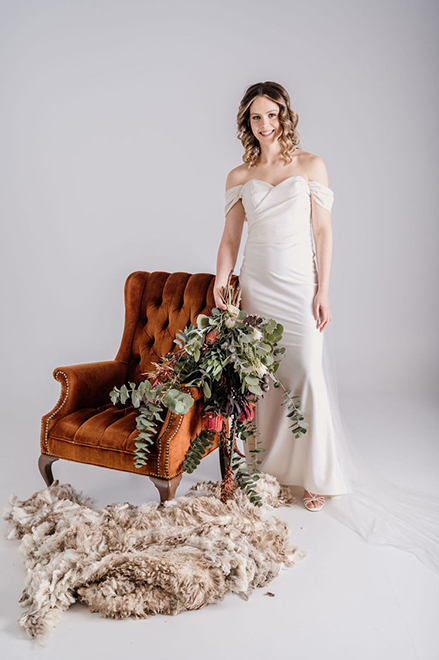 The fine Merino 'Livi Dress'.
"Horrocks Vale Collections create sustainable, luxury wedding gowns that offer today's bride the opportunity to feel naturally beautiful, comfortable and confident while staying true to her eco-friendly values, with an heirloom gown that can be passed down through the generations," she said.
The public had their first glimpse of the wool wedding dresses at the Royal Adelaide Show fashion parade in September. "The Show was awesome, so much fun, and there was a lot of interest in the dresses," Nikki said.
The collection is titled the Amalia Collection, named after princess Maria 'Amalia' of Saxony, who married King Carlos III of Spain; the Spanish monarchy being the first to have fine Merino wool in the world.
The wedding gowns can be viewed on the horrocksvale.com website and in person at their studio in Port Augusta. The gowns are occasionally on show in Adelaide; brides-to-be can also request a personal appointment with Nikki.
The gowns are made to order with a six-month production time, but Nikki recommends ordering your gown 10 months before your special day. The dresses are available in sizes 8-18 or can be custom made to specific measurements. Nikki is also more than happy to offer her expertise in helping you design your own dream Merino wool dress.
Nikki is also currently designing a range of exclusive wedding accessories for men, and a range of dog accessories so they can also look the part on the big day.
More information: www.horrocksvale.com
This article appeared in the December 2022 edition of AWI's Beyond the Bale magazine. Reproduction of the article is encouraged.