Sign up to Wool.com and create your own personal wool hub.
Iris & Wool joins with Catriona Rowntree to launch 100% Aussie Merino collection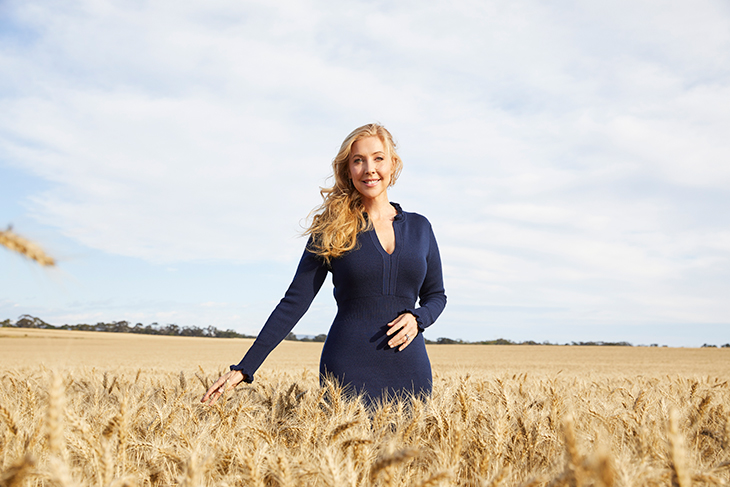 Catriona Rowntree wearing the new Little River Dress, available in navy and cream. Using 100% Australian Merino wool to striking effect, the fashion piece features ruffled edges and a streamlined silhouette to highlight the waist. PHOTO: GK Photography
South Australian knitwear brand and Woolmark licensee Iris & Wool has teamed up with TV presenter and wool advocate Catriona Rowntree to this month launch a collection of five new pieces made from 100% Australian Merino wool.
Based at Burra in the mid-north of South Australia, Emily Riggs launched the Iris & Wool knitwear brand in 2019 to showcase 100% Australian Merino wool as the perfect fibre for apparel with a minimal environmental impact.
"Australian wool is a fabulous, sustainable and durable fibre. Having a high-quality wool garment that is well made shouldn't be a luxury; it should be an investment that will see you through the seasons for years," Emily said.
The Iris & Wool brand has grown steadily since the launch of the brand three years ago and recently became a Woolmark licensee. Since its very beginning, one of the biggest supporters of the brand's knitwear has been Catriona Rowntree who has regularly been seen wearing its apparel.
"Having graced our screens as a beloved presenter for more than two decades – and a passionate campaigner for Australian Merino wool – Catriona Rowntree exudes an inimitable warmth, and we are thrilled to partner with her for our latest collection, which will be available in mid-March," Emily said.
"Having been a wool ambassador for AWI for more than 10 years, Catriona is an incredible champion of Aussie Merino wool. She also shares our passion for timeless style, for quality, long-lasting sustainable pieces and supporting regional businesses."
Both Emily and Catriona are married to woolgrowers, so it's natural that they should both have formed a deep affinity for wool and supporting the industry. Emily's husband, Tom, runs about 15,000 Merino ewes on mainly pastoral country. Catriona's husband, James, runs a self-replacing Merino flock in Victoria, producing 16-18 micron wool, as well as a cropping enterprise.
"When I married my wool-growing husband in 2008 and I moved to the farm, I wondered how on earth I could contribute to his business. But then I realised that I have all these different media platforms through which I can promote this wonderful fibre," Catriona explained.
"So, I called AWI and I said put me to work, let me be a wool ambassador – and that is what I have been doing, whether that is at sheep shows, on social media, or on TV where I often wear wool.
"I first met Emily at the Jamestown Show while we were both proudly flying the wool flag and we bonded instantly.
"I have always absolutely loved Iris & Wool Merino wool knitwear, so this new collaboration with Emily is a natural extension of my desire to see Aussie wool worn by as many people as possible. It's a beautiful collection which I am very proud to put my name to."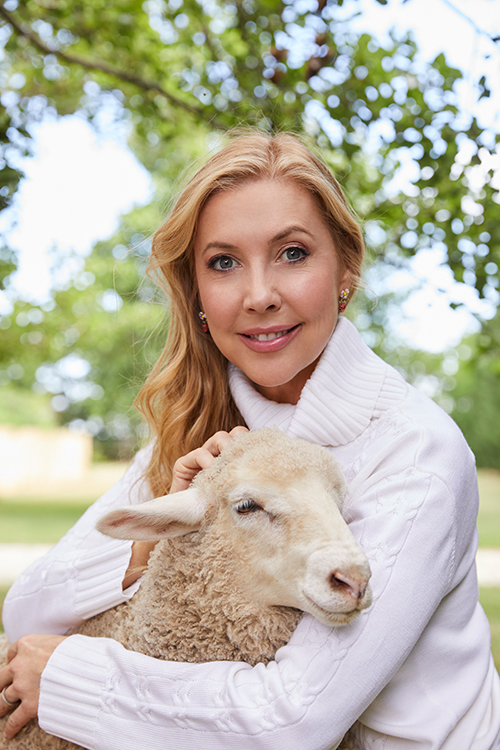 Catriona Rowntree wearing the new Quirindi Cable knit jumper, which is made from 100% Australian Merino wool and available in cream, pink and red. The photos were shot at Catriona and her husband James' property in rural Victoria. PHOTO: GK Photography


Each item is named after some of Catriona's favourite wool producing towns, including Quirindi (NSW), Jamestown (SA), Campbell Town (Tas) and Little River (Vic).
The capsule collection includes three new jumper styles made from 100% Australian certified Merino wool, while the two other new garments in the collection are a first for Iris & Wool. The Paddington Bear wool blend coat pays homage to Catriona's Scottish heritage with duffle-style toggles and protective hood, while the 100% wool Little River Dress is what Emily calls "Merino meets Marilyn Monroe".
"Elevating wardrobe essentials with exceptional yarn, these five new timeless pieces reimagine Merino wool, presenting traditional knitwear in a truly modern way. We are so excited to be partnering with Catriona on this next chapter for our brand and can't wait for our community to experience the warmth of these spirit-lifting styles," Emily added.
More information: Pre-orders for the collection are now being taken, for an end of March delivery. www.irisandwool.com/collections/catriona-rowntree-capsule-collection
This article appeared in the March 2022 edition of AWI's Beyond the Bale magazine. Reproduction of the article is encouraged.