Sign up to Wool.com and create your own personal wool hub.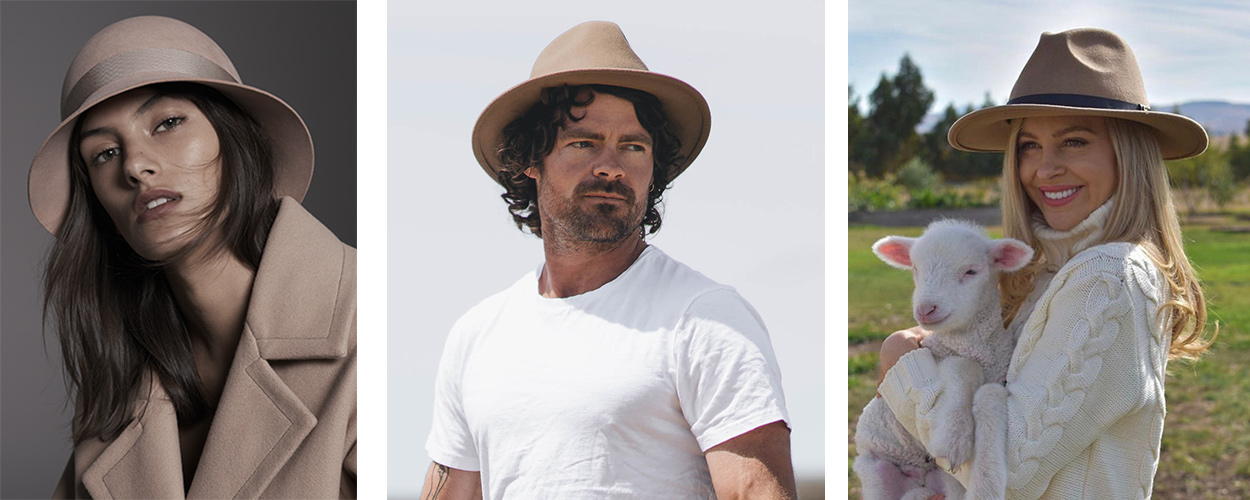 A selection of brimmed hats made using Australian wool: the Woolmark-certified 'Etta' from Helen Kaminski; the 'William Oak' from Will & Bear; the 'Billie' from Epitome Hats.
Already well known for its use in the humble beanie, Australian wool is also being increasingly used in stylish and modern brimmed hats.

HELEN KAMINSKI
Founded in Australia in 1983, Helen Kaminski has evolved into a leading global brand recognised for authenticity, design and craftspersonship in hats, handbags and a growing range of fashion accessories. The brand's distinctive and unique collection of designs are distributed in 25 countries across five continents – worn by celebrities and influencers world-wide.
The finest Australian Merino wool is brought to the forefront of the brand in the winter months in iterations of felts and knits.
"We work with our partners to find a material that is comparable in softness and finesse to traditionally used fur, and one that can be developed to create the finest hats in the world – Pure Merino Wool was the obvious answer. And that's how our Ultra Fine Wool Felt hats were born," said Helen Kaminski's Head of Design, Pernille Sejer.
"My design team are proud to be working with this innovative material and the customers are responding so well to it in store that it's proving to become a true staple of our winter collections." says Pernille.
More information: www.helenkaminski.com.au
WILL & BEAR
Will & Bear began four years ago whilst its founders, Alex Knorr and Lauren Williams, were travelling Australia in their vintage Kombi.
"With life on the road, we trawled op-shops, met incredible humans and fell in love with the landscapes we explored. Being inspired by nature whilst living on the road, Will & Bear was born," Lauren said.
Based in Melbourne, the brand stays true to its beginnings on the road by producing hats for adventure seekers, including a range of unisex wide-brimmed hats made from Australian wool.
"Our mission is to reduce our impact through thoughtful designs, give back to our planet and create a culture that cares for the environment, to inspire all to preserve it. We are committed to planting 10 trees for every hat sold, because we want to invest in a healthy environment for future generations.
"Our hats are made by our friends in Inner Mongolia using natural, biodegradable or recycled fibres. We are committed to producing high quality headwear that lasts."
More information: www.willandbear.com
EPITOME HATS
Launched in 2016, Epitome Hats is a small business based in Tasmania and run by a husband and wife team, Jaye and Holly Bowden. With Holly's grandmother a renowned milliner in Western Australia, hat making genes are in the family.
Australian Merino wool is also in the family's genes – Holly's parents own the fashion brand Smitten Merino – so Holly already knew the incredible quality of Merino wool and wanted her hats made from the fibre.
"Our Australian superfine Merino wool hats are not just a fashion statement. Breathable and with UV protection housed in the wool fibres means the hats give our customers' faces the best chance of protection in the most stylish way," Holly said.
"We use only the best quality superfine Merino wool to ensure our hats last and are able to endure the elements. The hats are incredibly versatile, being completely squashable for travelling, waterproof and timelessly elegant."
All the brand's hats, for men and women, are designed and hand finished in Tasmania.
More information: www.theepitome.com.au
This article appeared in the March 2021 edition of AWI's Beyond the Bale magazine. Reproduction of the article is encouraged, however prior permission must be obtained from the Editor.