Sign up to Wool.com and create your own personal wool hub.
Flystrike Vaccine Research Update – September 2021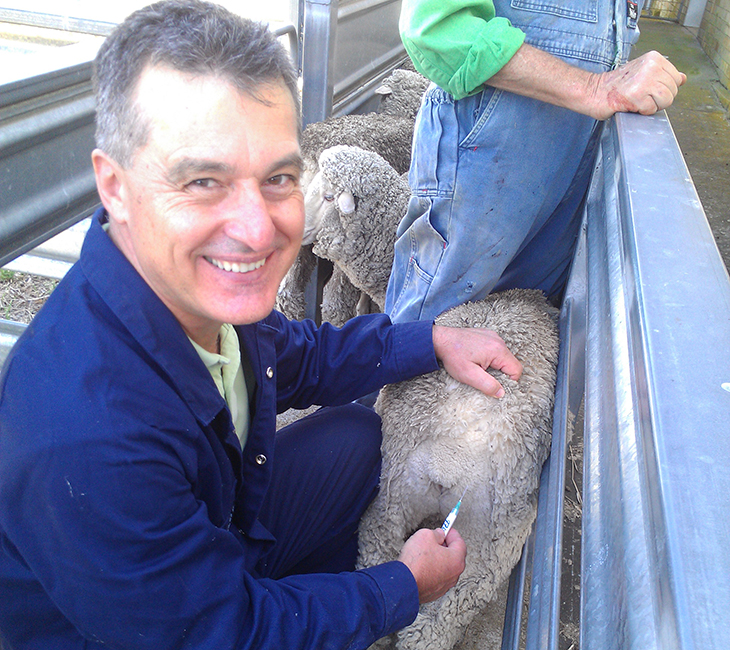 CSIRO scientist Tony Vuocolo vaccinating sheep with prototype flystrike vaccines.


AWI has recently approved an extra $650,000 for a project with CSIRO to fast-track further investigations into the development of a flystrike vaccine.
The research is building on early findings from the AWI-funded flystrike vaccine research by CSIRO and the University of Melbourne to tackle flystrike, which is progressing well and is revealing important information.
AWI has contributed $3.15 million in total to date in investigating the potential development of a flystrike vaccine, with additional in-kind contributions from the two research organisations.
Flystrike is a significant welfare threat to the sheep industry, costing an estimated $173 million+ a year in control, prevention, treatment and lost production. Tackling flystrike with more tools and better integration of tools to manage this lethal condition is AWI's number one research priority.
A successful flystrike vaccine would be part of a wider collaborative AWI flystrike management program being delivered by CSIRO and the University of Melbourne.
CSIRO RESEARCH UPDATE
CSIRO has been advancing the development of a flystrike vaccine by producing and testing an initial subset of prototype trial vaccines. Results from these trials are helping inform what needs to be done next in producing a viable and affordable flystrike vaccine for the sheep industry.
CSIRO has identified key proteins in blowfly larvae (maggots) that are important for their growth and development. The vaccine, when given to sheep, causes the sheep's immune system to build a defence system in the blood, using weapons called antibodies that will target these key larval proteins. The antibodies react against the larvae when they try to feed by targeting and interfering with these proteins, resulting in stunted or dead blowfly larvae.
The research initially confirmed that isolating these proteins directly from larvae and using them in a vaccine was highly effective in compromising larval growth and viability. Using this information in combination with the sheep blowfly genome sequence (an outcome from another AWI-funded University of Melbourne project) has allowed the expansion and identification of additional protein-encoding genes that may be used in a vaccine.
The CSIRO team has formulated and tested more than 45 prototype vaccines and performed extensive laboratory (in vitro) trials in the past two years to measure the impact of the sheep response to the vaccine on blowfly larvae growth in vitro. Early findings from this research show that some of these candidate vaccines are having effects on the blowfly by stunting larvae growth, with some dying.
AWI has recently approved an extra $650,000 in funding for an additional project with CSIRO to fast-track further investigations into the development of a flystrike vaccine. This additional funding is allowing CSIRO to super-charge formulation testing in-vivo (in the sheep). If similar results to the in-vitro trials can be achieved in sheep in-vivo, not only will the impact of flystrike be reduced for the vaccinated sheep. It is logical that the development of blowfly chemical resistance will also be slowed, as less live larvae are exposed to chemicals, as well as a reduction in the population density of flies, thus overall flystrike risk, within a flystrike season.
The next 12 months of research will determine the direction that needs to be undertaken to develop an effective and affordable flystrike vaccine. Developing a vaccine is difficult but, if successful, will have a huge beneficial impact on the sheep industry. An annual vaccination to help protect sheep from flystrike is the holy grail in flystrike control and remains the key aim of this CSIRO team.
UNIVERSITY OF MELBOURNE RESEARCH UPDATE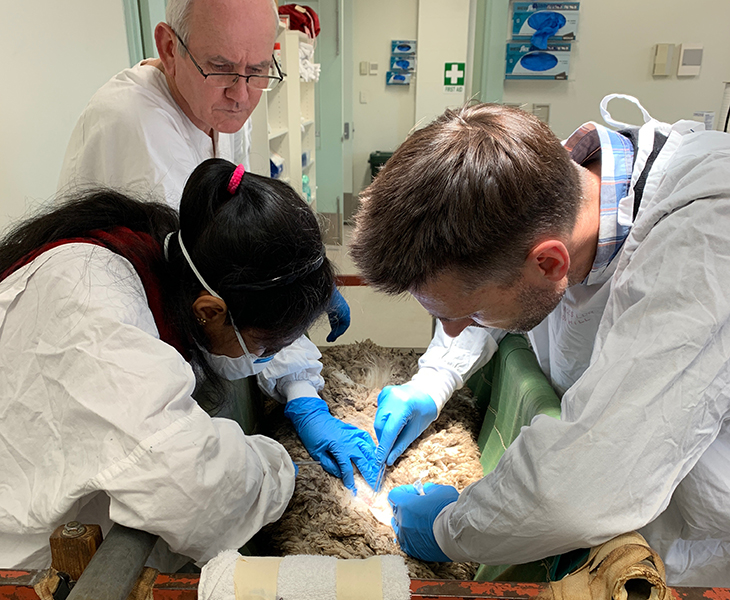 University of Melbourne PhD student Gothami Welikadage and scientists Vern Bowles and Trent Perry collecting blowfly larvae from an implanted sheep during their in vivo implant trial.


The University of Melbourne's use of whole genome sequencing data from selected blowfly populations is aiding the development of the flystrike vaccine, and also in building a detailed understanding of Australian blowfly populations. With assistance from woolgrowers, the UoM researchers have collected thousands of blowflies from right across Australia and have studied them to identify the regions that flies are moving between and how they adapt to their environment.
The three-year project by UoM to sample the DNA of field strains of blowflies from across the country involved the collection of more than 2,000 samples from 210 locations. The fly samples have since been genotyped using a technique that provides information on thousands of markers distributed throughout the fly's genome and this has allowed the researchers to model the Australian sheep blowfly population structure in this country. The model, comprising the data from sampling across all three years of the project, is enabling the determination of how flies are moving around the country as well as identification of genes in the blowfly genome that may be helping the flies adapt to their environment. This information will help inform pest management strategies, such as how to best contain insecticide resistance outbreaks and allow the rapid identification of the origin of flies that are resistant to different chemicals. It is also valuable for evaluating the potential for genetic control or sterile insect release programs as possible future control strategies.
The researchers have already been able to identify significant differences in the blowfly populations of Tasmania and Western Australia to those in Victoria, New South Wales, South Australia – and with the additional samples from all states last season, should soon be able to confirm how distinct the blowfly populations around sheep properties in southern Queensland are from other regions.
Working with CSIRO, the UoM researchers have examined the protein sequence of current vaccine candidate genes and will continue to update CSIRO with sequence data from newly collected blowfly samples as it comes to hand. This information will help ensure that the proteins they are targeting are the same in blowfly populations across Australia and support their attempt to make a vaccine that should be effective across all of Australia.
Another area of the UoM project is a study that aims to understand how flies establish a strike, particularly what proteins are critical in the early stages, just prior to and during the initiation of a wound. The UoM researchers have conducted an in-vivo implant trial where sheep were infested with blowfly eggs, and samples were then collected from both maggots and the sheep as the infestation was just being initiated. This work has identified hundreds of fly proteins that are being excreted during strike initiation which is contributing to our understanding of the way sheep respond to strike and the battle between the maggots and sheep defence mechanisms. These studies will not only assist with current blowfly vaccine development research but will provide opportunities to identify additional novel vaccine candidates against this damaging pest.
More information
Recent media articles on the flystrike vaccine:
CONTACT:
Bridget Peachey
Program Manager, Sheep Health & Welfare
E: bridget.peachey@wool.com
M: +61 429 006 527