Sign up to Wool.com and create your own personal wool hub.
Education initiative inspires a bespoke collaboration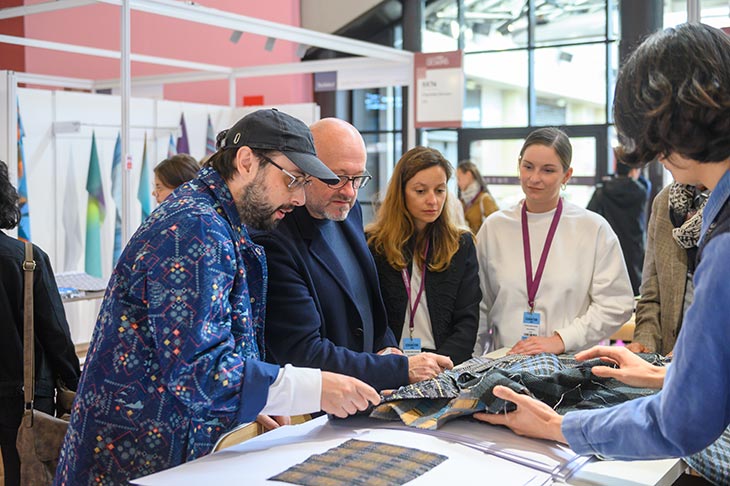 September 2019: TexSelect judges Edward Crutchley and Alan Scott seeing the woven wool fabric designs of Jaeyong Kim for the first time, at the Première Vision trade show in Paris.
The two judges of last year's TexSelect graduate design prize, sponsored by The Woolmark Company, were so impressed with the winner's woven designs that they subsequently chose to use the fabrics in a unique collaboration.
AWI last year sponsored an award at the UK's leading graduate design prize to encourage the use of Merino wool by the UK's textile graduates. Entrants for The Woolmark Company TexSelect Award had to incorporate a minimum of 60% Merino wool into their collections and demonstrate a good understanding of the fibre's qualities and potential application in fabric.
The award was judged by the 2019 International Woolmark Prize menswear and Innovation Award winner Edward Crutchley and Creative Director of luxury brand Johnstons of Elgin, Alan Scott. Central Saint Martins' graduate Jaeyong Kim won the award, praised for the complexity and brilliance of his woven designs.
"You look closely at the work and see how different it is, how sophisticated," Alan Scott said at the award ceremony at September's Première Vision trade show in Paris. "Colour, proportion, technique. Stacks of stuff, beautifully designed, and with a modern edge.
"He could be employed in a second, but he's already a designer in his own right."
Alan's words were to prove more true than he realised, as the comments foreshadowed a bespoke collaboration between Jaeyong Kim, Johnstons of Elgin, Edward Crutchley and The Woolmark Company – that would result in several of Jaeyong's designs being incorporated into Edward's Autumn/Winter 2020/21 Ready to Wear collection showcased at London Fashion Week Men's in January.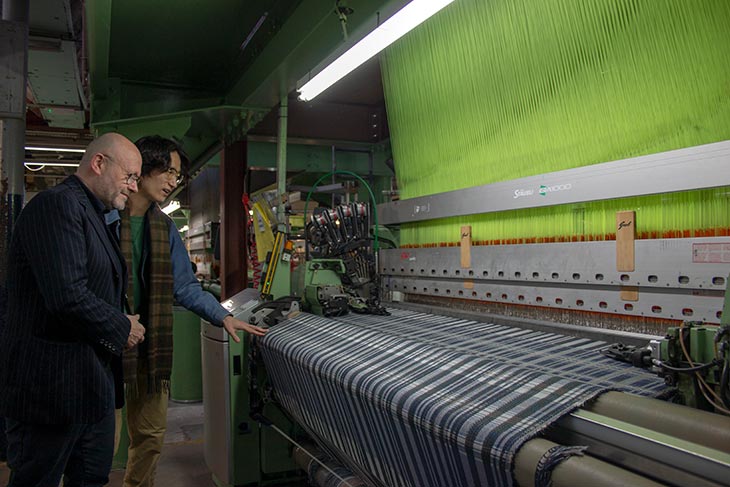 December 2019: Alan Scott with TexSelect Award winner Jaeyong Kim, seeing Jaeyong's woven wool designs brought to life on an industry scale at the Johnstons of Elgin mill in Scotland.
WOVEN WOOL COLLABORATION
Three fabrics from Jaeyong's collection were industrialised by Johnstons of Elgin. Jaeyong had the opportunity to visit the company's historic mill in Scotland twice. Firstly, on 7 November to translate his designs into fabrics for the collection, and secondly on 10 December to see the fabrics in production.
On the first visit, Jaeyong worked with the Johnstons of Elgin design team to discuss colour, yarn and structure before moving to the computer-aided design (CAD) area where they were able to adapt and simulate the chosen designs ready for production.
"During the visit it was a chance for us at Johnstons to share with Jaeyong the process of designing and creating in an industry setting," said Johnstons designer, Beth Wilson. "Collaborating with Jaeyong was great, with such creativity and a keen eye for detail, the process was seamless working on three design ideas for manufacture."
On the second visit to Johnstons, Jaeyong saw all three fabrics in production during a bespoke VIP mill tour. The collection consisted of:
A tailoring fabric featuring a check design made from 100% wool.
A Blazer weight jacquard fabric created using an interchanging double cloth structure made from 100% extrafine Merino wool.
A coating weight fabric in a stripe design constructed using 100% lambswool.
Edward subsequently invited Jaeyong to his studio in London to see the final garments and assist with fitting/styling. Jaeyong was also invited backstage during Edward's show on 4 January during London Fashion Week to see two of his designs launched on the catwalk. The third will be used by Edward in his Spring/Summer 2021 collection.
"Everyone loved the fabrics and they really added to the collection," Edward said. "Working with Jaeyong and Johnstons allowed us to add extra dimensions of texture and detail into the collection whilst at the same time celebrating how versatile wool can be."
Edward's overall collection featured approximately 75% wool, which reflects the success of the International Woolmark Prize in imbuing designers with a knowledge and love for wool that continues through their careers. The collection was also shown in January as part of the British Fashion Council's 'London SHOW rooms' initiative in Milan in collaboration with the National Chamber of Italian Fashion.



January 2020: Two of Edward Crutchley's designs using fabric designed by Jaeyong Kim, on show at London Fashion Week Men's.


A UNIQUE EXPERIENCE
Edward helped create a truly unique and unforgettable experience for Jaeyong Kim. Following the journey of fabric design, production, garment to catwalk has been invaluable for Jaeyong who has been overwhelmed with the support he has received from all parties involved.
"I went to Edward's studio whilst they were doing styling, during which it was great to see the fabrics working their way into the collection," Jaeyong said. "Edward's show was wonderful; I was able to go backstage and see everything up close. He has been helpful and supportive throughout, even when so busy with preparations.
"I really thank The Woolmark Company for helping set up this opportunity; it definitely wasn't something I imagined possible before graduation. I'm very much looking forward to the next steps."
Johnstons of Elgin also said the collaboration was very productive.
"It has been a great experience working through this project with The Woolmark Company, Jaeyong and Edward," said Johnstons of Elgin Design Manager, Louise Sullivan. "It was a real testament to the collaborative philosophy that can be found in our industry, and we're really proud at Johnstons to have had the opportunity to be involved."
This article appeared in the March 2020 edition of AWI's Beyond the Bale magazine. Reproduction of the article is encouraged, however prior permission must be obtained from the Editor.