Sign up to Wool.com and create your own personal wool hub.
Control your own destiny with EID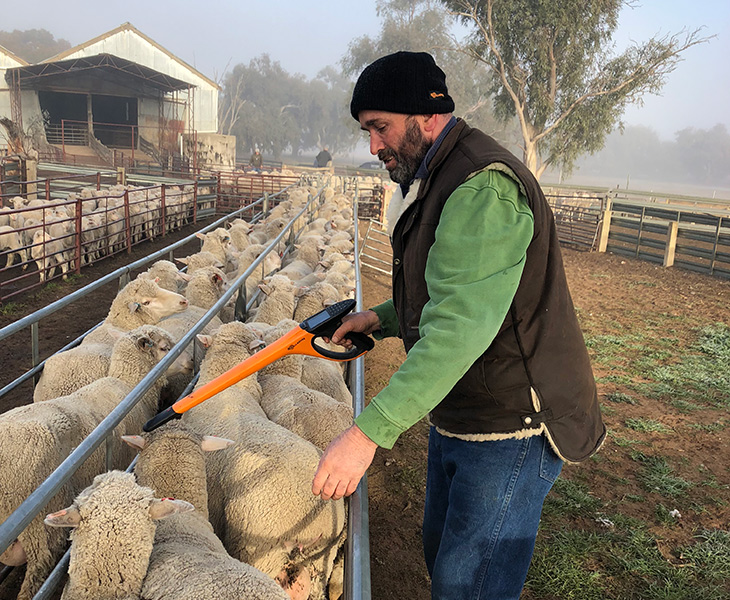 Consultant Anthony Shepherd wants to improve commercial woolgrowers' awareness of the benefits of EIDs in sheep.
As well as operating a commercial farm, 'Jaffa', at Cootamundra in southern NSW, Anthony Shepherd runs his consultancy business Sheepmatters, which has clients across Australia representing more than 1.3 million breeding ewes. Here Anthony gives advice on making the most out of electronic identification (EID).
Top tips for using EIDs
Know your goals. Where do you want your sheep operation to be in three, five or ten years' time?
Learn to swim. Start with EIDs on a small scale, eg on maiden ewes, and learn how it works.
Don't invest in expensive equipment. Until you know what you need, employ a service provider and use their knowledge.
Only collect traits that matter. Make sure what you're collecting is useful for your operation.
Be subjective. Assume all sheep are on the same playing field. Just because a ewe is six years old, it doesn't mean she's not productive.
In the past four years, high wool and meat prices have sparked a steep growth curve in the use of technology to measure the performance of ewes.
"We go to lots of ram sales where there's plenty of performance data available on the sires, then we go home and breed from them. But without measuring the ewes those rams are joined to, and the lambs from that joining, how do we know we're getting the type of sheep we want?" Mr Shepherd said.
Mr Shepherd says the most common misconception about EIDs is that they involve extra work.
"In fact, when sheep are in the yards anyway for shearing, pregnancy scanning, lamb marking or weaning, it's about opportunity. The EID system enables us to digitally record relevant commercial traits of the individual sheep and rank it on performance, not age.
"I advise producers to start small because it's a big investment with RFID tags costing $1-$1.60 and hardware and software up to $30,000. They may only need to spend 10-20% of that money to get what they need from EID."
Mr Shepherd recommends his clients set a longer-term breeding objective to know which data to collect, and EIDs can improve the ease and accuracy of this.
Once producers are measuring and collecting data, the key is understanding it. Producers can work out a three-year rolling average clean fleece value by combining specific traits. These traits could include a ewe's ability to conceive, rear a live single lamb or twins, body weight, and condition score at scanning and weaning. These can then be ranked alongside wool production traits, such as greasy fleece weight and micron.
Mr Shepherd shows his clients how to combine the data with subjective classing to ensure the right conformation. Following that, ewes are ranked to decide which are kept in the breeding program and which are sold or joined to a terminal prime lamb sire.
"The Merino ewe needs to be a lifetime ewe, so we gather information about her progeny as well – the lamb's weaning weight, weight gain, whether they're born in a single or twin mob – and all of this is mapped on the EID tag, like the relevant information you see on the resume of a potential employee," Mr Shepherd said.
"We've found that 28-33% of all commercial twin lambs have a higher weight gain than single lambs, and there's high repeatability and heritability. With good management, those twins that are ewes are more likely to get in lamb and more likely to have twins."
"Similarly, I've followed maiden ewes that don't get in lamb the first year, but get in lamb the second year. Of the flocks where we've tested these year two maiden ewes, 70-72% of their ewe lambs also didn't get pregnant until the second joining. So you're breeding slow ovulating, slow maturing sheep."
By following 5,500 maiden ewes owned by 11 clients, he found a similar outcome with maiden ewes that have a live lamb but fail to suckle it.
"We followed those ewes for five years. Compared to 5.8 lambs on average from a maiden that raised live lamb(s), we found that these maidens that lost their first lamb(s) had an average of 2.3 lambs, so there is high repeatability of that inability to raise a lamb," Mr Shepherd said.
"When some of those ewes died, I did autopsies and found many had hard colostrum in their teats, meaning they got pregnant every year but didn't have the ability to milk, due to not passing that milk as a maiden.
"These ewes need to be sold to the meat processor, not kept."
He says the key to successfully using EIDs is following through on the data.
"It's not about running the most sheep you can. It's about getting rid of the bad performers and spending your time on improving productivity."
More information: Anthony Shepherd, 0418 132 864, anthony@sheepmatters.com.au
Picking Performer Ewes workshop
The AWI-developed and funded Picking Performer Ewes (PPE) workshop is designed for woolgrowers aiming to lift the lifetime performance of their Merino ewes. PPE identifies key practical actions for commercial enterprises to implement on-farm to achieve this performance aim. PPE assists the commercial self-replacing Merino production sector in recognising and placing appropriate importance on the total lifetime productivity potential and value of their Merino ewes. For more information, visit www.wool.com/workshops