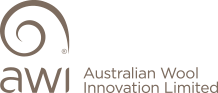 Wool advocate wins ag award for young women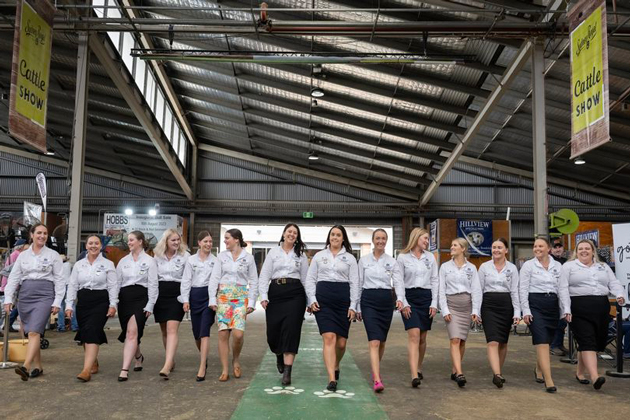 Young woolgrower Florance McGufficke from Cooma in NSW, who was last year awarded an AWI Emerging Young Leaders Scholarship, has gone on to this year be named the Sydney Royal AgShows NSW Young Woman for 2023.
Florance grew up on a sheep and wool enterprise near Cooma on the Monaro in Southern NSW and spent her early years in 'daddy-day-care' helping her father in shearing sheds and paddocks. Their business is family owned and operated, with a strong focus on breeding highly productive and profitable sheep and showcasing the value of data analysis and genetic evaluation.
Florance has been involved in all aspects of the family business and with these foundations went on to complete a double degree of a Bachelor of Agriculture and Business at the University of New England. She now works as the NSW Stud Stock Sales Support Officer for Elders in Dubbo.
Florance was last year awarded the AWI 2022/23 Emerging Young Leaders Scholarship which allows Florance to participate in the prestigious Cultivate – Growing Young Leaders program and join the Young Farming Champions network of early professionals advocating and leading for agriculture, run by Action4Agriculture.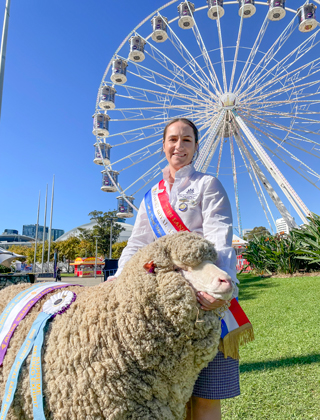 Sydney Royal AgShows NSW Young Woman for 2023 Florance McGufficke with the Sydney Royal Easter Show Supreme Merino Exhibit winner Lady Kate of Conrayn Merino Stud, Berridale. PHOTO: The Land
"I am passionate about agriculture and building relationships and networks to promote the benefits and potential of wool: an industry full of opportunity for all. Wool is the solution to a more sustainable future. I understand the benefits of this luxurious fibre, and I have a desire to be a leading advocate for the future of the wool industry," Florance said.
"Education is key. My question to everybody is: 'What are the clothes you are wearing now made from?' Wool fabrics have come a long way and once you invest in a woollen product you will understand the benefit of this natural fibre," she said.
This year, Florance McGufficke (representing the Cooma Pastoral & Agricultural Association) won The Land Sydney Royal AgShows NSW Young Woman competition, a competition that continues to play a significant role in the development of rural women and their communities.
"Through this opportunity I am now giving back to regional towns, local communities and helping pave the way for other young women," Florance said.
The announcement in April was just the start of a busy year for Florance and the other 13 finalists who will visit agricultural shows and events promoting agriculture and the role of young women in rural NSW communities.
"It's an amazing opportunity to be part of this movement of young women in agriculture. I am excited for what the future holds for me and all the amazing women I've met," Florance said.
Florance has learnt that things don't always work out as you planned or how you want, but if you remain open-minded and optimistic there is always an opportunity.
A quote of Franklin D. Roosevelt that resonates with Florance and one she has ambition to follow is: "We cannot always build the future for our youth, but we can build our youth for the future."
This article appeared in the September 2023 edition of AWI's Beyond the Bale magazine. Reproduction of the article is encouraged.