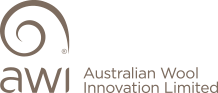 Modern Merino: wool grown alongside native flora and fauna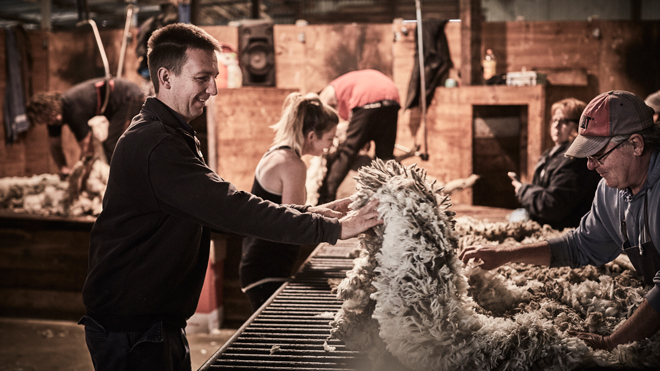 Modern Merino is a family owned and operated brand that last year launched a range of luxury products made from superfine wool grown on the Atkinson family's own property in South Australia.
Woolgrower Chris Atkinson with Merino fleece at the family property in South Australia.
Modern Merino is a family owned and operated brand that last year launched a range of luxury products made from superfine wool grown on the Atkinson family's own property in South Australia.
Woolgrowers are understandably often curious to discover what product their own wool ends up being used in. While increased traceability through the supply is helping more woolgrowers find out, Chris Atkinson and his wife Tarlee have gone one step further and last year created their own brand, Modern Merino, that uses wool grown by their own sheep.
The Atkinsons run about 5,000 superfine Merinos across two properties, one in the Adelaide Hills and one in Kangaroo Island. Chris's parents, Peter and Sue, bought the original 32-hectare block in the Adelaide Hills in 1985, four years before Chris was born, and started out with 200 Merino wethers. Fast forward 38 years and the whole operation now consists of 1,865 hectares between the two properties.
After Chris had finished school, he did his wool classing certificate and in the next couple of years decided growing wool was the career path he wanted to pursue. Chris and Tarlee now undertake most of the operational management of the two farms. They also now have two children of their own, Alexis and Kaiden, who may one day continue to develop the family farming business – and also perhaps expand their nascent Modern Merino brand.
Modern Merino brand
The Atkinsons had always thought about creating their own brand, but it was during COVID that the family really started to put their plans into action, and in July last year launched their business.
They currently sell Merino throws, baby blankets, scarves and shawls, made from their homegrown non-mulesed 17-micron Merino wool. They predominantly sell online via their brand's website.
"The scarves and shawls are made with an open weave making them lightweight, breathable and comfortable. They are a stylish addition to your summer wardrobe, and can be worn as an accessory from beach to bar, while the soft Merino wool ensures that you're warm enough on colder nights," said Tarlee.
"Our baby blankets and throw blankets are both made in herringbone and waffle versions. The Merino wool yarn we use is very fine, resulting in a product that is soft, light and comfy.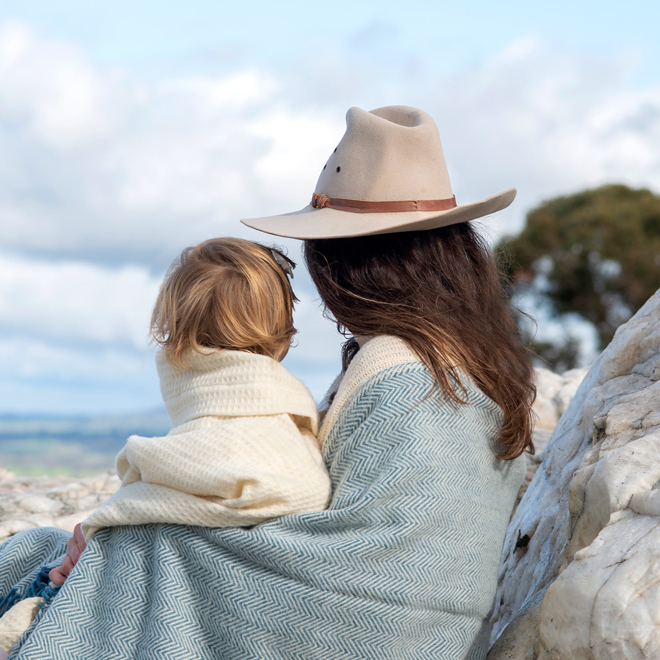 Modern Merino's waffle baby blanket and herringbone throw.
"Being a young business, our range is still fairly small, but we hope to continually grow the range and add exciting new items in the future."
To emphasise the products' Australian origin, the Atkinsons have their products woven in Tasmania. Modern Merino is Australian owned, Australian grown, and Australian made.
Wool grown alongside nature
In the brand's marketing, the Atkinsons raise awareness of the eco-credentials of Merino wool – a 100% natural, biodegradable and renewable fibre. But they also highlight that the wool is grown alongside nature on their farm.
Chris says the core values on their farm have always been focused on looking after the native flora and fauna, and treating all animals domesticated or not with respect and care.
"For example, 23% of our Kangaroo Island property consists of native bushland which we do not graze; it is left entirely to the native flora and fauna. And on our Adelaide Hills property, we have planted thousands of native trees and shrubs, and fenced off 30-hectares of waterways and gullies to prevent erosion and provide homes to the native fauna," he said.
"We also have a fenced-off 30-hectare bush block, which is one of the few remaining natural areas in the eastern Adelaide Hills. We often receive visits from various government, university, and private organisations to view and monitor the rare flora on the block. Both properties are home to thousands of native birds, animals and reptiles which are all fully protected."
The property is carefully managed with rotational grazing and the Atkinsons very carefully manage wildlife and conservation corridors of native forest and scrub on their property.
To improve working conditions for wool harvesting staff, the Atkinsons have also done a full upgrade of their shed on Kangaroo Island incorporating the AWI Shearing Shed design.
More information: www.modernmerino.com.au
This article appeared in the June 2023 edition of AWI's Beyond the Bale magazine. Reproduction of the article is encouraged.