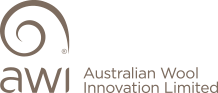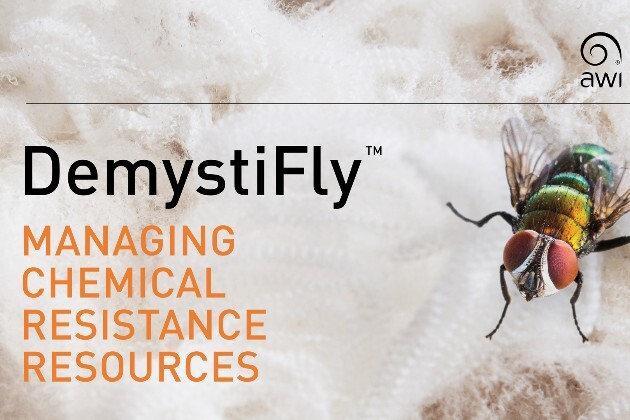 Are you concerned the chemicals you've been using for flystrike control are losing their effectiveness?
Are you concerned the chemicals you've been using for flystrike control are losing their effectiveness?
There are only a small number of chemical groups registered for flystrike control, so it is important to prolong the usefulness of these chemicals on your property for as long as possible.
By implementing resistance management strategies, woolgrowers can slow the development of resistance, which will help maintain the effectiveness of the currently registered chemical products.
AWI has a range of resources available for woolgrowers about blowfly chemical resistance to 'demystifly' this complex, yet important, issue.

Understanding chemical resistance
Lucilia cuprina, the Australian sheep blowfly, initiates most cases of flystrike on Australian sheep. Like all insect pests, it has the potential to develop resistance to insecticide (chemical) treatments.
Resistance is more likely to occur with long term use or over reliance on just one chemical group.
Resistance doesn't mean that the chemicals have completely lost effectiveness, it just means that the period of protection may be less than what you previously expected or what is on the label.
Do you have resistant flies?
These signs typically indicate that your flies might be resistant to chemical treatments:
a shortening of the protection period that is specified on product labels; or
flystrike in multiple sheep that have been treated with the same chemical rather than just in a few sheep.
However, before you conclude that your flies are resistant check the following.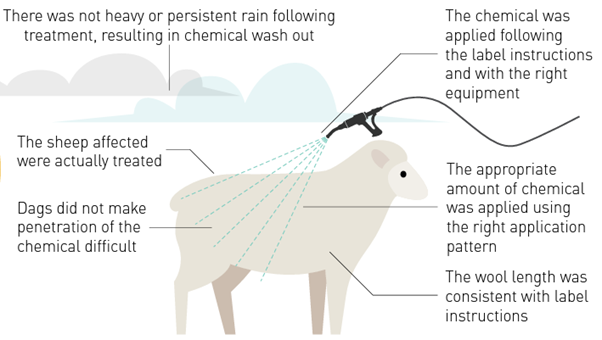 If these factors have been eliminated you should arrange for a blowfly chemical resistance test.
Testing for resistant flies
Resistance of flies to flystrike chemicals can be managed to slow the development, especially if caught early. If you are concerned your population of flies is showing resistance to the chemicals you use, you can have a resistance test carried out.
NSW DPI is now conducting laboratory tests, which are open to producers from all states, to determine the presence of resistance to various chemicals.
You will need to supply at least 60 live, healthy Lucilia cuprina maggots to the laboratory.
For more information, including costs, and to get a collection kit, with detailed instructions sent out to you contact:
Narelle Sales
Elizabeth Macarthur Agricultural Institute
Email: emai.insectresistance@dpi.nsw.gov.au
Direct Ph: 02 4640 6446
Switch Ph: 02 4640 6333
Resistance management steps
Follow these resistance management steps to maintain flystrike protection in your flock and slow the development of resistance within your local fly population.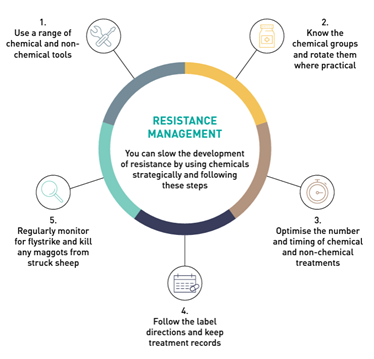 Want to know more?
AWI has a range of resources on chemical resistance in blowflies, which you can access below.
OTHER RESOURCES
It's Fly Time!™
Prevention, monitoring and treatment all play key roles in integrated flystrike management in the lead up to, and during, high-risk flystrike periods. It's Fly Time!™ provides a succinct introduction for woolgrowers on managing flystrike during high-risk periods; including tips for preventing flystrike, information on prioritising sheep for monitoring and treatment, and options for treating sheep when flystrike does occur.
Look out for upcoming live It's Fly Time!™ webinars on the AWI events page, held in the lead up to, and during, high-risk flystrike periods.
SimpliFly™
SimpliFly™ is a one-day workshop, delivered by AWI-accredited advisors in partnership with the AWI state grower extension networks, to help woolgrowers reduce the incidence and impact of flystrike on their flocks and profits. During the workshop woolgrowers will learn about the range of tools available in their flystrike management toolbox and how to use them in combination. Throughout the day, attendees work through developing a strategic flystrike management plan and annual calendar that incorporates both short- and long-term tools specific to their property.
To find out when there is going to be a workshop near you or to register your interest in a SimpliFly™ workshop in your region, we encourage you to contact your state grower extension network and sign up to their free newsletter. For contact details and information about AWI's state grower extension networks visit www.wool.com/networks.
MORE INFORMATION ON FLYSTRIKE
For further information on AWI's Flystrike Extension Program visit www.wool.com/flystrikeresources.
For more detailed information on flystrike management, including access to interactive decision support tools, visit www.flyboss.com.au.
For information on AWI's flystrike research, development and extension program, visit www.wool.com/flystrike.