Sign up to Wool.com and create your own personal wool hub.
Using a chemical from the same chemical group too frequently can exacerbate blowfly chemical resistance.
Knowing your chemical groups and rotating them, where practical, is key to maximising the effectiveness of your treatments. Selecting the correct chemical groups for flystrike prevention and treatment will protect the health and welfare of your sheep and save you time and money.
AWI's Flystrike Chemical Selection Wheel is designed to help you quickly consider different approaches to flystrike chemical use by selecting the chemical groups you have either recently used or intend to use. It includes consideration of chemical groups that have formulations available for both fly and lice control.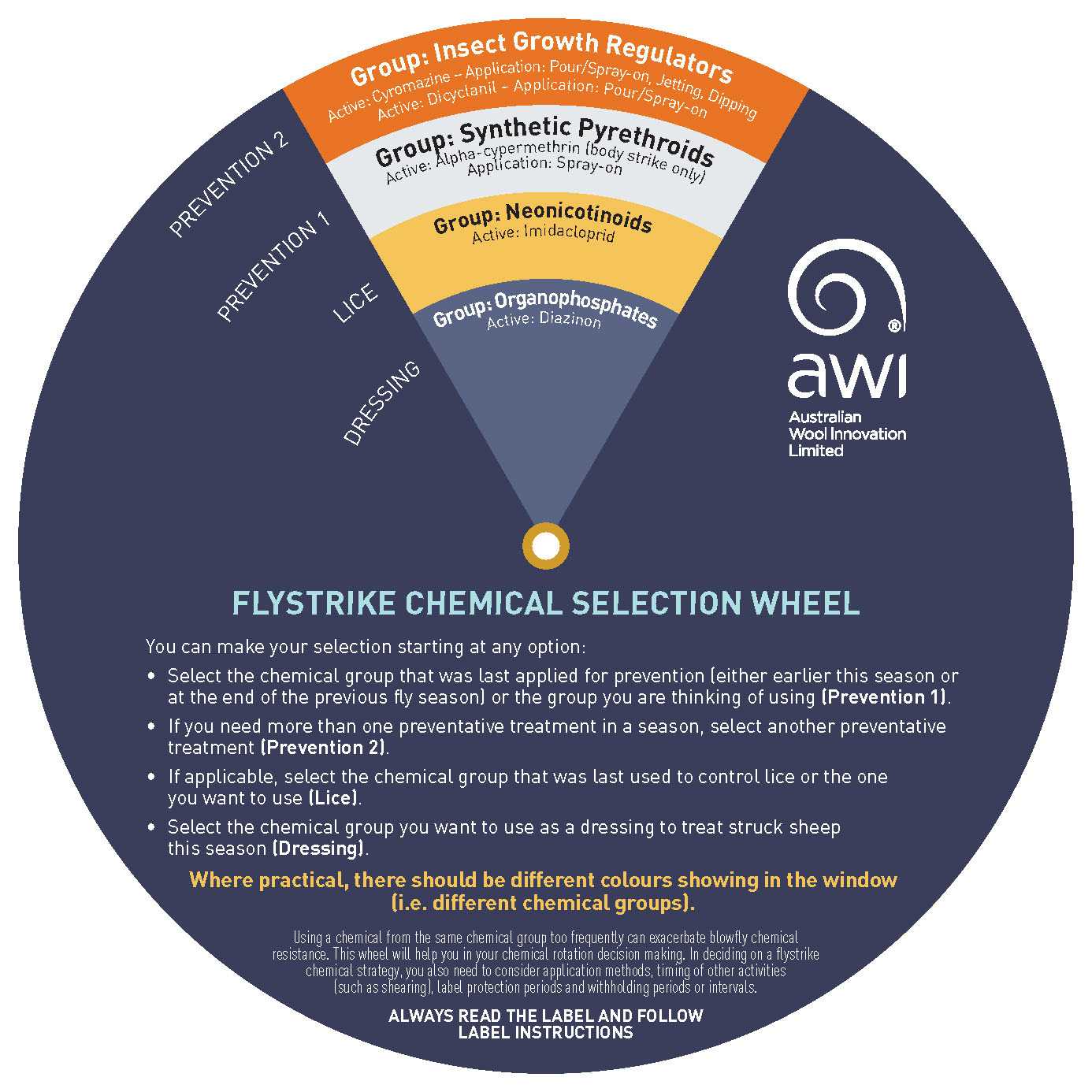 How to use the Flystrike Chemical Selection Wheel
You can start with any disc on the wheel:
Prevention 1: Select the chemical group that was last applied for prevention (either earlier this season or at the end of the previous fly season) or the group you are thinking of using.
Prevention 2: If you need more than one preventative treatment in a season, select another preventative treatment, otherwise leave as No Selection.
Lice: If applicable, select the chemical group that was last used to control lice or the one you want to use. If you don't use a treatment to control lice or the treatment you use is not included, leave as No Selection.
Dressing: Select the chemical group you want to use as a dressing to treat struck sheep this season.
Where practical, you should avoid using a chemical from the same group so there should be different colours showing in the window (i.e. representing different chemical groups).
There are six chemical groups available for use to prevent or treat flystrike. Within these chemical groups there may be only one or two active chemicals but there may be multiple products marketed with different brands, names and formulations. You can find the name of the group and active used in your chemical on its label.
When deciding on which flystrike chemical to use, you also need to carefully consider application methods, timing of other activities (such as shearing or length of wool at time of treatment), label protection periods and withholding periods or intervals that best suit your specific situation.
A guide to the different flystrike chemical groups is below.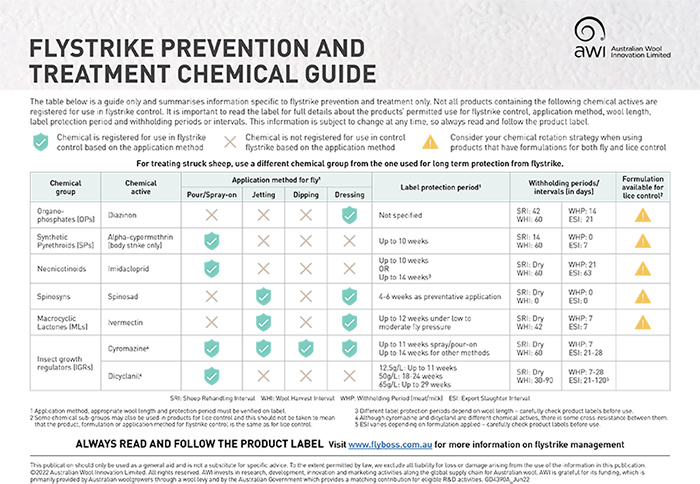 Some handy explanations when it comes to withholding periods/intervals:
The Sheep Rehandling Interval (SRI) is the time between treatment and when wool/sheep can be safely handledwithout the need for protective clothing.
Wool harvesting interval (WHI) (equivalent to wool withholding period) is the period between treatment and when wool can be harvested to satisfy Australian environmental requirements.
The term withholding period (WHP) refers to the time period during which a producer or veterinarian must discontinue treating an animal with a drugbefore the meat and/or milk can be marketed for human consumption.
An export slaughter interval (ESI) is the period that must lapse between chemical application to livestock and their slaughter for export.
So now you've got an idea of what chemical group you want to use as a treatment, what next?
Once you have used the Flystrike Chemical Selection Wheel to select the chemical groups, talk to a chemical reseller about which products are available for you to use for your specific circumstances. You can also use the ParaBoss Products Search Tool to search for registered flystrike prevention and treatment products under their group or active.


ALWAYS READ AND FOLLOW THE PRODUCT LABEL DIRECTIONS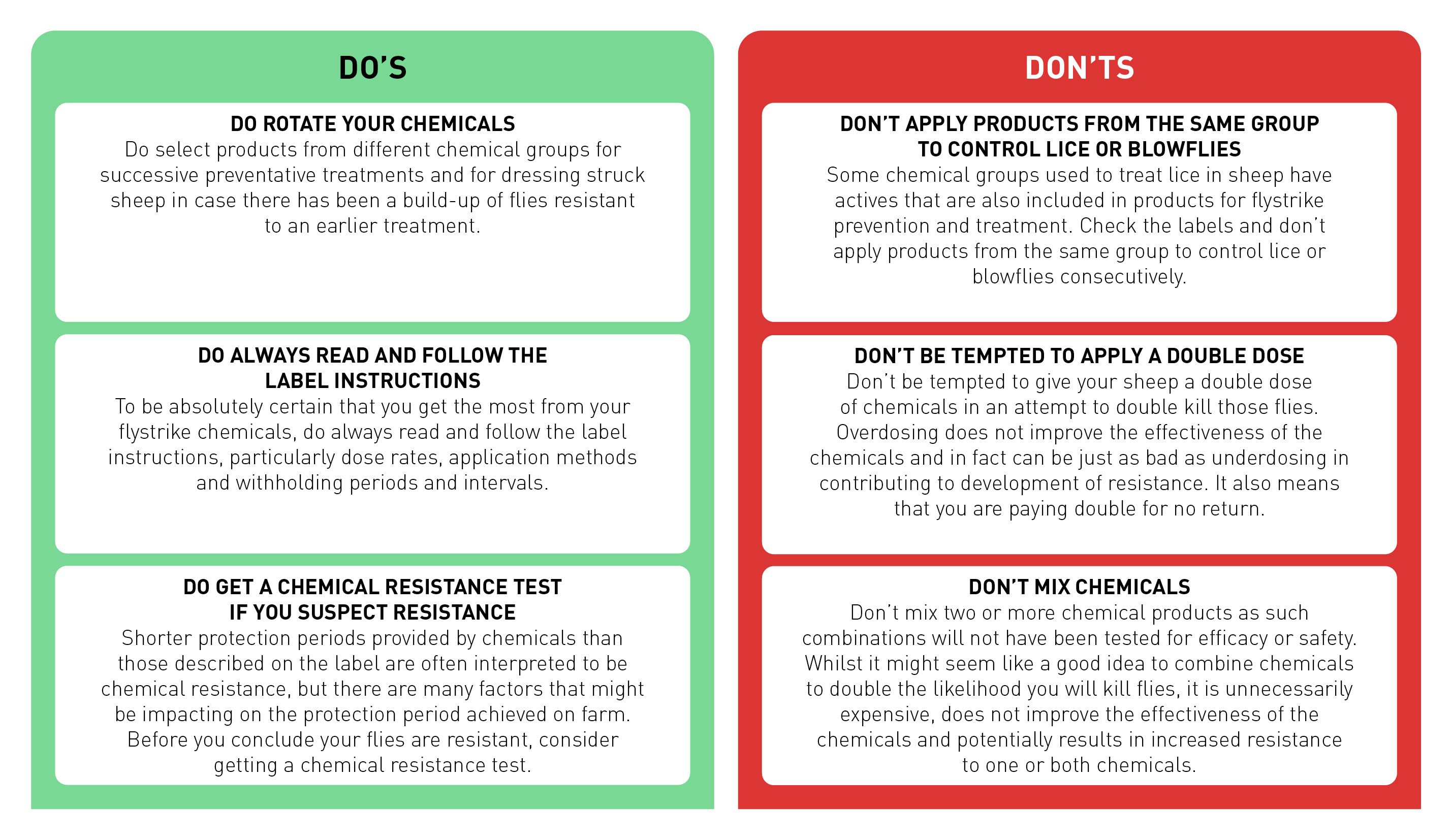 Can I use the Flystrike Chemical Selection Wheel to select my lice products?
No, this wheel is designed to help you manage blowfly chemical resistance and only includes lice control options that also have formulations for fly control. Therefore, we do not recommend you use the Flystrike Chemical Selection Wheel to select your lice control products. For information on lice control check out LiceBoss.
MORE INFORMATION ON FLYSTRIKE
Go here for AWI's latest resources to help you monitor, prevent and treat flystrike, as well as reduce the risk and manage the impact of chemical resistance on your property, including:
For more detailed information on flystrike management, including access to interactive decision support tools, visit www.flyboss.com.au.