Sign up to Wool.com and create your own personal wool hub.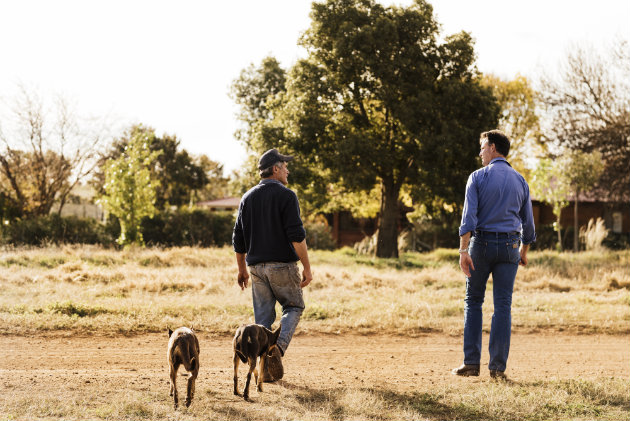 AWI believes to be effective, accountable and productive, good consultation is essential. We can do this best when we are well informed, when we have consulted and engaged with our levy payers and industry stakeholders and when we work together.
AWI STRATEGIC PLAN 2019/20-2021/22
In consultation with stakeholders, AWI developed its Strategic Plan for 2019/20 to 2021/22. The purpose of the Plan is to outline AWI's key investment priorities in research, development and marketing for the three years from 1 July 2019. In the lead up to the next WoolPoll, AWI will be measured against the targets set out in the Plan, through the independent Review of Performance.
Download
AWI stakeholders
As the research, development and marketing organisation for the Australian wool industry, AWI works in partnership with a wide range of stakeholders along the supply chain - from woolgrowers to consumers.
AWI's key stakeholders include
Woolgrowers
Woolgrower representative groups (national and state)
State Farming Organisations
Government (federal, state and international)
Domestic supply chain representative groups
Research and development vendors
Retailers and brands
Fashion designers
Manufacturers and supply-chain partners
Animal welfare organisations
How AWI engages with stakeholders
AWI implements a comprehensive planning and consultation cycle across its portfolios to ensure two-way dialogue with stakeholders and enable AWI to work with partners in developing its activities. While AWI consults a range of stakeholders, engagement with woolgrowers is a key priority.
AWI engages stakeholders in a number of ways including:
Regular meetings with woolgrower representative bodies and key processors
Forums with woolgrowers in wool producing areas
Trade and retail partner consultation forums
Retailer and brand workshops and roadshows
Woolmark licensee workshops and meetings
Meetings with manufacturers and media partners in key markets
Publications such as the quarterly Beyond the Bale magazine, AWI's online newsletter and the AWI website.
Consultation with woolgrower representative groups
It is important for AWI to regularly consult with woolgrower representative bodies to seek feedback on their member priorities for research, development and marketing, and to support their knowledge of AWI activities and performance.
AWI established the AWI Woolgrower Industry Consultative Committee (ICC) in 2010 to formally consult key woolgrower representative organisations. The ICC has served an important business purpose enabling AWI to formally consult with woolgrower representative groups, identify woolgrower priorities, and report on our activities.
Since late 2018, we have reviewed our consultation arrangements. We have considered feedback we have received, including from the various workshops and submissions from industry over the past few years.
This feedback has been invaluable to the development of our new consultation model, which strikes a balanced position, meeting the expectations of woolgrowers, woolgrower representative groups, government and AWI's business needs.
Our objective was to create a consultation model with a clearly defined purpose. We sought to ensure the model was inclusive of more groups, to bring feedback from the varied regional and organisational perspectives, while ensuring there was a core group that AWI could engage more regularly on more specific issues.
As such, the new model has two key consultation forums: a core group of the AWI Woolgrower Industry Consultation Panel (WICP) and a broader group of the AWI Woolgrower Consultation Group (WCG).
Woolgrower Industry Consultation Panel and Woolgrower Consultation Group
The Terms of Reference for the AWI Woolgrower Industry Consultation Panel (WICP) and the broader group of the AWI Woolgrower Consultation Group (WCG) can be found here.
Membership of the WICP:
Independent Chair: Mr Ron Cullen – appointment effective for 12 months from 1 July 2019
Broad wool representative
Commercial Merino Ewe Competitions Association
Department of Agriculture representative
Two AWI Board representatives
WICP meetings are held three times per year and the WCG workshop is held once a year to coincide with key dates in AWI's planning cycle, enabling industry feedback to be considered in the company's decision-making.
2020 Meeting dates for the WICP and WCG are expected to be:
4 March (WICP), 7 May (WICP), 30 September (WICP), TBC – (WCG)
Woolgrowers wanting to provide feedback through the WICP or WCG are encouraged to contact their member organisation.
AWI established the Animal Welfare Forum in 2009 as a forum for engaging key animal welfare organisations and researchers on sheep welfare issues.
The Animal Welfare Forum includes key stakeholders in animal health and welfare: RSPCA Australia; the Australian Veterinary Association (AVA); researchers from CSIRO and Melbourne and Sydney Universities; Animals Australia; Humane Society international – Australia; Four Paws Australia and long-standing Animal Welfare advocates.
The Animal Welfare Forum meets annually and allows for robust and open dialogue between parties on issues of importance to sheep health and welfare
Under its enabling legislation, the Wool Services Privatisation Act 2000, and Statutory Funding Agreement (SFA) AWI must conduct an independent poll of levy payers every three years to determine the amount of levy to be collected from woolgrowers. The levy poll must be conducted in accordance with the Wool Services Privatisation (Wool Levy Poll) Regulations 2003.
Known as "WoolPoll", the poll gives levy payers the chance to set the rate of wool levy they will pay for the following three years, by voting for their preferred levy rate option. Under the regulations three to five options must be presented to levy payers, including a zero rate. The levy rate that receives the most votes is recommended to the Minister for Agriculture and reflected in relevant primary industries excise legislation.
The outcome of the WoolPoll - the levy rate and the proportion of funds to be spent on research, development and marketing - is used to negotiate a new SFA with the Federal Government, which governs AWI's expenditure and operations for the next three-year period.
The outcome of the poll also forms the basis of AWI's Strategic Plan, which outlines the key investment priorities and activities for the next three years. The plan is based on woolgrower and government priorities for expenditure, which AWI seeks through a robust consultation process during development of the plan.
At the 2018 WoolPoll, woolgrowers voted to pay a 1.5 per cent levy to AWI for 2019/20 - 2021/22 (previously 2 per cent).
Visit www.woolpoll.com.au for more information about WoolPoll 2018.
AWI Business Cycle
AWI operates on a Triennial Business Cycle. The current (2019/20 - 2021/22) cycle started on 1 July 2019 with the implementation of the 2019/20 - 2021/22 Strategic Plan. The following outlines the activities and processes which underpin AWI's operations throughout the Triennial Business Cycle.