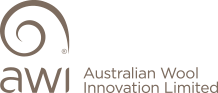 Filling the feed gap with shrub systems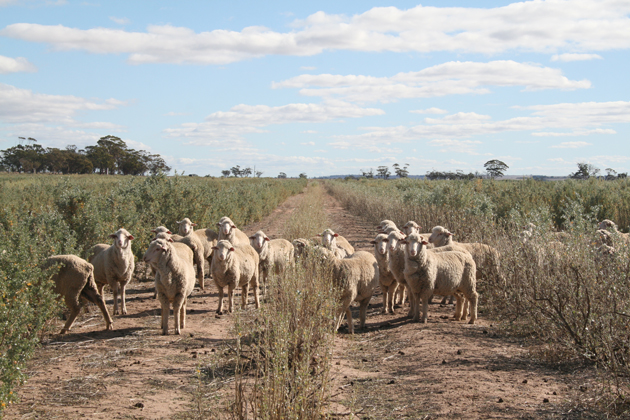 A four-year project run by CSIRO and funded by AWI and Meat & Livestock Australia (MLA) has demonstrated to sheep and wool producers how new shrub systems can make unproductive agricultural land more profitable.
Shrubs can provide ideal supplementary feed during the summer/autumn feed gap and dry conditions.
Filling the late summer/early autumn feed gap is a constant challenge for woolgrowers in dryland farming regions such as Australia's wheat-sheep zones, particularly during dry years. Many woolgrowers are therefore turning to drought-tolerant native shrubs, such as saltbush, to provide an alternative source of nutrition for their livestock during the feed gap.
AnamekaTM saltbush is a variety of oldman saltbush developed by CSIRO that offers higher nutritional value and palatability, compared to other saltbushes. It also allows growers to utilise infertile land and areas impacted by dryland salinity. CSIRO is also trialling elite lines of rhagodia, a closely related shrub.
Previous research has shown that sheep offered AnamekaTM saltbush or rhagodia, while grazing cereal residues, maintained weight and had 20% greater wool growth than sheep offered cereals alone. Furthermore, in respiration chambers, inclusion of rhagodia led to 26% less methane produced by the sheep.
AWI Project Manager, Reproduction & Nutrition, Emmah Goldsmith, says AWI and MLA investment in a recent CSIRO research project, which ran during the past four years, has generated important data and extension products to support the adoption of shrub systems on marginal soils.
"The ultimate aim of AWI's investment in the project is for woolgrowers to improve their whole-farm stocking rates and help them manage seasonal risk, especially as climate variability increases," Emmah said.
"A key result of the research is that a new generation of perennial shrubs has been identified that have the capacity to double existing biomass growth rates and could have the potential for direct seeding.
"Information has been created and already rolled out to producers regarding shrub grazing management, and the use of fertilisers and adapted annual legumes to optimise shrub system productivity.
"Adoption of these superior shrub systems will lead to additional benefits such as reduced dryland salinity, enhanced ecosystem function, higher animal welfare and improved eco credentials for wool-growing."
Productive and commercial results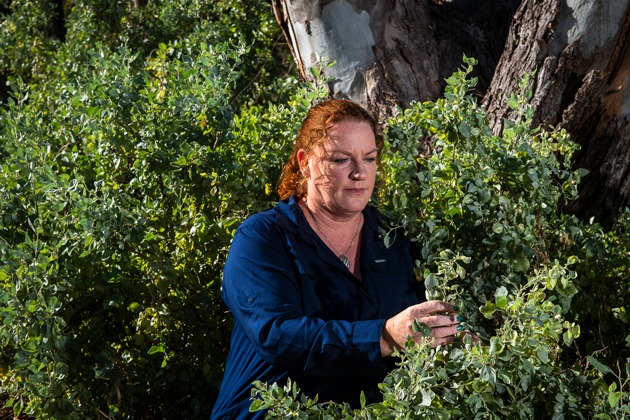 Dr Hayley Norman of CSIRO led the research into superior shrub systems. PHOTO: Damien Smith Photography
During the project run by CSIRO, a series of four on-farm paddock-scale field experiments across the agro-ecological zones of WA were used to obtain grazing data and compare shrub genotypes.
"We have identified elite oldman saltbush seed lines that have similar nutritional value to AnamekaTM, reliably produce at least 50% more biomass but are less palatable. These are almost ready for commercialisation. Through CSIRO's Drought Mission, we are finalising comparisons of seed ecological traits with a view to developing direct seeding for some situations," said CSIRO agricultural scientist, Dr Hayley Norman, who ran the research project.
"We have also identified adapted rhagodia lines that are incredibly productive on deep infertile sandy soils and have high digestibility and crude protein, although there are still some issues with palatability that require further consideration."
"These drought-tolerant native shrubs, grown on soils that are marginal for crop production, provide nutrients to complement crop and pasture residues during summer/autumn and reduce supplementary feed inputs."
- Dr Hayley Norman, CSIRO
One of the aims of the project was to investigate opportunities to halve establishment costs through seed lines that can be planted in nurseries or possibly direct seeded in paddocks.
"The project has enabled significant progress in understanding the seed ecology of the two species and make them commercially viable. For instance, we know the optimal temperatures for germination and impact of salinity on germination. We can also successfully coat seeds to make them bigger so that they flow through commercial seeders," Dr Norman said.
"We believe that we now have the information, technology and genotypes to progress direct seeding in agricultural zones and southern rangelands. With such small seeds and climate variability, it remains a challenge, but we have developed some exciting collaborations with experts in crop seeding, novel seed coatings and soil moisture harvesting."


Overcoming barriers to adoption
Dr Norman says the new strategies for superior shrub systems are likely to give confidence to mixed farmers to increase whole-farm stocking rates while potentially lowering the risk profile of their enterprises.
"Barriers to adoption of shrubs have usually included the high opportunity cost of using soils that are suited to cropping, the up-front cost of establishment, uncertainty about agronomic and grazing management, and a lack of on-farm data quantifying the benefits. This new project conducted research and extension to address these barriers," Dr Norman said.
The information that has been gathered in the project has already been and will continue to be used to inform mixed producers of the opportunity to utilise these shrubs to overcome nutrient gaps and give them confidence to increase stocking rates.
"Despite COVID restrictions, during the project the team delivered the project experiments and extension message at 48 events to 1,040 producers and 1,028 extension agents, scientists and other industry members. The team has also produced numerous extension products such as magazine articles, videos and a fact sheet," Dr Norman added.
More information: A two-minute CSIRO video on grazing saltbush is available at https://vimeo.com/733868413
BENEFITS OF THE SHRUBS
Fill the summer/autumn feed gap – They provide out-of-season feed that is high in nutrients that are often lacking in pastures and/or cropping residues during summer and autumn.
Grow on marginal land – They grow on land that is marginal for cropping so have a much lower opportunity cost in mixed farming systems (a major barrier to adoption of perennials in these zones).
Make unproductive land profitable – They offer a significant number of grazing days, especially when considering they are provided when feed is scarce and they are grown on saline, sandy and infertile soils where there are few production options.
Enable resting of pastures – They allow deferred grazing on other parts of the farm; for example, it enables farmers to rest pastures from grazing over winter, leading to improved pasture productivity. They can also be used in the lead up to (grain) seeding time when sheep flocks are relocated out of grain paddocks.
Perennial growth – They grow well on most landscapes and, once established, can become a 'living haystack' for grazing livestock for more than 20 years if managed correctly. Having said that, you may as well graze it heavily at least once per year as growth slows down when they get too big.
Risk management option – They are adapted to semi-arid areas so maintain productivity in poor seasons, assisting producers to manage risk associated with climate variability.
Shelter from heat – They offer shade and shelter during hot times and are likely to provide nutrients that assist animals to deal with heatwave events associated with climate change.
Shelter from cold – They provide crucial shelter during colder months. A new research collaboration is investigating the role of saltbush to improve twin lamb survival.
Environmental benefits – They offer environmental benefits including a reduction in salinity through water use in summer, methane mitigation (rhagodia), animal welfare and ecosystem services.
This article appeared in the September 2023 edition of AWI's Beyond the Bale magazine. Reproduction of the article is encouraged.