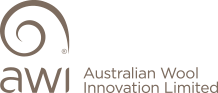 All-day comfort with Au Natural underwear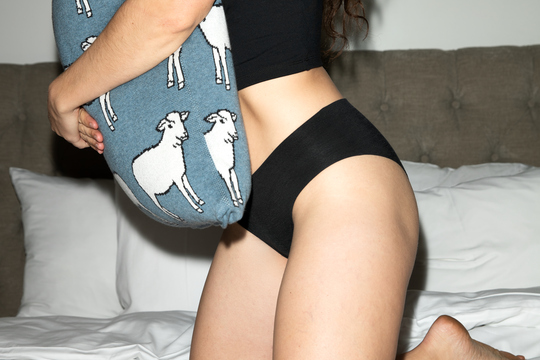 American brand Au Natural has partnered with The Woolmark Company to develop and launch the first Woolmark-certified underwear in the US. Merino wool's natural benefits provide the underwear with comfort and wearability across all the day's activities, from the office to the gym and beyond.
Au Natural is a company founded by sisters Christina Vilicich, Erika Sliwak and Rebecca Sliwak, who have created and launched a collection of Merino wool underwear that bridges the gap between comfort and style. The intimate apparel has been designed so it is versatile enough that women can wear it for any activity.
The sisters say standard underwear on the market isn't designed for comfort across all activities, which complicates getting ready in the morning.
"Prior to starting Au Natural, we dreaded the morning ritual of searching through our top drawer for a pair of undies that coincided with all our plans and what we were wearing that day. Whether it was a commute to work, a Pilates class, Saturday night out, or a long travel day, there wasn't one pair that worked for everything," they said.
After surveying hundreds of other women, the sisters learnt they weren't alone. "That's when we decided to create Au Natural. We wanted to wear undies that were comfortable and versatile, so we didn't have to think about it each morning."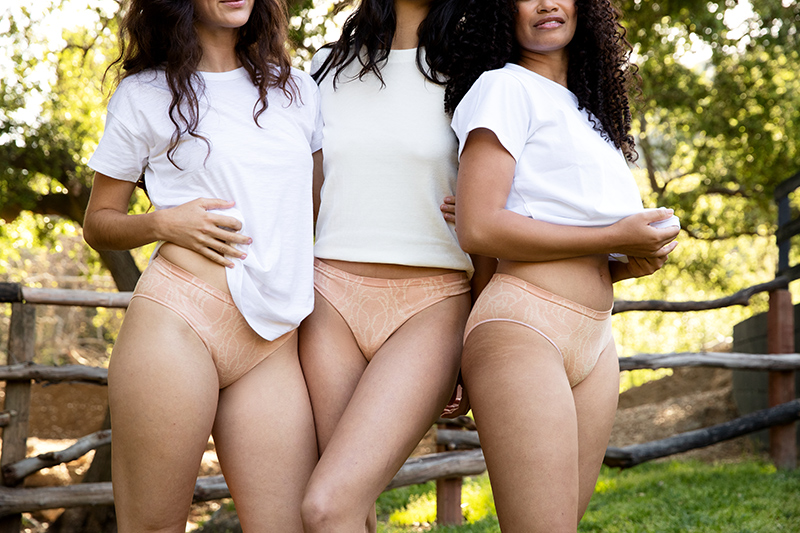 Au Natural's new versatile collection underwear uses Merino wool to provide superior comfort and style.
Merino the ideal fibre
Au Natural partnered with The Woolmark Company to develop the incredibly soft Merino wool underwear, launching in June its new collection of styles and colours ready for the US summer.
Inspired by classic lace designs but reworked in seamless jacquard Merino wool fabric, the collaboration has paired ultrafine Merino wool blend yarn from spinner Südwolle with research and testing by innovative knit designers Studio Eva x Carola, as well as expert input from The Woolmark Company's technical team. The result is stylish and dependable underwear for the modern woman.
"The Woolmark Company went above and beyond to help us optimise our supply chain, connect us with the world's best designers, and ensure we felt supported throughout the end-to-end development process."
Founders of Au Natural
"The Merino wool fibre is complex and we wanted technical expertise when developing with it. We turned to The Woolmark Company for its extensive knowledge not only about knitting the material itself and product development, but also to assure the product quality through its rigorous certification process," the sisters said.
Au Natural has the first Woolmark-certified underwear in the US, providing quality assurance for customers.
"The Woolmark Company's high standards of quality coincide with our brand belief in fewer, higher quality products and sustainable shopping overall. We are honoured that Au Natural is the first US Woolmark-certified underwear. We know receiving their stamp of approval will help our customers understand just how high-quality the product is," the sisters said.
"We are grateful The Woolmark Company came alongside us and were so generous with introductions, technical advice, and partnering throughout the R&D process. It truly shows their priority is innovation and getting Merino wool's amazing benefits into the hands of consumers."
Au Natural's Merino wool underwear is available for US customers to purchase online and at various pop-up events in New York City.
More information: www.woolmark.com/aunatural
Merino wool's benefits for underwear
Breathable – Merino wool is one of the most breathable fibres, even providing comfort during workouts and hot summer days.
Odour resistant – Merino wool absorbs and locks away odours, only releasing them when washed, thereby minimising odour.
Softness – Merino wool is renowned for being very fine and very soft next to the skin.
Elasticity – Merino wool works in harmony with the wearer's body due to the fibre's excellent natural elasticity.
This article appeared in the September 2023 edition of AWI's Beyond the Bale magazine. Reproduction of the article is encouraged.