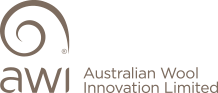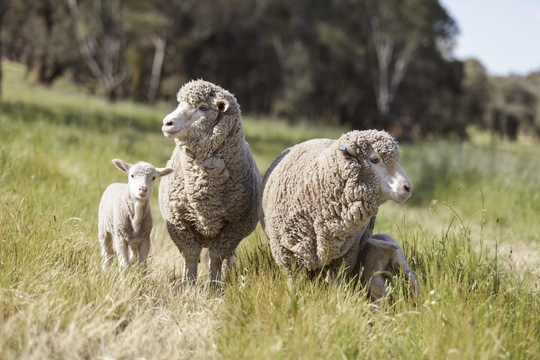 AWI provides woolgrowers with news tools, information and skills to increase the number of lambs weaned across wool growing flocks.
Lifting lamb survival is a key priority for the Australian wool industry and offers welfare, profitability and sustainability benefits. Merino producers need to aim for lamb survival better than 90% in singleton lambs and 70% in twins.
Meeting the nutritional requirements of ewes from late pregnancy through to lactation is a key determinant of lamb survival. Providing shelter, controlling predation and infectious disease, and reducing mob size at lambing also play a role in improving survivability of lambs and ewes. AWI has funded several key projects and extension resources to help producers implement best practice management for lambing. Current guidelines specify that improving lamb survival is achieved by:
Pregnancy scanning for multiples
Differentially managing the nutrition of single-bearing and twin-bearing ewes
Monitoring ewe condition score
Assessing feed on offer and pasture quality
Providing shelter within available lambing paddocks
Allocating twin-bearing ewes to the best available paddocks
Reducing mob size at lambing, especially for twin-bearing ewes
Controlling for predation and infectious disease
Resources
The Lambing Planner app and paper-based tool are useful for setting out your reproductive calendar. It allows you to select a joining date and from that point, gain a series of guidelines and recommendations throughout the year, including the use of teasers, ram preparation, joining ratio, ewe feed requirements and the timing of worm egg counts and lamb vaccinations.
To receive a free hard copy of the Lambing Planner call the AWI Helpline on 1800 070 099 or it is available at no charge on:
Tune in to hear leading livestock consultant, Nathan Scott, demonstrate a range of practical ways growers can influence sheep reproduction with the latest research and tools informed by the AWI-funded research and development outcomes.
Current and recent projects
National Lambing Density Project
A project undertaken by Murdoch University and supported by AWI and MLA quantified the effects of mob size and stocking rate on lamb survival and provided some more credible recommendations for allocating ewes to mobs and paddocks at lambing. It found, on average, that the survival of single- and twin-born lambs decreased by 0.85% and 2.25% per additional 100 ewes in the mob at lambing, regardless of Merino or non-Merino breed. The stocking rate of ewes at lambing did not affect lamb survival.
Implementing reduced mob sizes at lambing may require temporary or permanent fencing of paddocks, however a cost-benefit analysis shows that reducing mob size is justified even where paddocks require subdivision.