Sign up to Wool.com and create your own personal wool hub.
European e-commerce campaign scales new heights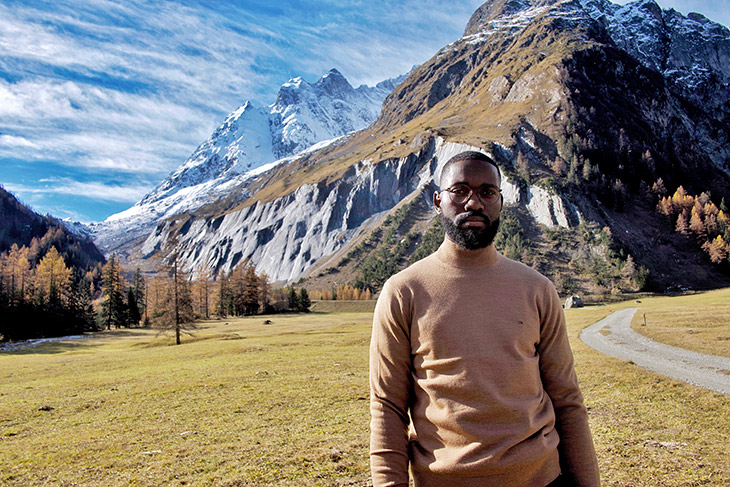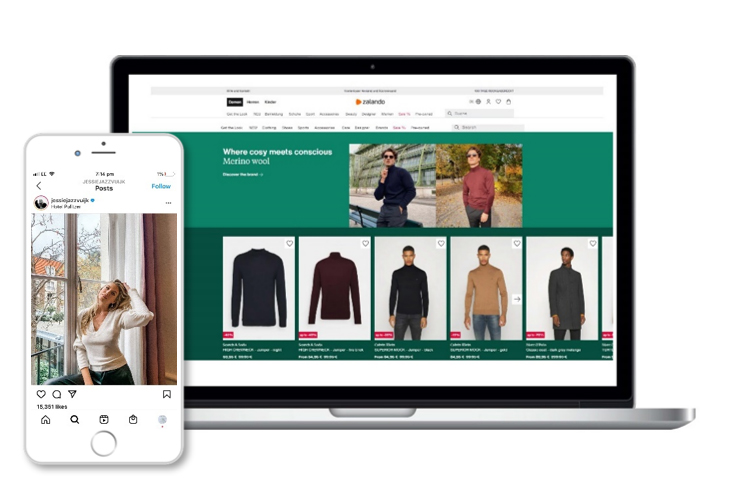 (Top) The campaign positioned Merino products as Mother Nature's finest. This image is one of the campaign ambassador's Instagram posts.
(Bottom) The best performing Instagram post (which received 190,000 views) and the Merino landing page (which received 550,000 views) on the Zalando online store.
With more and more apparel purchases being made online, AWI's marketing arm The Woolmark Company has collaborated with Europe's largest online fashion retailer, Zalando, to showcase Merino wool to its customers and drive sales of Merino wool apparel products.
Zalando e-campaign proves popular
22 million total campaign views
More than AU$ 1 million worth of sales
167% return on influencer investment
Return of €$8.07 for each €1 spent on advertising
Founded in 2008 in Berlin, Zalando is Europe's leading online fashion platform, delivering to customers in 17 countries. In its fashion store, consumers can find a wide assortment of products from more than 3,000 brands. The online platform has 380 million monthly site visits and has 35.6 million active customers. Zalando has continued to achieve sustained growth during the COVID-19 pandemic with revenues jumping 21.6% to €1.84 billion (AU$2.87 billion) in the third quarter of 2020.
AWI's marketing subsidiary The Woolmark Company partnered with Zalando in a month-long campaign during the northern hemisphere autumn/winter to increase awareness of Merino wool's benefits and increase sales of Merino wool menswear and womenswear apparel.
Through the campaign, the eco-credentials and natural benefits of Merino wool were highlighted to conscious consumers looking to purchase sustainable apparel and build a timeless wardrobe.
The campaign was focussed on Germany, Switzerland, Austria, Belgium and France due to strong returns and engagement in those markets. There was solid performance across all these markets, especially Switzerland which had the highest conversion rate to sales for advertising spend.
Zalando engaged four noteworthy influencers (with a total following of 811,000+ followers on Instagram) to authentically communicate the message of Merino wool across their platforms and drive consideration to purchase wool apparel products.
The influencer content comprised 11 Instagram posts and stories which worked exceptionally well, receiving 1.6 million views by 774,000 unique users, with a strong engagement rate of 3.64% (the category benchmark is 3.08%). The campaign achieved a return on influencer investment of 167% (which is above Zalando's benchmark of 100-120%).
The highly engaging influencer content from the campaign shoot was used on The Woolmark Company's own social media channels as well.
The campaign also involved a menswear and womenswear Merino landing page on the Zalando website which received more than half a million unique visitors. The landing page, which was translated for local language sites, was promoted through premium display adverts on desktop, mobile and app formats including on the Zalando homepage. The click through and engagement rates were above average.
The campaign generated sales of products valued at more than one million dollars (AU$) with each order value 36% higher than the average order on Zalando. Overall, the campaign significantly overdelivered on awareness targets achieving more than 22 million total views.
The positive experience from the campaign will be used to plan and optimise future e-commerce campaigns and brand partner commercial strategies.
This article appeared in the March 2021 edition of AWI's Beyond the Bale magazine. Reproduction of the article is encouraged, however prior permission must be obtained from the Editor.