Sign up to Wool.com and create your own personal wool hub.
Using technology to help prevent shearing injuries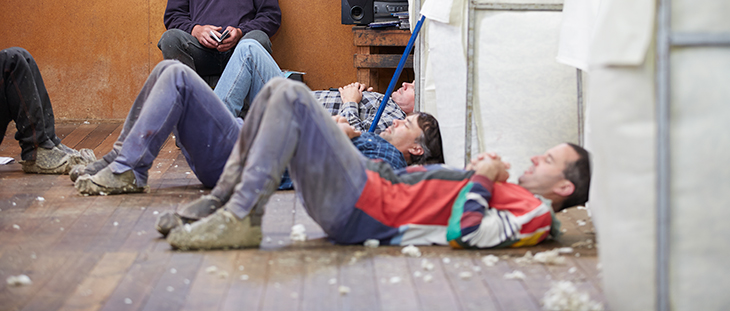 Shearers stretching between runs. AWI is funding the research and development of a wearable sensing unit that will alert shearers to when they are potentially at risk of a back injury, so they can take precautionary action such as stretching.
Pioneering high-tech research to help prevent shearers' back injuries continues, thanks to funding from AWI and a Federal Government grant. The research, undertaken by the University of Melbourne, aims to develop a simple wearable sensing unit able to be easily worn by shearers that will alert them when they are becoming vulnerable to back injuries.
Attracting and retaining shearers is one of the biggest challenges facing woolgrowers and the industry. A major factor is that shearing can be a 'back-breaking' profession, with injuries to shearers being six times the all-industry average in Australia. Back injuries are the most significant shearing injury due to their long rehabilitation time and associated lost productivity.
A new nine-month project, which began in June and is co-funded by AWI and an Innovation Connections grant from the Federal Government, builds on previous work to understand the cause of shearing injuries, which was funded by AWI and undertaken by the University of Melbourne's robotics team.
Previous research identified the predictors of back injuries
The previous research indicates that back injuries during shearing are generally caused by fatigue, the cumulative loading on muscles over time, rather than high individual forces. Additionally, the most common time of injury for shearers is during the last two hours of a day's work, indicating a high correlation between injuries and the level of fatigue.
The research was undertaken on ten shearers of varying experience across three states in authentic shearing conditions and across full workdays to reflect realistic workloads.
Although the previous study successfully identified the particular muscle activities and postures that are most useful in predicting the development of back injuries, it used 'research grade' sensors on the shearers to monitor and collect data. The complexity and cost of these sensors make them impractical for continuous monitoring of a shearer's musculoskeletal system.
Developing a practical wearable sensing unit
The new project is therefore focussed on developing a simple and easy to use sensor system, with only four (key) sensors, that is portable and easily worn by the shearers in real working conditions, rather than a complicated full-body system that requires expertise and a long set-up/calibration process.
The sensing unit worn by the shearers will alert them via a smartphone app when they are becoming vulnerable to potential injuries and can propose optimal resting cycles. The hardware and software will be tested for ease of use and robustness in the harsh conditions inside shearing sheds, such as in the presence of dust and sweat.
The simplified unit will be validated across a pool of shearers under different working conditions. It will also help the researchers to collect more data under different circumstances to improve the prediction algorithms, test some strategies such as stretches/exercises and inform the design of assistive technology that would support the shearers in performing their tasks.
Given that shearers are paid by the number of sheep shorn per day, the researchers are aware that any proposed new safety solutions should minimise any disruption to the shearer's mobility and shearing speed. Furthermore, the fact that shearers travel to many different properties for work and utilise woolgrowers' infrastructure needs to be considered in the development of potential injury-mitigation solutions.
Reducing shearer injuries will help alleviate shortages
"The high injury risk of shearing makes it challenging to recruit new workers and it also limits the longevity of the current workforce. This reduces the availability of sufficient shearers, which has been identified by woolgrowers as a major risk for the industry," said AWI Program Manager for Agri-Technology, Carolina Diaz.
"AWI-funded research has already added a significant body of data and knowledge to help us better understand how back-related shearing injuries arise. Having identified the variables most effective as predictors of injury risk, the new project will develop a simple wearable unit that incorporates sensors in only the most optimum locations, which will help the unit be practical, cost-effective and suitable for shearers to wear.
"By alerting shearers when they are becoming at risk of a back injury, the shearer can take precautionary action such as changes in their warm-up and stretching exercises, and changes in the rest-work cycle.
"Ultimately, the project aims to reduce the amount and severity of shearers' back injuries, which will benefit the wool-growing industry as well as shearers."
This article appeared in the September 2021 edition of AWI's Beyond the Bale magazine. Reproduction of the article is encouraged, however prior permission must be obtained from the Editor.