Sign up to Wool.com and create your own personal wool hub.
Traceable wool from farm to fashion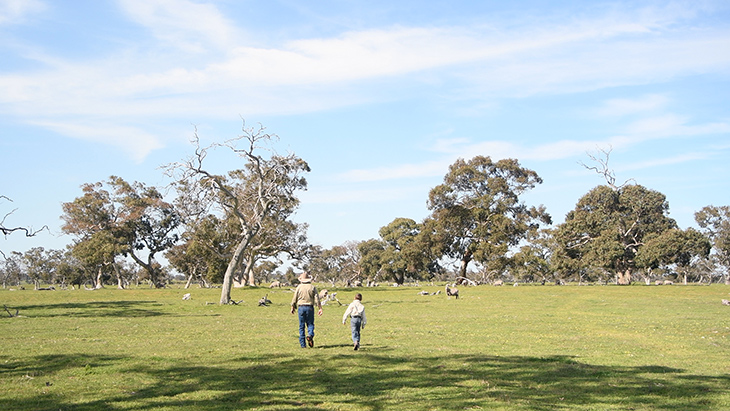 US brands Wool&Prince and Wool& now source their Merino wool from AJ & PA McBride Ltd's 'Ashmore' property in South Australia, where looking after the long-term health of the land is a priority.
United States-based menswear brand Wool&Prince and its womenswear sister-brand wool& now have a completely traceable Merino wool supply chain that champions the natural fibre's origin and heritage in Australia.
Wool&Prince was famously launched in 2013 when its founder, Mac Bishop, successfully wore his Merino wool shirt for 100 straight days without washing or ironing, proving the easy-care and versatile nature of the fibre. From a single shirt product, the brand's range has expanded massively, but high-quality Merino wool is still at its heart. In 2018, its womenswear sister-brand wool& was launched, again with Merino wool as the brand's foundation.
Pieces across the two brands' collections now feature Merino wool from AJ & PA McBride whose family have been woolgrowers in South Australia for six generations, and which celebrated its centenary last year – see below.
The traceable Merino wool has been sourced from 'Ashmore', located close to Kingston SE on the state's south-east coastline, which has an annual production of more than 800 Merino wool bales averaging 17.7 micron. Producing high quality Merino wool, the McBride family utilises innovative farming practices to manage their sheep and land. The farm is specifically focused on improving energy efficiencies, land conservation and biodiversity.
SUSTAINABLE WOOL-GROWING
AJ & PA McBride believes quality production is dependent on a healthy environment and the company's diverse activities are managed with the aim of minimal impact on the environment.
"As a family-owned organisation, we take seriously the responsibility of preserving the environment for future generations and to leave the land and its natural resources in a better state in which they were acquired," said Keith McBride, Chairman of AJ & PA McBride Ltd, which celebrated its centenary last year.
"Our dedicated staff work hard to ensure that grazing techniques work in partnership with the natural environment. Every day they do simple things to improve their environmental sustainability, whether it be improving efficiency in energy usage, fencing off dams to increase biodiversity, introducing tree-planting programs for re-vegetation and animal welfare, or using different stocking strategies to improve soil health and groundcover.
"In the twenty-first century, sustainability increasingly relies on new technologies and scientific advances and AJ & PA McBride is committed to participating in research and collaborating with government agencies, research organisations and other industry bodies that address natural resource management issues and promote sustainable agriculture."
As well as being a profitable business and ensuring the long-term health of the land, key to the company's mission of ensuring it is a good corporate citizen also includes it being an employer of choice (by providing staff with quality conditions and facilities) and an active member of the community (by supporting local towns, community events, community service and agricultural education).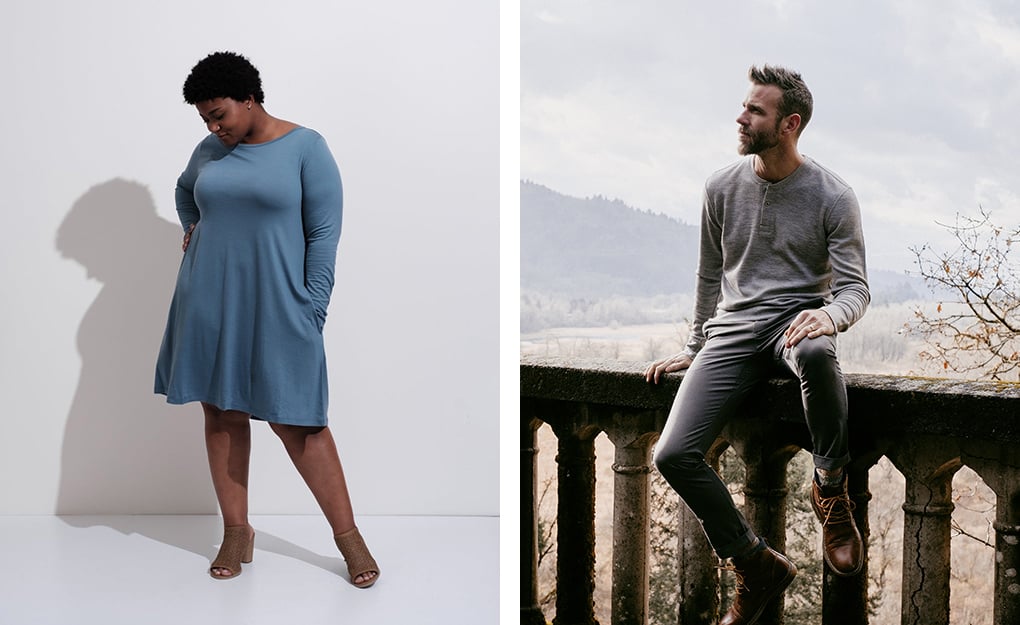 Apparel from Wool& and Wool&Prince made with Merino wool sourced from 'Ashmore' in South Australia.
TRACEABLE SUPPLY CHAIN
Wool&Prince and wool& have worked in partnership with The Woolmark Company to build a long-lasting relationship with the woolgrowers to develop the traceable supply chain. Embracing a 'less is more' approach to apparel design, Wool&Prince and wool& have made a commitment to educate the consumer about the origin and impact of every garment created.
"We are thrilled to partner with The Woolmark Company to set up a traceable supply chain that tracks our wool back to the source in Australia. As a brand, we have a responsibility to the land, the people, and the animals that are behind our clothing and it was time to take our customers on this journey," said Mac Bishop.
In a 12-month journey along the supply chain, Merino wool from 'Ashmore' is processed in China, transformed into garments in Korea, and then distributed via the United States to finally make its way to Wool&Prince and wool& customers across the world.
Wool&Prince's traceable collection includes a range of versatile Merino wool knit tops, polos and sweatshirts, while wool&'s collection includes a range of versatile dresses. Thanks to Merino wool's natural properties – including odour- and wrinkle-resistance – the garments can be washed less often, reducing their environmental impact.
More information:
www.woolandprince.com
www.wooland.com
AJ & PA McBRIDE LTD ENTERS ITS SECOND CENTURY
AJ & PA McBride Ltd's Keith McBride at 'Ashmore' in South Australia, with property manager Raymond Rowett.
AJ & PA McBride are proud producers of Merino wool. The company is one of the top five wool producers in Australia, each year shearing more than 230,000 sheep and lambs, and producing more than one million kilograms of wool.
AJ & PA McBride Ltd was formed in July 1920 by Albert James McBride and his son Philip Albert Martin McBride, although the McBride family has been producing wool in Australia since 1859. Now beginning its second century of operations, all shares in AJ & PA McBride are still held by descendants of the founders and the board of the company now has a director in the fifth generation of the family.
"Although the company now has a variety of agricultural, horticultural and viticultural interests, AJ & PA McBride Ltd proudly remains a wool producer," Keith McBride said.
It now owns and operates five pastoral and four grazing properties in South Australia, as well as a mixed farming and grazing property on the border of South Australia and Victoria.
Ashmore Station
Ashmore was the company's first south eastern purchase, in 1936. The south east of South Australia is known for its rich soils and high rainfall, ideal for grazing operations. Ashmore consists of mainly flat country, well served by underground water capable of providing irrigated pastures.
The initial Ashmore block with its iconic natural stone woolshed was renowned for its production of high-quality wool at the time of purchase, and has increased in size with the purchase of the adjacent properties over the years.
Ashmore is a Summer/Autumn shearer with an annual production of about 150,000 kg of Merino wool. The property managed by Raymond and Olivia Rowett.
While AJ & PA McBride Ltd produces medium wool of 20-21 micron (used in knitwear) on the pastoral northern districts of South Australia, the company produces on its south eastern properties, including 'Ashmore', finer wool of 17-19 micron which is used in suits and next-to-skin wear.
Into its second century
As has been the case for the past one hundred years, the pillars of AJ & PA McBride are family, food and fibre.
"Despite the reduction in wool prices over the past two years, the McBride group remains committed to the fortunes of the fleece," Keith said.
"The Merino is a genuine dual purpose animal, producing high quality wool as well as nutritious and flavoursome meat. The current high prices for protein complement a wool and dual purpose enterprise enormously.
"AJ & PA McBride Ltd has set itself a medium-term goal to produce 10,000 bales of wool per year, up from the current 6,500 bales in 2021. This will be achieved through genetic improvement as well as land productivity and further strategic acquisitions."
More information: www.mcbride.com.au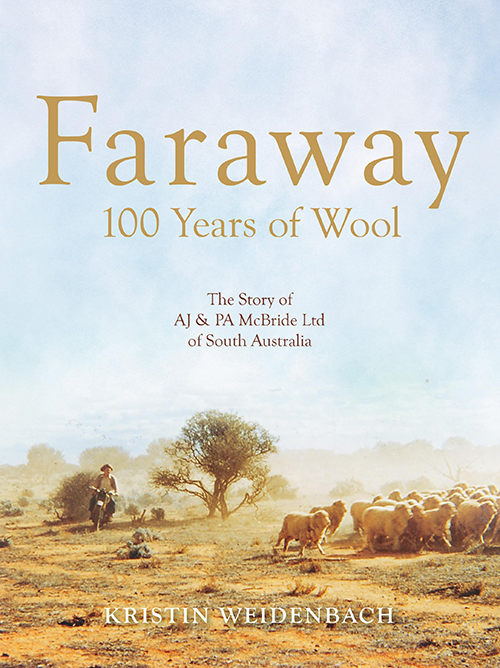 To celebrate AJ & PA McBride's Centenary Year, the company's rich history has been documented in a new book Faraway – 100 Years of Wool, written by Kristin Weidenbach, author of the bestseller Mailman of the Birdsville Track: The Story of Tom Kruse. The book details the family's pioneering pastoralists, politicians and philanthropists who have left their mark on the Australian wool industry. It also features an impressive catalogue of historical photographs. It is available for purchase ($50 + $10 postage) at www.mcbride.com.au.
This article appeared in the March 2021 edition of AWI's Beyond the Bale magazine. Reproduction of the article is encouraged, however prior permission must be obtained from the Editor.