Sign up to Wool.com and create your own personal wool hub.
The future of motorsports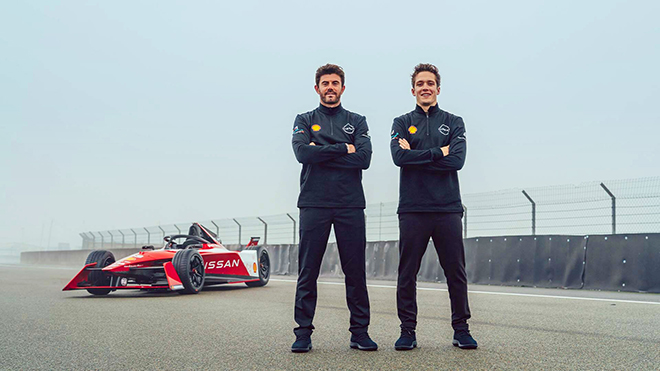 Nissan's Formula E drivers Norman Nato (left) and Sacha Fenestraz (right) wearing the Merino wool kit during pre-season testing at Le Mans (France), with Nissan's new Gen3 racing car behind them.
Merino wool takes to the track with Nissan's Formula E Team
To showcase Merino wool as a sustainable and high-performance fibre, AWI subsidiary The Woolmark Company has teamed up with Nissan to create wool-rich apparel for its Formula E racing team. The initiative aims to build demand for Merino wool in motorsports and other performance activities, as well as with sports fans across the world.
First held in 2014, Formula E is a single-seater motorsport championship for electric cars. It is the fastest growing motorsport in the world. Since the 2020-21 season, Formula E has been an FIA World Championship, making it the first single-seater racing series outside of Formula One to be given world championship status.
Formula E is a global phenomenon. Each year, it has a series of races held across the world – this season in Europe: England, Italy, Germany and Monaco; in the Americas: USA, Mexico and Brazil; as well as in Saudi Arabia, India, South Africa and Indonesia. The race series provides an opportunity for The Woolmark Company to engage with an international audience comprising millions of sports fans, as well as businesses and media.
However, Formula E is more than a just a racing series – the series acts as a competitive platform to test and develop the latest in electric technology, paving the way for the road cars of tomorrow. In other words, Formula E embodies not only high-performance but also the mega-trend towards a more sustainable future, two attributes with which Merino wool also perfectly aligns.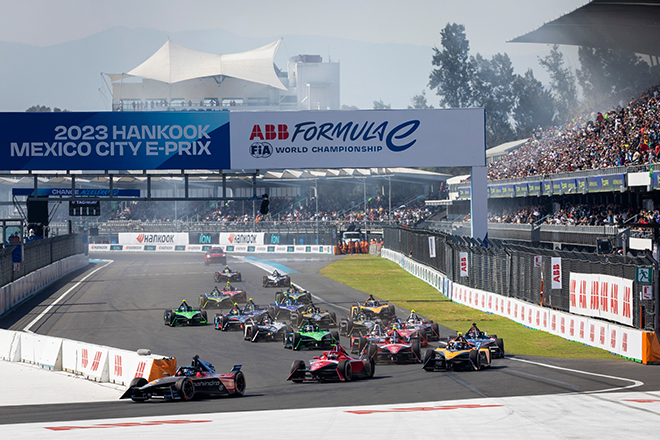 The start pack of the Formula E race in Mexico City. PHOTO: Sam Bloxham
New partnership between The Woolmark Company and Nissan
The Woolmark Company has joined the Nissan Formula E Team as its technical partner to develop an innovative Merino wool-rich team kit.
AWI CEO John Roberts says that by aligning itself with a leading motorsport team competing in zero-emission electric vehicles on the global stage, The Woolmark Company is helping build the international reputation for Merino wool as a sustainable, technical fibre for performance apparel.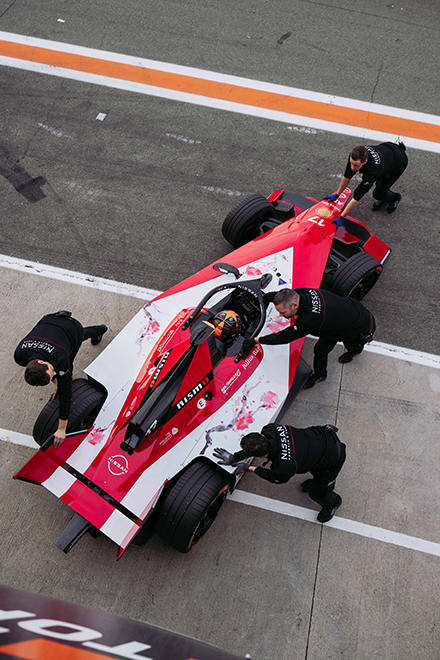 The Nissan pit crew wearing their Merino team gear with the Nissan's Gen3 racing car. The car has 350KW of power, is capable of 320kmh, and can regenerate a staggering 600KWh of energy.
"As we take a bold and exciting first step into the world of motorsport, it was vital to find a partner who shared our vision. The Nissan Formula E Team has the ambition to do things differently, and they are redefining the way we wear wool by bringing the fibre's innate performance to the motorsport industry," John said.
"Our technical team worked hand-in-hand with Nissan to craft a performance-oriented team kit, driving unexpected product offerings thanks to the inherent technical and eco-credentials of the fibre. The innovative nature of Merino wool is paralleled to the technology behind Formula E thanks to manufacturing techniques and engineering between our teams."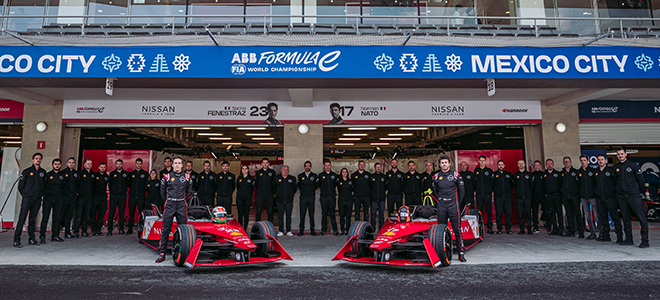 The Nissan Formula E team all wearing their Merino wool team kit at the first race of the season in Mexico City.
The 2022-23 race series, which ends in London in July, is Nissan's fifth season racing in Formula E. However, this is the first time that the Nissan team is wearing Merino wool: a 100% natural, renewable, biodegradable and recyclable fibre.
"We are proud to partner with a company that, like Nissan, dares to do what others don't and is committed to build a more sustainable future through technology and innovation," said Nissan Formula E Team Managing Director, Tommaso Volpe.
"Our partnership with The Woolmark Company will provide Nissan Formula E Team with a high-performance kit made with natural and biodegradable Merino wool fibre. This proves once more that, like in Formula E, high-performance and sustainability can go hand in hand."
- Tommaso Volpe, Nissan Formula E Team Managing Director
"Partnering with The Woolmark Company was a natural but conscious decision for us, as we continue to look for more sustainable solutions in line with Nissan's commitment to achieve carbon neutrality across all operations and the life cycle of our products by 2050."
Merino wool-rich racing team kit
The Nissan Formula E apparel heralds the emergence of a new breed of nature-based team kit in motorsport, taking advantage of Merino wool's natural properties to maximise performance, durability and comfort for the whole team.
Soft on the skin, Merino wool's unbeatable moisture management, thermoregulation and anti-odour properties are perfectly matched to performance-led environments – and with races being held across the world, Merino wool provides the versatility to be suitable for a range of climates, from hot to cold.

The Nissan team's Merino wool apparel and the racing car displaying the Woolmark logo.
Highlighting new innovations in technical layering, the racing kit features Merino wool blend base-layers, mid-layers and outer-layers: T-shirt, polo shirt, shirt, softshell jacket, ¼ zip jumper, rain jacket, cargo pants, shorts, and cap.
The team kit is made entirely in Europe using Australian Merino wool. It is Merino Perform certified by The Woolmark Company, guaranteeing longevity and durability of the products. Woolmark-branded product from Nissan will be available for purchase.
The Woolmark Company logo, owned by Australian woolgrowers, is displayed on the racing team apparel – and also on the side of the Nissan racing cars, on event infrastructure and on advertising touch points.
A huge PR campaign has been launched through a program of events and initiatives, including through digital and social channels, as a well as press trips to visit the Nissan team.


What benefits does the partnership deliver to woolgrowers?
Increased consumer awareness of Australian wool's technical and environmental benefits amongst a global sporting audience, leading to increased consumer demand for wool products.


Future product sales of Woolmark-branded apparel from Nissan.


New business opportunities for global performance brands to work with The Woolmark Company's teams on product development with Australian Merino wool.
More information: www.woolmark.com/formula-e
This article appeared in the March 2023 edition of AWI's Beyond the Bale magazine. Reproduction of the article is encouraged.