Sign up to Wool.com and create your own personal wool hub.
Students take up the Merino Wether Challenge
Students from schools across SA, NSW and WA have once again this year gained practical hands-on sheep management experience by looking after teams of Merino wethers as part of state competitions.
Merino wether competitions for school students are run each year in SA, NSW and WA with the aim to educate them about the commercial production of Merino sheep. The initiative provides the students with a memorable 'hands on' experience covering a broad range of sheep and wool production skills.
Initiated twelve years ago in SA by the SA Stud Merino Sheepbreeders Association (Merino SA), similar competitions are now held in NSW by the NSW Stud Merino Breeders' Association and in WA by the Stud Merino Breeders Association of Western Australia. The competitions are supported by AWI, as well as individual studs, schools, teachers and students.
Each school team looks after several wethers (from studs in their state) for six months, with the students forming a close relationship with their wethers. This provides a unique and practical experience for the students, much different from classroom learning. Each school team then shows their wethers during a competition later in the year and are judged according to their meat and wool quality.
By attending training days and the judging events, and by looking after their wethers, the students gain:
practical, hands-on skills in sheep management
a better understanding of sheep and wool production as a business
contact with many aspects of the Merino sheep industry
a chance to network with industry participants and other students
an enjoyable experience with Merino sheep and the industry
a positive perspective on a career with sheep and wool.
SOUTH AUSTRALIA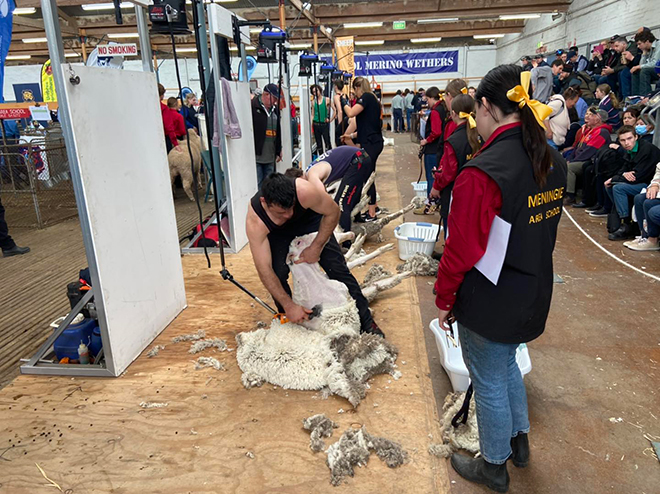 Students watching the shearing of the wethers at this year's competition in Adelaide.
With Merino SA celebrating its centenary this year, it was fitting that such a large turnout of the next generation of woolgrowers – about 400 students from nearly 40 schools – participated in the 12th annual School Merino Wethers Competition held on 7 September. 74 teams of three wethers (222 wethers) were brought into the Stud Sheep Pavilion at the Adelaide Showgrounds. It was a hugely successful event with the students greatly enjoying the experience. As well as providing the students with a hands-on experience of commercial sheep and wool production, the competition enabled the students to have contact with many aspects of the Merino sheep industry from stud and commercial breeders, stock agents, wool buyers, through to processors. Urrbrae Agricultural High School was the overall meat and fleece winner.
NSW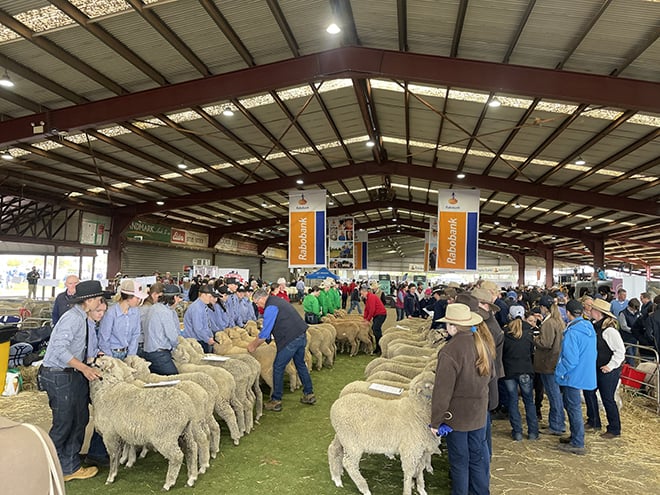 Judging at this year's event in Dubbo.
In NSW, 62 schools from across the state participated in the School Merino Wether Challenge, each running two teams of three Merino wethers for nearly six months. There were more than 400 students from right across NSW involved in the program this year. At the end of the six months, in August, students converged on the Dubbo Showground where they presented their wethers for judging on commercial value. In a close competition, Gunnedah High School won the overall prize. At the event, students also had the opportunity to participate in activities to learn more about sheep handling, scanning and nutrition, and wool harvesting, while also hearing from a careers panel about the wide range of opportunities in the industry. A young judges' competition also enabled students to put their skills to the test.
Hear from co-ordinator Ben Watts and teacher Brooke Cowan from Gunnedah High School in Episode 225 of AWI's The Yarn podcast at www.wool.com/podcast
WESTERN AUSTRALIA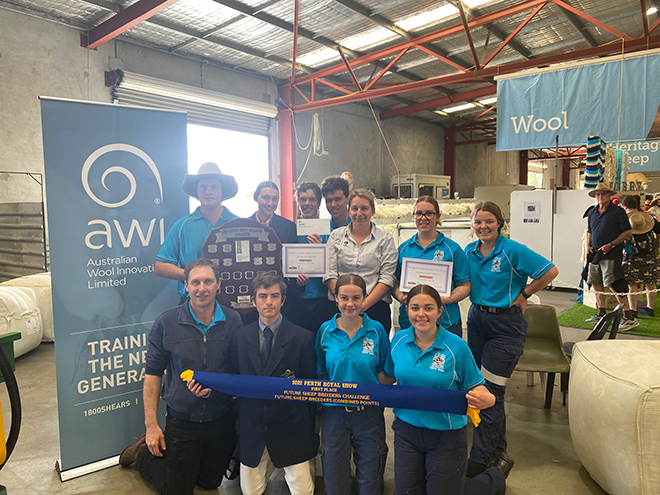 Western Australian College of Agriculture Denmark was the overall winner.
Having been run since 2014 in WA, this year teams from four schools and colleges took part in the AWI Future Sheep Breeders Challenge, held in September at the Perth Royal Show. Similar to the competition in NSW, this annual competition is a bit different to that in SA in that only one bloodline is used, to educate students on the impact that the environment can have on sheep genetics and therefore the importance of making ram purchases from a breeder with a similar climate to their own. This year, teams looked after six wethers (from Barloo stud in Gnowangerup) but showed four at judging. The students were very keen and competition was outstanding.
This article appeared in the December 2022 edition of AWI's Beyond the Bale magazine. Reproduction of the article is encouraged.