Sign up to Wool.com and create your own personal wool hub.
Seamless Merino cycling kit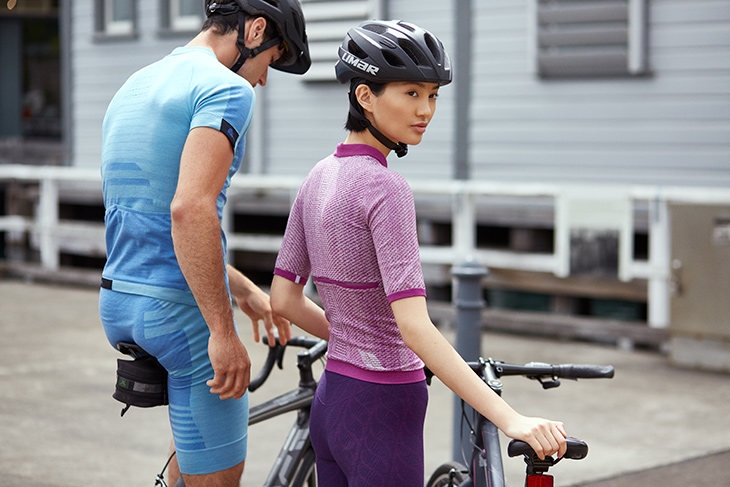 The men's and women's prototype seamless cycling garments.
Two new innovative prototype collections of cycling garments, developed by AWI in collaboration with industry partners, illustrate the full potential of Merino wool used in technical seamless performance apparel.
The two collections, one comprising cycling garments for women and the other for men, were developed using Merino wool yarns from Südwolle Group and knitted on state-of-the-art knitting machines from Santoni.
The fabrics in both collections benefit from Merino wool's superior softness, breathability, moisture management, elasticity and odour resistance. When combined with the latest technological advancements in yarn development and knitting technology, the Merino wool provides the garments with superior comfort, durability and performance for the modern cyclist.
"These collaborations with leading industry players shine the light on how technical advances in the industry can create supremely functional garments for high aerobic activities while incorporating the natural benefits of Merino wool," said AWI General Manager, Processing Innovation & Education Extension, Julie Davies.
The garments are vastly more eco-friendly than their synthetic counterparts. The eco-credentials of Merino wool – a 100% natural, renewable and biodegradable fibre that doesn't produce microplastics – ensure a minimal environmental footprint on the planet.
Furthermore, the seamless knitting technology reduces fabric waste in comparison to traditional cut and sew methods – and due to its piece-by-piece bulk production method, seamless knitting provides a high degree of flexibility and personalisation.
Women's collection
The women's seamless cycling garments were developed by AWI in collaboration with innovative knitwear designer studio Studio Eva x Carola. The collection comprises a cycling bib, jersey, arm-warmers and socks, that together create a complete, layered kit for ultimate cycling performance.
The garments were knitted using Santoni's Top2 Fast technology (single jersey machine) using a finer gauge to what is mainly used in the market, which provides a lighter weight material.
Key stitch structures include compression for performance and recovery, an open structure for ventilation and breathability, and loft on both the inside and outside of fabric for insulation and warmth.
"By smartly selecting the right Merino wool yarns and creating beautiful textures and loft structures, the garments not only offer a gentle-on-the-skin comfort, but also provide durability and protection during your ride," said Eva de Laat of Studio Eva x Carola.
The seam bonding used in the garment construction was developed in collaboration with Italian company MACPI. It incorporates a very clean finish that eliminates any seam friction while also retaining the flexibility and movement needed during cycling.
High quality reflective tape on the face of the fabric was created by heat transfer in close collaboration with S.E.C. Accessories, a company that works with the world's leading sports brands.
"Each of the yarns for the garments have differing compositions, weights and characteristics suited to provide optimal performance for each particular garment," said Stefan Schöffel of Südwolle Group.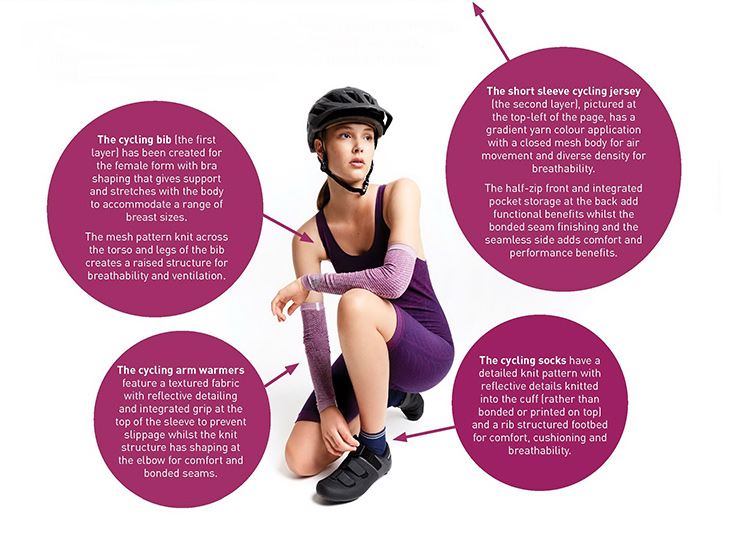 Men's collection
The men's seamless cycling garments, comprising a cycling jersey and short, were developed by AWI in collaboration with Hong Kong-based company Chemtax, pairing a Merino yarn from Südwolle Group with Fulgar's bio-based EVO® yarn, and knitted using Santoni's Top2 Fast technology.
EVO® by Fulgar is a yarn derived from the castor plant that, like Merino wool, is a totally renewable resource. Plated together with the Südwolle Merino wool yarn, the two yarns create a very eco-friendly product.
A fine and high strength yarn, the EVO® by Fulgar provides extra stretchabilty to the product.
More information: www.woolmark.com/seamlesscycling
This article appeared in the June 2021 edition of AWI's Beyond the Bale magazine. Reproduction of the article is encouraged, however prior permission must be obtained from the Editor.