Sign up to Wool.com and create your own personal wool hub.
Knitting yarns in big demand at Nundle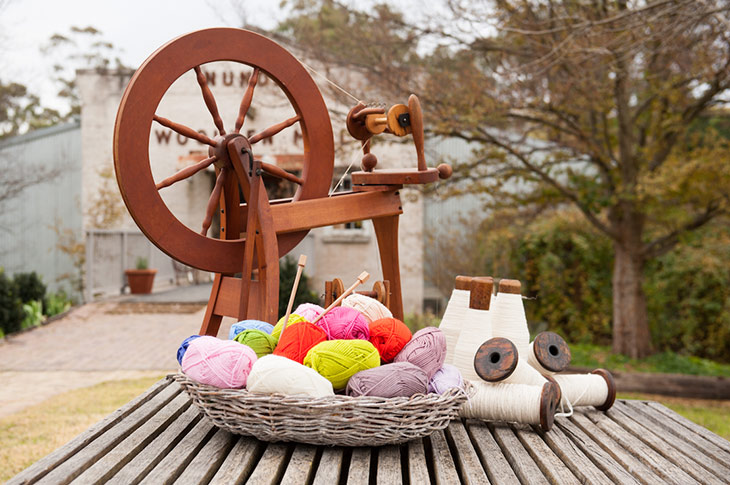 Knitting has always been popular, but lately its uptake has seen real growth. Whether this is a result of people looking for a home-hobby during lockdown, or simply a desire to relax and slow down, demand for knitting yarn is increasing – and manufacturers such as Nundle Woollen Mill are working hard to keep up with demand.
About an hour's drive from Tamworth in NSW, Nundle is a small town with just under 300 inhabitants. But each year, thousands of people flock there to visit Nundle Woollen Mill and witness woollen yarns being made on machines dating back to the early 1900s.
Opened in 2000, it is one of only a few mills left in Australia. Nick and Kylie Bradford bought the enterprise in 2007 and have expanded it into a vibrant manufacturing business and popular tourist destination.
"Each year we usually we get 30,000 visitors, but the numbers have grown during the global COVID pandemic to about 40,000 due to domestic tourists heading this way to escape the cities and heavily populated coastal areas," Nick said.
"While COVID has been challenging for many businesses, our hand knitting yarns have been in high demand, with online sales doubling since 2019. This is partly driven by people increasingly interested in authentic Australian made products, but a large part of the rise in demand is due to people finding a renewed love of the crafts of their grandparents and picking up knitting needles for the first time during lockdown.
"British gold medal Olympic diver Tom Daley, who has gained notoriety across the world by knitting to relax during breaks in competition, exemplifies how a new generation is taking up knitting. Being young, sporty, cool and male, he shows how knitting can be for everyone."
Tasmanian woolgrowers, the Youl family, supply the Bradfords with their wool, which is then scoured at EP Robinson in Geelong. From there, the wool makes its way north to Nundle where it is transformed into an extensive range of contemporary yarns: 4-ply, 8-ply, 12-ply, 20-ply, 72-ply and Wool Vine (equivalent to about 200-ply).
Having its own dye-house, Nundle Woollen Mill manufactures each of its yarns in about 40 colours, making it one of the best colour selections of dyed yarns in the country.
More information: www.nundle.com
Did you know? Knitting is good for relaxing
Knitters have long acknowledged amongst themselves that knitting is an excellent form of therapy – the repetition is meditative and fuses function with therapy, improving the mental health and wellbeing for those who practice this ancient craft. Science backs this up: A study conducted by Harvard Medical School's Mind and Body Institute found that knitting lowers the heart rate, by an average of 11 beats per minute, and induces an 'enhanced state of calm'.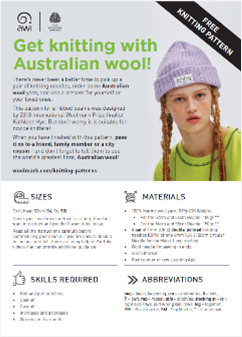 Get knitting with Australian wool!
With so many people across Australia spending more time at home, there has never been a better time to pick up a pair of knitting needles, order some Australian wool yarn and knit a present for yourself or your loved ones.
To highlight the versatility of Australian wool and help increase the demand for yarn made from the fibre, AWI last year brought together five International Woolmark Prize alumni to release a series of exclusive knitting, crochet and cut-and-sew patterns, which can all be created from the comfort of home.
The free patterns, plus links to buy related products such as wool yarns and knitting needles, are available on the Woolmark.com website and have been promoted on social media. The AWI initiative has proved popular across the world with a high volume of traffic headed towards the patterns on the website.
Accompanying the hard copy version of this edition of Beyond the Bale was one of the five patterns, a ribbed beanie designed by 2018 International Woolmark Prize finalist Kathleen Kye from South Korea. Download the pattern here.
Why not give it a go? Don't worry, it is suitable for novice knitters! When you have finished with this pattern, pass it on to a friend, family member or a city cousin – and don't forget to tell them to use the world's greatest fibre, Australian wool!
More information: woolmark.com/knitting-patterns
This article appeared in the September 2021 edition of AWI's Beyond the Bale magazine. Reproduction of the article is encouraged, however prior permission must be obtained from the Editor.