Sign up to Wool.com and create your own personal wool hub.
Home comfort with EMU Australia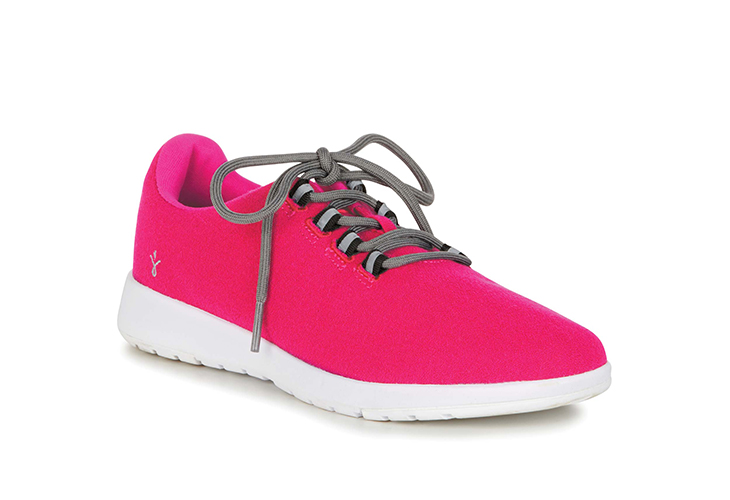 EMU Australia last year launched wool sneakers for women and kids that are lightweight, comfortable, machine washable and are available in a range of colours. Pictured is the Barkly wool sneaker.
EMU Australia's sheepskin boots, slippers and wool sneakers are renowned for their comfort, which makes them ideal for working or relaxing at home.

Iconic footwear brand and Woolmark licensee EMU Australia was established 25 years ago, out of Australia's Jacksons Tannery, which began in 1948. Jacksons Tannery was one of the original manufacturers of sheepskin boots, and EMU Australia proudly still resides at the original location in South Geelong, Victoria.
During the past quarter of a century, its footwear has been worn by film stars and Olympians and has even been seen on the runways at New York Fashion Week.
But its products are loved by people from all walks of life and right across the world. This has never been demonstrated more than in the past couple of months when so many people have been spending the majority of their time working and relaxing at home in social isolation. EMU Australia's sheepskin boots, slippers and Merino sneakers are famous for their coziness – and people have been slipping them on for all-day comfort.
Below are four examples of the many Instagram posts that people enjoying their EMU Australia footwear at home have recently posted on Instagram, tagging #emuaustralia.
Australian sheepskin and Australian Merino wool, from which most of the company's products are made, are world renowned for their super-natural qualities including lush, next-to-skin softness. Even the company's suede Chelsea boots are lined with 100% Australian Merino wool to keep feet warm and comfortable.
"We're so proud to be celebrating our 25th anniversary here at EMU Australia. It's a great testament to our amazing staff, beautiful designs as well as the quality of natural product from Australia," commented Global Marketing Manager for EMU Australia, Rebecca Fett.
"The first EMUs were drawn from nature's own designs and constant innovation has enabled us to stay pertinent. We're excited to see what the next 25 years brings."
The company has looked to its heritage and been inspired by innovating with natural, renewable and biodegradable materials to create quality products that last. For EMU Australia, creating quality products that last means allowing people to make a more sustainable choice when they invest in their footwear rather than cycling through fast fashion.
The company believes that nature is the best inventor and the company is just following her lead. However, just as nature evolves, so does EMU Australia. It was the first company to create a water-resistant sheepskin boot and continues to be at the forefront of innovation by adding waterproof tech to fashion style boots and kids' products.
Last year, it launched a range of wool sneakers, for women and kids, that are lightweight, comfortable and best of all machine washable. The premium sneakers
with 100% wool uppers are subtle in design, meaning they can be worn well with everything from active wear to street casual. They are a trans-seasonal sneaker that can be worn all year round.
EMU Australia's online store remains open and the company's service teams are available to help customers.
MORE INFORMATION
This article appeared in the June 2020 edition of AWI's Beyond the Bale magazine. Reproduction of the article is encouraged, however prior permission must be obtained from the Editor.