Sign up to Wool.com and create your own personal wool hub.
Retrofitting existing fencing with electric offsets
Are you thinking about building a new exclusion fence to prevent wild dogs from entering your property? If you already have a fence in location that is in decent condition, then retrofitting it with an electric offset could be an easier and more cost-effective option.
Well designed, built and maintained wild dog exclusion fencing can provide an effective first line of defence against wild dogs and other pest animals, resulting in increased on-farm productivity and the ability for woolgrowers to run sheep without the stress of worrying about attacks.
However, installing a brand-new exclusion fence can be expensive. If you have an existing fence that is functional, a suitable alternative to building a new exclusion fence might be to instal an electric offset onto your existing fence.
On the other hand, maybe you already have an electric exclusion fence, but you are looking for some extra protection. Again, installing an electric offset might be a solution.
Electric offsets can be used in conjunction with an existing prefabricated wire or electric fence.
To prevent wild dogs pushing through a fence consider the inclusion of an electric offset wire at or below snout-level (450mm).
To prevent wild dogs burrowing under a fence consider an electric offset ground wire – 100–150mm above ground level will be most effective, and definitely no less than the 100mm to minimise the risk of shorting the fence due to vegetation/moisture.
To prevent wild dogs climbing a fence consider a sloping electric offset or an electric outrigger offset midway up the fence.
As well as being valuable for reinforcing fences against wild dogs, electric offsets also reduce the risk of damage caused by other animals.
Electric offsets are a psychological barrier that relies on wild dogs learning that touching it is a painful experience. If the offset fails to deliver an adequate shock whenever it is touched, wild dogs will quickly pass through it. A minimum of 7000V / 10Joules is recommended.
If you install an electric offset, it is critical that you monitor and maintain it and are extra vigilant for the first three months while the wild dogs become accustomed it. Each section of an electric offset installed during the day should be electrified that same night so that the dogs immediately learn that contact with it will deliver a shock.
For the best results, exclusion fencing should be backed up with other methods of wild dog control. As wild dogs travel along fence lines, your fence is an ideal place to carry out additional control activities such as trapping and baiting. You can also focus your efforts on any known weak spots, such as gullies and roads. But remember, the success of wild dog control relies on a co-ordinated effort of all landholders in a given area working co-operatively.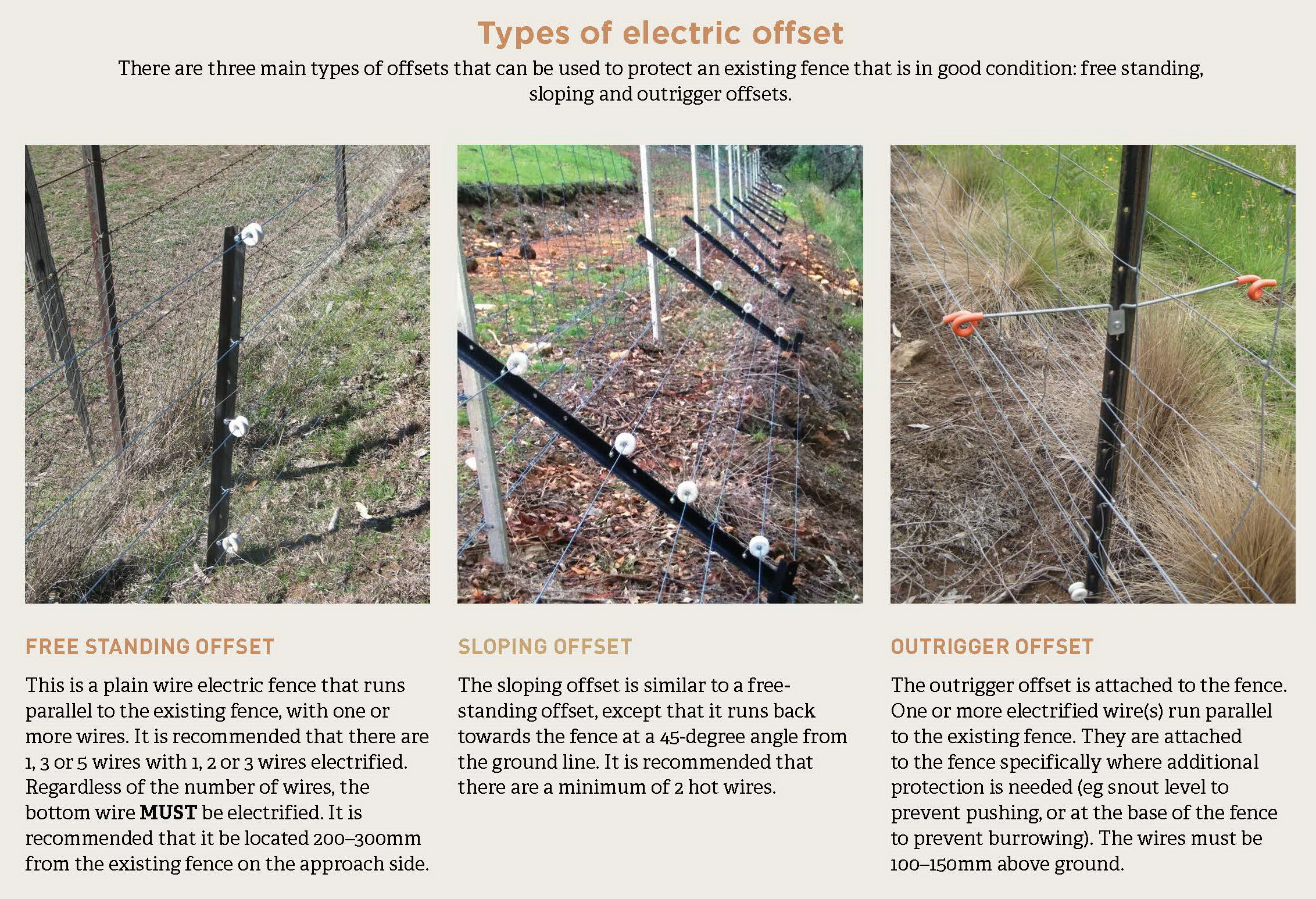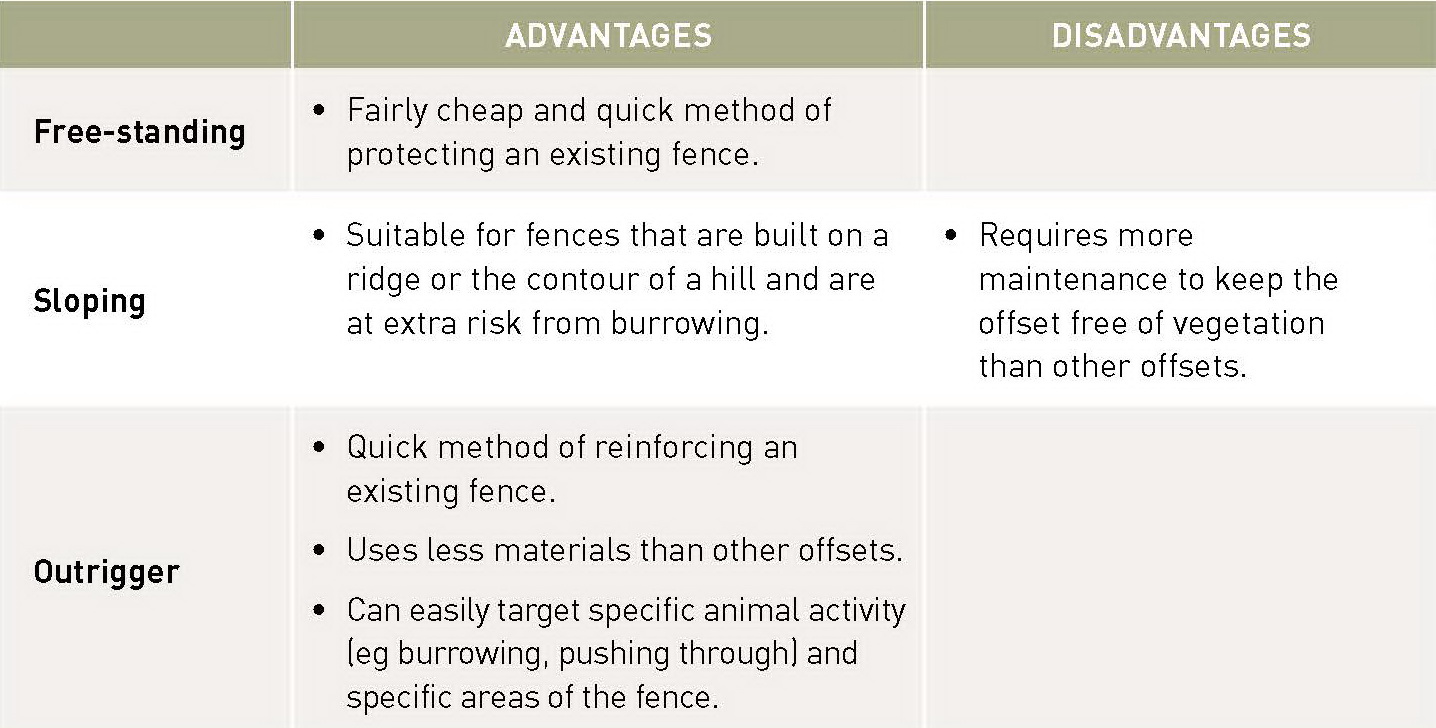 The existing fence must be free from excess wire or other material that may impede the effective operation of the offset.
Free-standing and outrigger offsets should be located between 200mm and 300mm from the existing fence, on the approach side. This distance reduces the risk of shorts and allows wild dogs to make contact with the offset without putting pressure on the existing fence.
The electric and barb issue
According to Australian Standard AS/NZS 3014:2003 Electric Installations – Electric Fences, there are specific requirements around how barbed and electric wires are used in fences – and particularly in the same fence – to satisfy health, safety and animal welfare standards. Some of the most important requirements are:
Barbed wire or razor wire must never be electrified by an electric fence energiser.
If barbed wire is in a fence, then the live wire needs to be 150mm minimum distance on a horizontal plane away from the fence on an offset (can't have barb and electric in the same plane).
The barb or razor wire should be earthed at regular intervals in accordance with earthing recommendations.
AWI's practical guide to wild dog exclusion fencing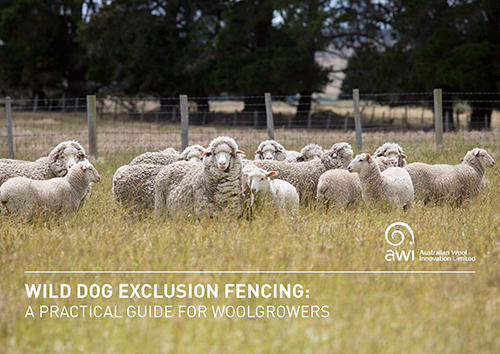 The same considerations that apply to designing, constructing, monitoring and maintaining plain wire electric fencing also apply to electric offsets. Refer to AWI's 36-page 'Wild dog exclusion fencing' practical guide for woolgrowers, available for free at www.wool.com/exclusionfencing.
This article appeared in the June 2021 edition of AWI's Beyond the Bale magazine. Reproduction of the article is encouraged, however prior permission must be obtained from the Editor.