Sign up to Wool.com and create your own personal wool hub.
A childhood on the family wool-growing property was inspiration for Claire Hausler to create the initial Merineo swaddle for newborns, made from Australian superfine Merino wool. Three years later, the Merineo brand has grown to now produce a range of baby sleeping bags and has also recently launched a new range of singlets.
Merineo founder Claire Hausler grew up on her parents' wool-growing property 'Murrumbereck' in Minhamite, western Victoria, and has therefore always known and been passionate about the natural benefits of superfine Merino wool.
In 2016 when she couldn't find suitable Merino sleepwear for her and her husband's newborn son, Jack, she saw a gap in the Australian market for wool swaddles (sleeping bags for newborns). After further research and development, Claire devised Merineo – a world-first design embracing the traditional swaddling method and the modern sleeping bag.
Knowing babies sleep better in superfine Merino wool (due to its softness, breathability, thermal qualities and elasticity), Claire sourced 17.5 micron Merino wool from a mill to which the family farm supplies. And so, Merineo – a play on the words Merino and Neonate – was born.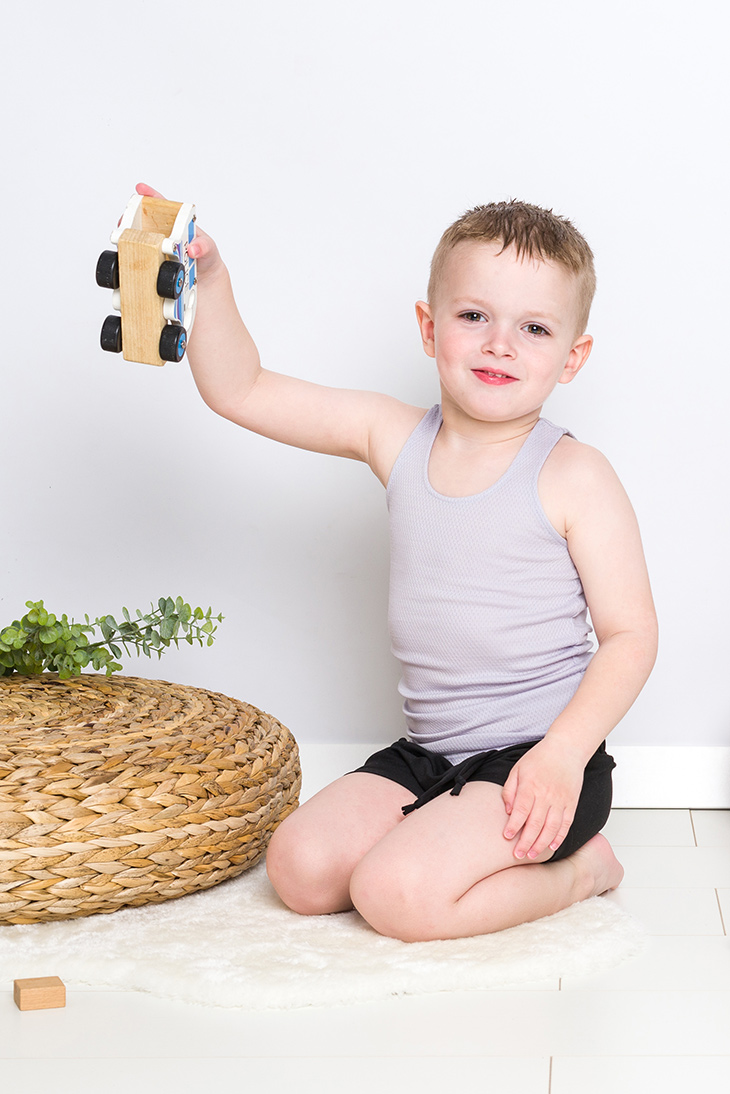 Recently launched singlets from Merineo are made from Australian superfine Merino wool.


"My parents, Ken and Marjorie Hausler and three brothers Alan, Stephen and Glenn are all woolgrowers," said Claire. "By creating the Merineo brand, I want parents to experience premium Merino wool and hopefully become repeat users of the fibre, ultimately supporting the Australian wool industry."
An early accomplishment for Claire's business was when she teamed up with the Knox Private Hospital in Melbourne to supply Merineo newborn sleep swaddle bags (with the hospital's branding) to its newborn babies.

The Merineo swaddling bag is made from Australian superfine Merino wool and designed to help parents settle their baby quickly and easily in a natural, breathable fabric.
PHOTO: Bianca Dickinson of the_dickinson_klan


"I contacted the hospital and presented the idea; they liked it because of the health benefits of wool. Part of the work with the hospital involved running a pilot program where we tested the usability of the Merineo on newborn babies," Claire said.
"It was enormously rewarding when the majority of parents responding to the survey said their baby settled better in a Merineo to 7 and machine washable, they are also made in Australia from 100% superfine Merino wool, in a 'cool mesh' fabric and are luxuriously soft.
"When we designed these singlets we wanted something long-wearing because we know how quickly children grow out of their clothing, particularly newborns. Our singlets are slightly longer than other singlets on the mainstream market and ours are made with a super stretchy fabric, designed to fit comfortably around the chest and waist to suit the growing baby, achieving longer wear," Claire said.
In July, Merineo also launched a range of Merino long sleeved tops and leggings for children.
MORE INFORMATION
This article appeared in the June 2020 edition of AWI's Beyond the Bale magazine. Reproduction of the article is encouraged, however prior permission must be obtained from the Editor.