Sign up to Wool.com and create your own personal wool hub.
Program Overview and Progress
Program Overview
Painful death and illness from flystrike remain a risk to sheep across most Australian environments. The breech flystrike causal web highlights the complexities of the task Australian woolgrowers face with respect to managing this significant disease and the challenges involved in identifying solutions that meet the diverse range of sheep type, environment and farm business priorities under which they operate.
Accordingly, AWI's Flystrike Research, Development, Education, Extension and Communication (RDEEC) program represents a diversified RD&E investment in the principles of integrated pest management in the search for practical solutions for woolgrowers to prevent flystrike, ensuring the lifetime welfare of individual sheep, whilst reducing reliance on mulesing.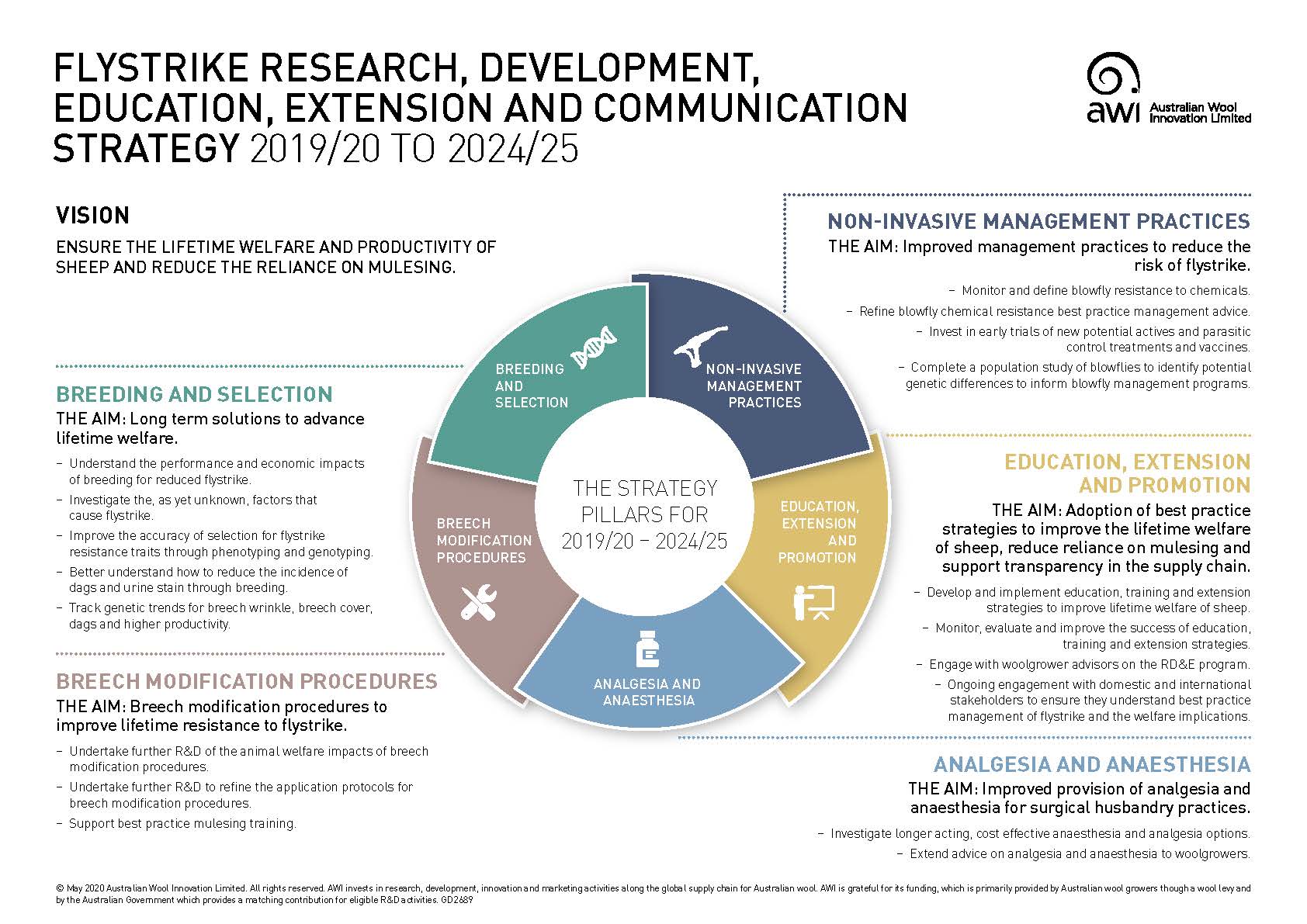 The key pillars of AWI Investment in flystrike R &D relate to:
Improved management practices to advance lifetime welfare, including advances in non-invasive flystrike management practices such as crutching, jetting, accelerated shearing, short joining and lambing, worm control, nutrition and improved fly control such as improved delivery of current chemicals, development of new chemicals and blowfly vaccine development
Development of tools and information to support breeding and selection of naturally resistant sheep as a long-term solution for preventing flystrike
Support for breech modification procedures to improve lifetime resistance of sheep to flystrike
Improved provision of analgesia and anaesthesia to alleviate pain associated with surgical husbandry procedures
Education, extension and promotion activities to encourage adoption of best practice strategies to improve the lifetime welfare of sheep and support transparency in the supply chain.
Progress
Monitoring the adoption of best practice strategies to improve the lifetime welfare of sheep is a key activity for AWI's flystrike RD&E program. It enables industry to measure the success of education, training and extension programs in delivering on-farm husbandry practice change for flystrike management and to demonstrate its commitment to ensuring lifetime welfare of sheep.
Regularly commissioned independent surveys of woolgrowers indicate strong progress is being made in managing the risk of flystrike in wool sheep. A significant proportion of woolgrowers have removed the need for the traditional mules procedure in some or all of their sheep, and the majority of those that continue to mules their sheep use analgesics and/or anaesthetics (AA) to alleviate the pain associated with mulesing.
Snapshot of progress:
In 2005, a survey of woolgrowers by the Sheep CRC indicated only 5 per cent of lambs would remain unmulesed.
A 2014 survey, on 2011 practices, (2014 Benchmarking Australian Sheep Parasite Control by UNE) reported 64% of respondents used pain relief when mulesing wether lambs and 59% for ewe lambs, whilst a 2014 Sheep CRC Survey found 83% of Merino lambs were mulesed.
In a 2017 AWI Merino Husbandry Practices Survey by Kynetec of 1,200 Merino growers across Australia, the results showed that 73% of growers were mulesing ewes and 70% were mulesing wethers.
The same survey showed that 83% of Merino lambs mulesed received analgesics and/or anaesthetics and 50% of the growers surveyed said they had reduced the size of their mules in the last 10 years.
In a 2018 Benchmarking Australian Sheep Parasite Control national online survey, undertaken by the UNE of Australian sheep producers, 69% of respondents from Merino x Merino enterprises reported they mules their lambs. More than 90% of respondents that mules said they use pain relief (analgesics and/or anaesthetics) when mulesing their wether lambs, while 87% reported using pain relief with their ewe lambs.
Independent External Reviews
External reviews of AWI flystrike RD&E program are regularly commissioned to ensure that it continues to meet industry and stakeholder expectations and to identify opportunities for future research.
The Australian Veterinary Association (AVA) annually reviews the AWI flystrike RD&E program. Click on the link to view the latest AVA Audit Report (PDF 398kb).
Independent reviews of the genetic component of the AWI breech flystrike RD&E program are undertaken biannually to identify its successes and potential for improvement. Click on the link to view the latest Genetic Review Report (PDF 244Kb).
National Wool Declaration
The National Wool Declaration (NWD) is the standardised declaration method for wool from Australia from all breeds of sheep. It enables woolgrowers to promote their animal welfare practices for flystrike prevention.
It was introduced in 2008 to provide information to the buyers and users of Australian wool. Interest from the wool supply chain in the NWD continues to increase.
The NWD is voluntary, allowing growers to communicate directly with prospective buyers, processors, and retailers, and to promote their flystrike control practices, by declaring their wool as Non-Mulesed (NM - No sheep in this mob has been mulesed), or Analgesic/Anaesthetic treated (AA - All sheep in this mob were mulesed and treated with a registered Analgesic/Anaesthetic product at mulesing).


In 2019, 75% of Australian wool sold through auction was declared through the NWD.

Once a woolgrower has completed the NWD form, the wool handling agent records the recognised Mulesing Status in the sale catalogue and test certificates for each lot of wool. This information can be transferred along the supply chain with copies of the NWD and is used by buyers of wool, processors, manufacturers and retailers in their purchasing decisions.
The proportion of woolgrowers declaring their wool through the NWD continues to increase. As a percentage of Merino wool (≤24.5 μm) sold by auction:
NWD declarations have been increasing from 48% of the Merino clip in 2011 to 75% in 2019 (source: AWEX).
Wool declared Not Mulesed has doubled between 2011 and 2019, from 5% of the Merino clip in 2008 to 11% (source: AWEX).
Wool declared Analgesia/Anaesthesia (previously termed Pain Relief) has increased three-fold between 2011 and 2019, from 14% to 48% of the Merino clip (source AWEX).
Woolgrowers can receive discounts and premiums based on their completion of the NWD. While the results can vary across micron categories; Not Declared wool has been known to receive a small discount, wool declared Analgesia /Anaesthesia treated a modest premium, that in most cases will more than pay for the product, and the premiums are increasing for wool declared Not Mulesed. These are important emerging market signals for woolgrowers.
The NWD Integrity Program (NWD-IP) comprises Desktop Audits and On-Farm Inspections to build pipeline confidence in Australian wool. Non-Compliant Declarations can seriously reduce the credibility of the program and confidence in the Australian wool industry.
AWI supports and encourages the use of the NWD for purposes of transparency for our supply chain partners. Every two years the NWD administering body, AWEX, calls for submissions from industry to improve this process.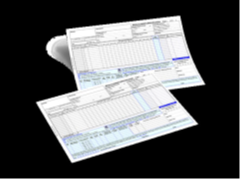 For more information:
Click here for more information about the NWD.
Click here for more information about mulesing status.
Click here for more information on Market Transparency
NATIONAL WOOL DECLARATION – ADOPTION, COMPLIANCE AND PREMIUMS/DISCOUNTS (2020 RDE Flystrike Update)
Flystrike has been a serious risk to the health and welfare of Australian sheep since the accidental introduction of Lucilia cuprina, also known as the Australian blowfly, to Australia in the early 1900s.
Flystrike occurs when blowflies lay eggs – about 200 at a time - in warm, moist areas on a sheep, usually around the rear end or breech, and these eggs hatch into maggots. The maggots then invade the sheep, causing severe suffering as they eat through the skin and feed off underlying tissue. Flystrike is difficult to detect early and can be rapidly fatal.
In the 1930s, flystrike rates of up to 60 to 120% led to the introduction of a surgical procedure called mulesing in an attempt to control the problem. It was highly successful.
In this procedure, a loose fold of skin is removed from each side of the sheep's breech and tail. The procedure is performed once, when lambs are young to minimise the chance of them ever getting flystrike.
The wound contracts to form a smooth scar, minimising the opportunity for blowfly eggs to hatch. Mulesing combined with good animal husbandry practices cut flystrike rates from a range of 60 to 120%, to 1 to 3% over their lifetime, greatly improving sheep welfare.
In response to welfare concerns about traditional mulesing of lambs, the Australian wool industry introduced welfare-improved flystrike prevention practices. The industry also fast-tracked research into management and breeding programs to reduce the risk of flystrike.
AWI has a proactive, intensive and committed flystrike RD&E program in place to reduce the reliance on mulesing over time, and to ensure the lifetime health and welfare of sheep in the interim.