Sign up to Wool.com and create your own personal wool hub.
Resources and information to support woolgrowers to provide shed safety for both workers and animals.
Employee Accommodation
Highly skilled, professional staff are essential to the the Australian wool industry.
It is important that all employees are provided clean, comfortable and safe accommodation and amenities that at least meet the standards set by each state.
"I like to treat people the way I'd want to be treated myself. I want them ringing up wanting to come and shear my sheep. If I give them good facilities, they will give me good results."

- Woolgrower Bob McFarland
The Rural Workers Accommodation Act in your state sets out the current standards and requirements.
Shed Safety Signage Kit
AWI provides shed safety signage kits for woolgrowers to use in their woolsheds.
The kit contains 36 safety signs that are printed on UV-stabilised polypropylene for durability, with pre-drilled holes for easy installation. The kit also includes guidance notes to assist in the proper location and installation of these signs.
Developed and produced by the WA Shearing Industry Association (WASIA), with support from AWI, these signs meet Australian Standards and legislative requirements in all Australian states and will help woolgrowers meet occupational health and safety obligations.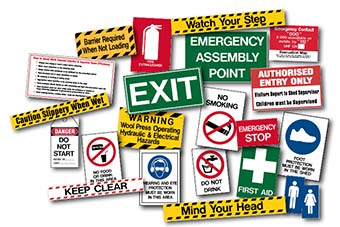 Order a Shed Safety signage kit
AWI has sponsored the development and production of the kit and is making it available to woolgrowers at the handling and postage cost of $25 (including GST) per kit.
The Shed Safety signage kit is only available for delivery within Australia.
Order Form