Sign up to Wool.com and create your own personal wool hub.
SAFE SHEDS | THE SHEARING SHED SAFETY PROGRAM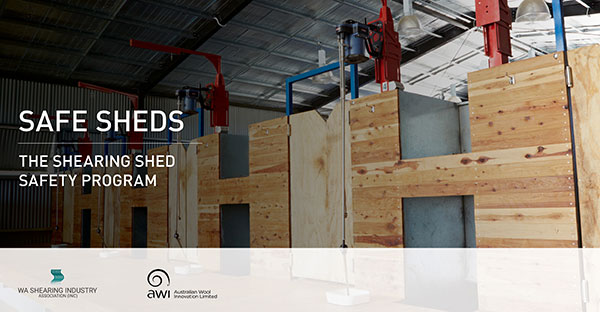 Making the wool harvesting workplace safer for all.
Australian Wool Innovation and WA Shearing Industry Association have teamed up to develop 'Safe Sheds, The Shearing Shed Safety Program. As an industry we need to do as much as is possible to reduce the risk of injuries and accidents occurring in shearing sheds as well as provide the best working conditions possible.
The Shearing Shed Safety Program is a best practice guide and assessment resource developed with input from across industry and reviewed by many within the shearing industry. It aims to:
Provide employers with an understanding of their duty-of-care obligations;
Provide a best practice guide, checklists and a handy mobile app to assist woolgrowers, shearing contractors and shed workers to assess their current shearing shed working conditions, environment and equipment;
Allow woolgrowers to create an improvement program to improve and comply with modern workplace standards;
Make the workplace safer for all participants with health and safety as priorities for the wool harvesting industry by identifying and rectify safety hazards and providing options to manage risks and conditions in the shearing shed.
You are invited to join AWI and WASIA in the launch of the program hosted by Don Boyle at his property near Broomehill. You will get the chance to get copies of the program and sign up for the app on the day.
The Shearing Shed Safety Program will be available from the 13th November online in PDF format at www.wool.com/safe-sheds and hard copy via the AWI Helpline 1800 070 099. The program has also been incorporated into the mobile inspection app iAuditor by Safety Culture which can be used online or offline once downloaded as a simple and convenient alternative method (details provided at the launch).
This program has been developed by Australian Wool Innovation and the WA Shearing Industry Association.
EVENT DETAILS
DATE:
13 November 2020 - 13 November 2020
LOCATION:
919 Flat Rocks Road, Broomehill WA 6318
PHONE:
For further information on the launch or on the program contact Valerie Pretzel, 0412 227 252 or Darren Spencer, 0428 651 339.
EVENTS THAT MIGHT INTEREST YOU