Sign up to Wool.com and create your own personal wool hub.
Stockmanship and Merino Visual Classing Workshop Material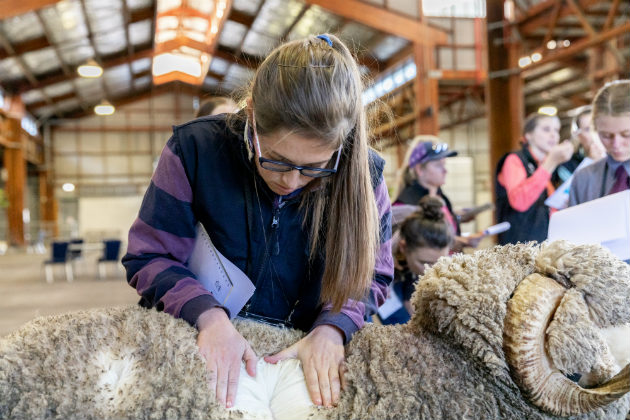 AWI has developed educational resources to help build the skills of young people interested in the Australian wool industry.
This includes a workshop package comprising theory and practical activities that aim to develop participants' core skills in stockmanship and Merino visual classing. The workshop content is designed for late secondary school, university and TAFE students as well as new entrants to the sheep and wool industry. 
The workshop material includes:
An Introduction to Stockmanship: The stockmanship topic involves the importance of animal observation; understanding natural sheep behaviour; building effective sheep handling skills (including practical activities in the yards); understanding the impact of the environment, flock structure and enterprise mix; key principles of using working dogs (including practical demonstrations in the yards); animal welfare responsibilities; and people management.


An Introduction to Merino Visual Classing:The Merino visual classing topic involves the principles of visual classing; flock objectives; selection for a 'type' to suit the environment; visual classing (including practical activities in the yards); and the importance of balance between visual and objective assessments. Download the Presenter Notes for An Introduction to Stockmanship & Merino Visual Classing.


Career pathways in the wool industry:This topic refers to the 'AWI Career Path' profile project, which provides a range of case studies on career paths available in the wool industry.
The Workshop Package
The package provides a full set of PowerPoint slides for each topic and complementary facilitator notes. PDF versions are available to download from the AWI website. PowerPoint files are available from AWI on application to feedback@wool.com
Recognising that people have different learning styles, the workshop material covers a range of learning mediums using the 'VARK Principles', which includes a mixture of:
Visual elements - photos, diagrams, graphs, flow charts and videos
Audio - the presenter explaining the key principles and practical activities as well as the use of short video clips to demonstrate the stockmanship activities
Read/write - concise text, lists and activities with accompanying handouts and points to further reading
Kinaesthetic/hands on - practical activities
Feedback
AWI encourages feedback and suggestions. Please get in touch via the contact form.
Contact Us
Further Information
Industry led stockmanship and visual classing resources.