Sign up to Wool.com and create your own personal wool hub.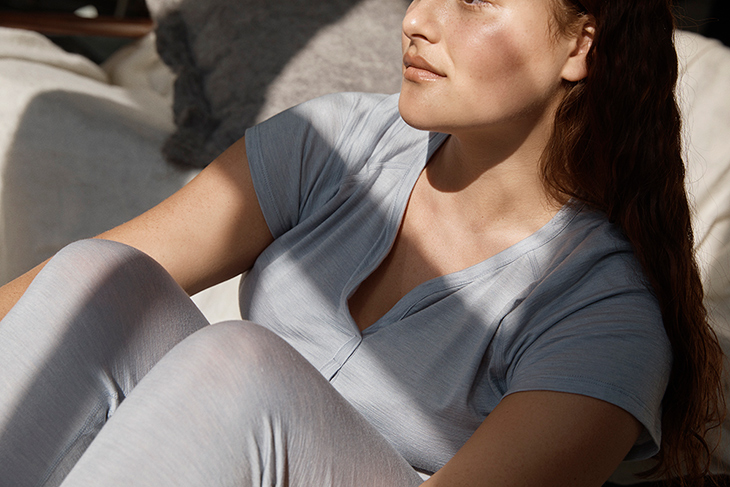 To meet market demand for scientifically proven health claims regarding Merino wool's benefits for the wearer, we manage a rigorous program of scientific studies researching the health and wellbeing benefits of wool. We collaborate with universities and institutions to identify the health benefits of Merino wool within the areas of skin and sleep health.
These collaborative projects have recently published research papers which demonstrate that wearing superfine Merino wool next to the skin is beneficial for eczema sufferers, wool is not an allergen and wearing wool to bed increases the quality and onset of the wearers' sleep.

Current and recent projects


Wool is good for the skin

Wool Clothing Recommended for Infants with Eczema
The hypothesis that superfine Merino wool worn next to the skin could benefit eczema sufferers was put to the test in this AWI commissioned study led by Associate Professor John Su at Murdoch Children's Research Institute. The study, published in the British Journal of Dermatology, showed that superfine Merino wool clothing reduced the severity of paediatric mild-moderate atopic dermatitis as compared to cotton clothing.
DOWNLOAD DR JOHN SU'S EADV POSTER


Ezcema Symptoms Reduced for Adolescents and Adults when Wearing Superfine Merino wool
The study of adolescent and adult sufferers of eczema in Brisbane, commissioned by AWI and led by Dr Lynda Spelman at the Queensland Institute of Dermatology (QIDerm), has demonstrated the beneficial effects of wearing superfine Merino wool next to the skin. Published in the Journal of Scientific & Technical Research, the study concluded superfine Merino wool base-layer garments could provide a valuable adjunct therapy in the management of atopic dermatitis.
Significant Improvements Seen Eczema Severity when Wearing Superfine Merino wool
A study of child and adult sufferers of eczema, commissioned by AWI and undertaken by the Division of Dermatology, University of Louisville, Kentucky, has demonstrated the beneficial effects of wearing superfine Merino wool next to the skin. The study, published in the medical journal Dermatitis and led by Professor Joe Fowler, confirmed that wearing Merino wool clothing compared to standard clothing provided improvements in severity of atopic dermatitis (eczema) as well as quality of life in atopic dermatitis patients.
Wool is not an Allergen
A high-powered group of medical professionals from across the world have reviewed research papers published during the past 100 years to critically assess scientific studies claiming wool causes allergy. Commissioned by AWI, this new analysis concluded that wool is not an allergen, and if a fabric does cause any sensations of itch and prickle on the skin then it is because of the large diameter of the fibres and not due to the fibre type being wool.
Wearing Wool is Proven to Reduce and Eliminate Body Odour
The odour sorption and emission characteristics of fabrics affect their functional performance, particularly for sportswear. This study systematically evaluated the impact of wool in polyester/wool blends on body odour retention properties. It was found that wool had the highest odour sorption capacity among all the test fabrics.
At low levels of body odour, fabrics containing 20% wool had substantially reduced odour intensity compared to 100% polyester. Under higher and more extreme levels of body odour, where sorption plays a more important role, 100% wool showed higher sorption capacity than the blends.
Wool promotes a better night's sleep
Wearing Wool Sleepwear Improves Sleep Quality
The latest study conducted by researchers at The University of Sydney commissioned by AWI, has found adults wearing wool fell asleep in just 12 minutes compared with 22 and 27 minutes for those wearing polyester or cotton.
"Wool regulates your body temperature far better, keeping you in what is known as 'the thermal comfort zone'," explains Associate Professor Chin Moi Chow from The University of Sydney. "You therefore not only fall asleep quicker, sleep longer, but also have deeper, better quality sleep."
The study also found lower humidity in the skin's microclimate when wearing wool sleepwear promoted more restful sleep in comparison to polyester and cotton sleepwear.
The Effect of Sleepwear and Bedding on Sleep at Ambient Temperatures
An earlier study, also conducted by The University of Sydney and commissioned by AWI, researched the effects of fabric for sleepwear and bedding on sleep at ambient temperatures of 17°C and 22°C.
Seventeen healthy young adults underwent nine nights of polysomnography testing and found the time it took to fall asleep was significantly shortened when sleeping in superfine Merino wool, with trends of increased total sleep time and sleep efficiency compared to cotton sleepwear. The group fell asleep four minutes faster on average when wearing Merino wool rather than cotton, taking 11 minutes instead of 15. The research paper was published in the journal Nature and Science of Sleep (2016).