Sign up to Wool.com and create your own personal wool hub.
Wool Harvesting Innovation
AWI invests in wool harvesting technology to improve workplace safety, animal welfare, boost clip quality and encourage new entrants into the industry.
The biological harvesting project is critically important for the industry because we need to provide growers with new harvesting options. Fully or semi-autonomous wool harvesting can access off the shelf robotics equipment and machine learning algorithms and adapt them to the various stages in the process from sheep delivery to a shearing position through to isolating black wool from the fleece and baling wool.
Artificial Intelligence technology can be developed for automation at any point along the wool harvesting process.
Biological Wool Harvesting
AWI is funding promising research into a new opportunity for biological harvesting of wool.
A new AWI-funded project with the University of Adelaide is investigating a new way of biological wool harvesting that enables the fleece to remain on the sheep, without the need for nets, until the wool is mechanically removed.
Previous attempts at biological wool harvesting concentrated on temporarily stopping wool growth, which resulted in fleece shedding. In contrast, the new approach is aimed at creating a weakened zone of wool. Previous trials showed that the fleece does not break off the sheep into the paddock under normal grazing conditions for up to ten weeks after the treatment was administered. Wool will continue to grow beneath the weak point, so as to protect the sheep from hypothermia and sunburn after the fleece above the weak point is harvested.
This new project will look at administering the treatment via an injection, rather than via feeding where there is the potential problem of 'shy feeders' not receiving a sufficient dose, and also differences in gut function between sheep.
Compared to traditional shearing, biological wool harvesting will improve wool quality by eliminating skin pieces, second-cuts (thereby resulting in even fibre length) and creating slightly reduced fibre diameter at the tips. Health and safety issues around sharp handpieces would be eliminated and animal handling injuries could be minimised through the use of upright platforms or conveyor belts.
Modular sheep delivery unit to eliminate catch and drag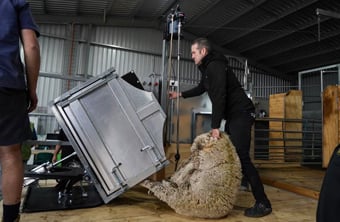 As part of a new AWI project, a mechanical system is under development that delivers the sheep to the shearer, thereby reducing the catch and drag. This minimises the chance of injury to the shearer and the sheep whilst also maximising productivity with significantly reduced handling times.
LEARN MORE
Robotic Assisted Shearing Scoping Study
The project has successfully used robotic technology to mimic the movements of shearing along the body of a life-size 3D printed sheep.
Current and Recent Projects