Sign up to Wool.com and create your own personal wool hub.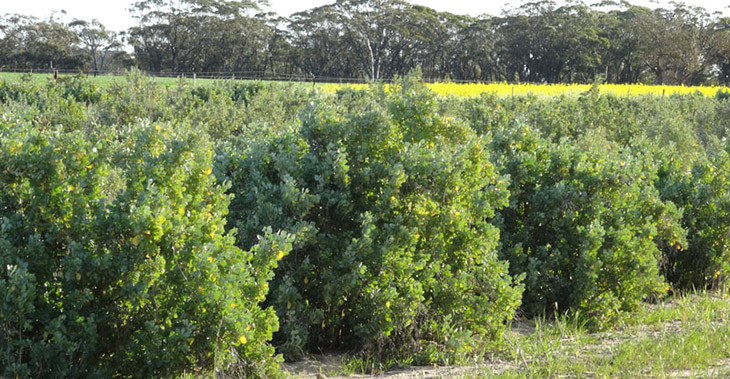 The ongoing development of quality forage shrubs now delivers a variety of options for woolgrowers to fill feed gaps and manage previously unusable or unproductive land on their property.
In a wool production system, ensuring that feed gaps are filled to ensure consistency of fibre strength and quality is essential. Areas that were previously affected by excessive salt or lack of water retention, for example, can now be transformed into stable, productive and regenerated land.
AWI's previous investment in the Enrich project (2005-2014) identified new options for sustainable grazing systems incorporating Australian perennial shrubs. Shrubs can assist with natural resource management because of their ability to grow and survive in difficult environmental conditions. This often results in assisting with improved environmental outcomes and economic stability and growth for producers.
The National Livestock Methane Program has been developed to provide Australian livestock producers with practical strategies and tools to help them increase productivity and profitability and at the same time lower methane emissions. The program's fact sheets include Plant selection to reduce methane emissions in southern grazing systems and Best shrub and inter-row species to reduce methane emissions in livestock grazing systems.
Recent investment by AWI in the development of forage shrubs, such as Anameka saltbush (Atriplex nummularia, developed by AWI and CSIRO), and an ever-increasing variety of fodder and forage shrubs and trees that have become available, means growers can now access a wide variety of species to meet their feed management, soil and landscape challenges.
With so many of these new options available, forage shrubs are a choice for growers to consider. It is important, however, that growers have a clear understanding of their landscape, their flock's nutritional requirements and the capacity for shrubs to meet those needs and continue to monitor the condition of their sheep to ensure their nutritional requirements are being met.
Often, forage shrubs are co-planted with a range of other pastures, such as serradella, to provide increased nutrition for grazing stock.
Additionally, forage shrubs may provide shelter from wind and the elements, crucial for lambing flocks.
Many of these forage shrubs are now available as well-established seedlings which provide the best avenue for establishment success. Depending on your location, planting machinery may also be available for hire to assist with establishment.
AWI is currently investing with MLA and CSIRO in the project "No more gaps with superior shrub systems" to demonstrate to growers the benefits of shrubs in their system. This project will deliver reported options for growers in establishment – including from seed- which will reduce establishment costs, and the many ways that these shrubs can be incorporated in a grazing system with a focus on the inclusion of annual legumes within the shrub planting sites.
Further reading
Looking for more information on establishing Saltbush on your property?
Videos
South West Catchments Council – Enrich Forage Shrubs
Looks at some of the research, development and potential benefits behind the "Enrich" mixed forage shrub and inter-row pasture system. Also introduces Pingelly farmer Garry Page who is being supported by South West Catchments Council to become one of the first farmers to adopt the system.
Agriculture Victoria – Grazing management perennial forage shrubs
This presentation provides farmers with information about options for managing livestock with alternative feed sources. It also looks at using lower productive land in a Mallee cropping system. The aim of the project is to identify more shrubs besides Old Man Saltbush which has been traditionally used.
Landcare Tasmania – How to propagate saltbush cuttings
Landcare Tasmania member Island Seeds takes us through the step by step process of clipping, preparing and propagating salt bush cuttings.
Shrub suppliers
For more supply and botanical information on specific saltbush and forage shrubs to ensure a "right plant, right place" approach, refer to the following suppliers websites for more detail: