Sign up to Wool.com and create your own personal wool hub.
Wool Harvesting Innovation
AWI invests in wool harvesting technology to improve workplace safety, animal welfare, boost clip quality and encourage new entrants into the industry.
Fully or semi-autonomous wool harvesting can access off the shelf robotics equipment and machine learning algorithms and adapt them to the various stages in the process from sheep delivery to a shearing position through to isolating black wool from the fleece and baling wool.
Artificial Intelligence technology can be developed for automation at any point along the wool harvesting process.
Modular sheep delivery unit to eliminate catch and drag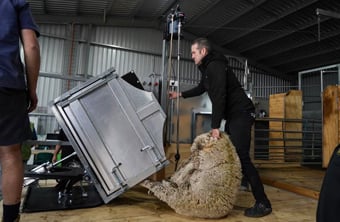 As part of a new AWI project, a mechanical system is under development that delivers the sheep to the shearer, thereby reducing the catch and drag. This minimises the chance of injury to the shearer and the sheep whilst also maximising productivity with significantly reduced handling times.
LEARN MORE
Robotic Assisted Shearing Scoping Study
The project has successfully used robotic technology to mimic the movements of shearing along the body of a life-size 3D printed sheep.
Current and Recent Projects