Sign up to Wool.com and create your own personal wool hub.
Inaugural Graduate Training Program: creating tomorrow's wool leaders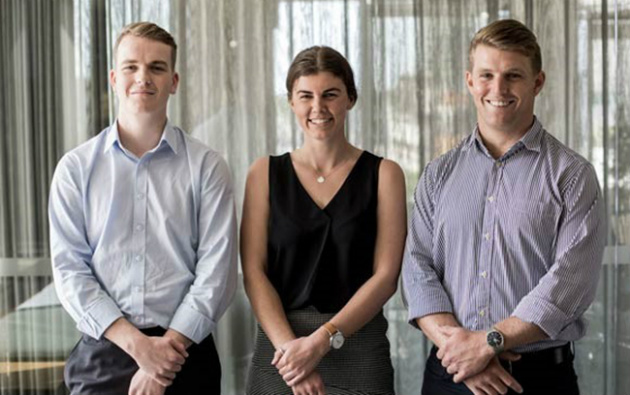 The 2018 AWI Graduate Training Program successful candidates: Blake Chandler, Ellie Bigwood and Ben Madgwick.
The 18-month program starts each year in March and provides the successful applicants with a thorough understanding of the wool supply chain from raw fibre production right through to fashion. The program is designed to assist the ambitions of graduates wishing to pursue a career within the wool industry with each graduate receiving a mentor appropriate to their skill set and interests who will guide their development throughout the program.
Stuart McCullough, the Chief Executive Officer of AWI said, "the program is designed to attract and acquire a diverse range of talented individuals who already have an interest in the Australian wool industry. We hope to support and foster the development of these individuals so that they can pursue a career in their chosen professional fields and become leaders within the wool industry in due time."
The AWI Graduate Training Program is just another way that the research, development and marketing organisation seeks to build capacity within the wool industry.
Although based primarily at the AWI office in Sydney, the graduates are also given the opportunity to gain global exposure to the wool supply chain through two three-month international rotations.
Whilst in Sydney, the graduates gain exposure to the following areas of the business:
Sheep Production
Woolgrower Services
Processing Innovation & Education Extension
Marketing (including Marketing Services, Digital, and Fashion Communications)
AWI is delighted to announce three graduates have been chosen to take part in the inaugural 2018 AWI Graduate Training Program:
Ellie Bigwood
Ellie was born and raised on a Merino sheep farm in the Great Southern region of WA. She has just graduated with a Bachelor of Science, majoring in Animal Science and Biological Sciences at Murdoch University. Ellie was the recipient of a $3,000 scholarship from the Australian Government to study aspects of the agricultural supply chain in China.
Ben Madgwick
Ben grew up on properties throughout the Liverpool plains of NSW and spent his formative years assisting his family in wool production. Ben has graduated from the University of Sydney with a Bachelor of Design Computing and, while studying, has maintained employment related to his studies to develop his skills in the digital/marketing space.
Blake Chandler
Blake is a new graduate from the University of Sydney with a Bachelor of Agriculture Economics. While completing his degree, Blake immersed himself into opportunities in agriculture. Obtaining casual employment with Hassad Australia - an international agribusiness - he spent some time in rural NSW working on Merino farms gaining knowledge about the wool industry.
Each graduate has been assigned a mentor to provide guidance throughout the 18-month program.
Ellie, who will be mentored by Dr Jane Littlejohn, AWI's General Manager of Research, said, "as a daughter of Merino wool producers in Frankland River, WA, I applied for the position with the goal to learn about the wool supply chain beyond the farm. The scale and diversity of research and product innovation that AWI is involved with has truly blown my mind, and I haven't even been here a week."
Ben, whose interest is in the digital marketing space said, "the opportunity to work on projects ranging from augmented reality to exclusion fencing in the same graduate program is extremely exciting. The breadth of the projects that we have been introduced to over the past two days has been astonishing."
Blake added that, "AWI's broad reach in the wool industry supply chain will allow me to pursue my interest in product and process innovation. New techniques and products are constantly being developed and I want to be at the forefront of these innovations."
Join the conversation:
Twitter: @woolinnovation
Instagram: @beyondthebale
Podcast: The Yarn