Monitoring the adoption of best practice strategies to improve the lifetime welfare of sheep is a key activity for AWI's flystrike program. It enables industry to measure the success of education, training and extension programs in delivering on-farm husbandry practice change for flystrike management and to demonstrate its commitment to ensuring lifetime welfare of sheep.
Regularly commissioned independent surveys of woolgrowers indicate strong progress is being made in managing the risk of flystrike in wool sheep. A significant proportion of woolgrowers have removed the need for the traditional mules procedure in some or all of their sheep, and the majority of those that continue to mules their sheep use analgesics and or anaesthetics to alleviate the pain associated with mulesing.
Snapshot of progress:
In 2005, a survey of woolgrowers by the Sheep CRC indicated only 5 per cent of lambs would remain unmulesed.
A 2014 survey, on 2011 practices, (2014 Benchmarking Australian Sheep Parasite Control by UNE) reported 64% of respondents used pain relief when mulesing male lambs and 59% for ewe lambs, whilst a 2014 Sheep CRC Survey found 83% of Merino lambs were mulesed.
In a 2017 AWI Merino Husbandry Practices Survey by Kynetec of 1,200 Merino growers across Australia, the results showed that 73% of growers were mulesing ewe lambs and 70% were mulesing male lambs.
The same survey showed that 83% of Merino lambs mulesed received analgesics and or anaesthetics and 50% of the growers surveyed said they had reduced the size of their mules in the last 10 years.
A recent repeat of the 2017 survey (the 2021 AWI Merino Husbandry Practices Survey) also by Kynetec of 1,203 Merino growers, reported that 52% of Merino producers mulesed their ewe lambs in 2021 and 44% of Merino producers mulesed their male lambs and that the majority of Merino producers who mules use analgesics and or anaesthetics (92%).
INDEPENDENT EXTERNAL REVIEWS
External reviews of AWI flystrike RD&E program are regularly commissioned to ensure that it continues to meet industry and stakeholder expectations and to identify opportunities for future research.
The Australian Veterinary Association (AVA) annually reviews the AWI flystrike RD&E program. Click on the link to view the latest AVA Audit Report (PDF 398kb).
Independent reviews of the genetic component of the AWI breech flystrike RD&E program are undertaken to identify its successes and potential for improvement. Click on the link to view the latest Genetic Review Report (PDF 244Kb).
THE NATIONAL WOOL DECLARATION
The National Wool Declaration (NWD) is a supply chain traceability system for Australian wool. The NWD, managed by the Australian Wool Exchange (AWEX), supports a fully informed market by enabling woolgrowers to declare their flystrike prevention practices to wool buyers, wool exporters, wool exporters, processors and retailers. This includes the mulesing status of the sheep from which the wool was produced, and whether mulesed sheep were treated with analgesics and/or anaesthetics. Find out more about the NWD here.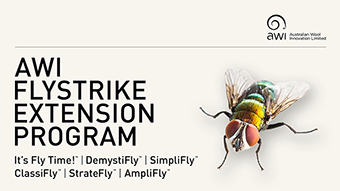 AWI Flystrike Extension Program
AWI's Flystrike Extension Program supports woolgrowers in improving the lifetime welfare of their sheep, reducing their reliance on mulesing and crutching, optimising chemical use and increasing whole farm profitability through the provision of practical information and tools and access to accredited advisor support.
---