Sign up to Wool.com and create your own personal wool hub.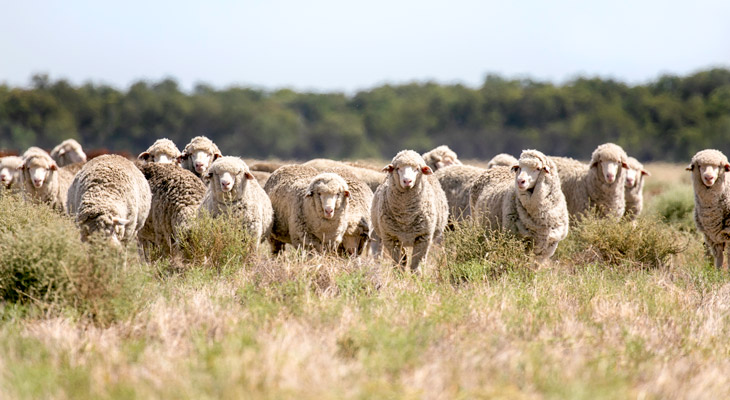 Wean to manage, don't manage to wean! Weaning is one of the most critical times in the sheep reproduction calendar – for both the ewe and the lamb.
Your joining length, feed quality, ewe condition, time of weaning, target weaning weight and average daily weight gain all plays a role in the success of weaning in your flock. Getting pre- and post-weaning right will result in more productive weaners who grow more wool and raise more lambs, and ewes that recover well for their next joining.
In 2015, industry research showed that weaner illthrift was the 4th largest cost to the industry in terms of production losses, but that prevention would cost less than one fifth of that. There are differences in weaner survival across production zones and breed of sheep, but examples of illthrift in weaners have been documented Australia-wide, and there remains many opportunities on-farm to raise more productive weaners.
The benchmark for weaner survival is 95% or better from weaning to 1 year of age. To achieve this, below are some management tips for best practice weaner management:
5 week (35 day) joining period to avoid a tail in weaner mob
Early selection and management of weaner paddocks and supplementary feed
Set target weaning weight and weaner liveweight targets (see Weaner Management Checklist below)
Hygienic lamb marking practices
Full vaccination program (primer at marking, booster at weaning, annual booster, plus high risk times)
Effective imprint feeding prior to weaning (optimally with the feed you'll use later on)
Wean no later than 14 weeks from the start of lambing
Robust, integrated internal parasite management program is essential
Effective external parasite program
Grass seed management and control
Identify a monitor group (at least 50) and weigh regularly
Draft off lightest 25% and manage separately to meet target weights then keep growing
Regular monitoring for general wellbeing, 'in paddock' behaviour and weight gain
Regularly review and monitor weaner feed budget
Early commencement of supplementary feeding to avoid weight loss
Regularly monitor water quality and quantity
Winning With Weaners - Online
AWI Winning With Weaners is a one-day workshop offered by AWI's state grower extension networks right around Australia. AWI has recorded a one-hour version which covers the highlights of the workshop to make available to growers any time of the year.
AWI Change Makers Episode 2: Weaning to manage
Wean to manage, don't manage to wean. Weaning is important for the ewe and the lamb to manage ewe condition and lamb growth rates for a lifetime of productivity.
Join Nathan Scott as he outlines why timely weaning is important, practical management tips and what you can do in #AWIChangeMakers Episode 2: Weaning to manage.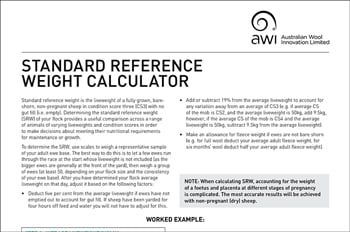 STANDARD REFERENCE WEIGHT CALCULATOR
Determining the standard reference weight (SRW) of your flock provides a useful comparison across a range of animals of varying liveweights and condition scores in order to make decisions about meeting their nutritional requirements for maintenance or growth.
AWI's Standard Reference Weight Calculator allows you to calculate the SRW for your flock, allowing for more accurate feed budgeting and management decisions.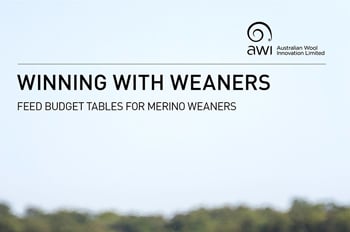 FEED BUDGET TABLES FOR MERINO WEANERS
Feed budgeting is an essential part of managing any sheep operation, but the requirements of weaners are different to adult stock due to their high demand for protein for growth.
Use AWI's Feed Budget Tables for Merino Weaners to first set your Target Weaning Weight and liveweight targets, then understand your weaners' requirements based on the quality and quantity of feed you have available.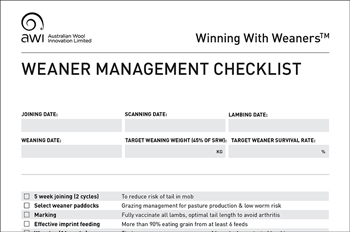 WEANER MANAGEMENT CHECKLIST
AWI's Weaner Management Checklist contains a check list of the key management practices and targets for a thriving weaner mob. The checklist allows you to enter key weights and dates for your operation to customise the information for your flock.