Sign up to Wool.com and create your own personal wool hub.
Wool is good for the skin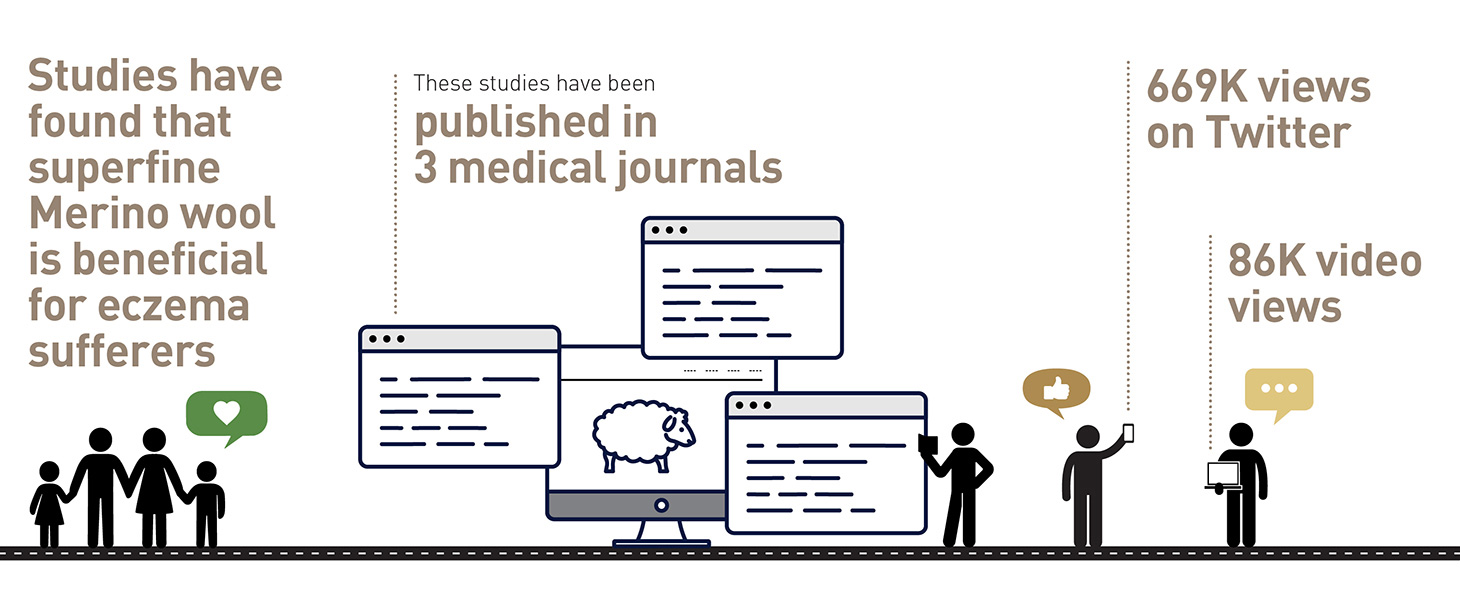 Fast Facts:
Research is under way to promote the health and wellbeing benefits of Australian wool
Studies found that superfine Merino wool is beneficial for eczema sufferers.
Three studies have been published in peer-reviewed medical journals.
The project:
AWI continues to produce and publish a strong body of evidence which demonstrates wearing superfine Merino wool next to skin is beneficial for eczema sufferers. The research has shown that wearing superfine Merino wool significantly improves the severity and symptoms of this chronic skin condition, challenging misconceptions that all wool is prickly and itchy. A fact sheet detailing the evidence can be found here.
We delivered:
Three recent dermatology trials have shown that infant, adolescent and adult eczema sufferers have reported reduced symptoms when wearing superfine Merino wool garments next to the skin. Studies in the US, Asian and European markets will complete the evidence demonstrating benefits for the 23% of babies and children with eczema globally.
AWI engaged communications experts in the healthcare space to develop written and visual content to showcase the results of the published eczema studies. A 2-month campaign targeint healthcare professionals – dermatologists, paediatricians, general practitioners – was developed, using channels most relevant to this audience to increase awareness of the eczema study results.
Watch the video as Dr John Su explains the link between Superfine Merino wool and skin conditions such as eczema.
The result:
Published in the British Journal of Dermatology, the Murdoch Children's Research Institute study, led by Associate Professor John Su, concluded that traditional management guidelines classing all wool-based clothing as irritants should be modified to include superfine Merino wool as a recommended clothing choice in childhood atopic dermatitis.
Published in the Journal of Scientific & Technical Research the Queensland Institute of Dermatology study, led by Dr Lynda Spelman, concluded superfine Merino wool base-layer garments could provide a valuable adjunct therapy in the management of atopic dermatitis.
Published in the medical journal Dermatitis and led by Professor Joe Fowler, a study of child and adult sufferers of eczema by the Division of Dermatology, University of Louisville, Kentucky, confirmed that wearing Merino wool clothing compared to standard clothing provided improvements in severity of atopic dermatitis as well as quality of life in atopic dermatitis patients.
A social campaign on The Woolmark Company's Twitter channel, delivering more than 669,400 views of our content linking superfine Merino wool to eczema.
86,700 views of a video with Dr John Su delivering messaging about the benefits of Superfine Merino wool.
1200 visits to woolmark.com allowing consumers to purchase Superfine Merino wool clothes.
Through this engagement we've started to build a target audience profile to re-target with future promotions related to wool for wellness communication.