Sign up to Wool.com and create your own personal wool hub.
Australian wool apparel on e-commerce giant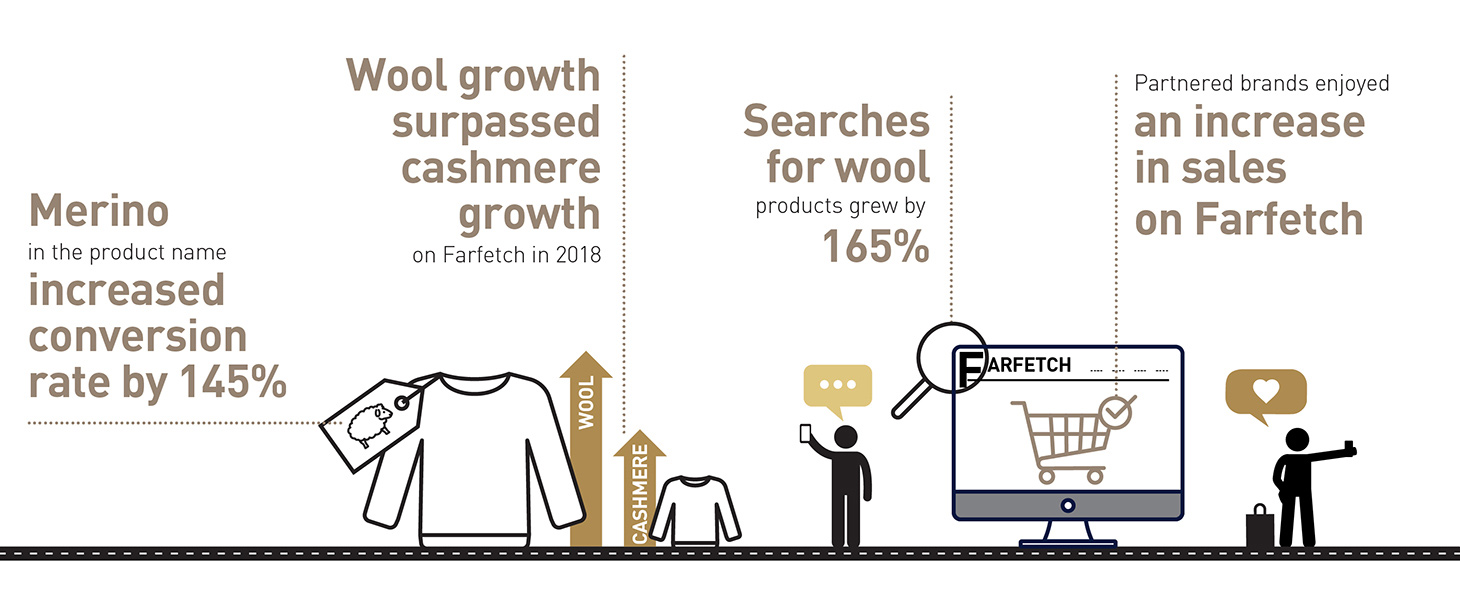 Fast Facts:
Luxury online retail giant Farfetch promoted the season's best wool apparel available.
Searches for wool products grew by 165%.
Wool growth surpassed cashmere growth on Farfetch in 2018
The project:
Luxury online retail platform Farfetch promoted Winter 2018's best wool apparel available - for both men and women - as part of a four-part partnership with The Woolmark Company.
We delivered:
The four-part wool feature on Farfetch merged content with commerce. It enabled its customers to be inspired by creative editorial and videos about new wool products and - importantly - then be guided along a pathway to purchase the garments online.
Farfetch also sent out a Woolmark-dedicated email to its 200,000+ database, promoting all aspects of the partnership. Overall, all brands which were featured enjoyed an increase in brand awareness and sales, proving the right product was being targeted to the right audience.
The result:
Between 2017 and 2018, searches for wool products grew by 165%. 61% of these searches were by consumers in the 18-34 age bracket.
Celebrating the two-season partnership between The Woolmark Company and leading Japanese label FACETASM, the Farfetch promotion resulted in a 34% increase in Farfetch customers searching for FACETASM and an increase of 366% in product sold from this brand.
The winning collections from International Woolmark Prize winners Bodice Studio and Matthew Miller were featured. New to Farfetch, Bodice Studio's content had more than 330,000 impressions, with customers consuming this content for longer than the average time. Already stocked on Farfetch, Matthew Miller's content had more than 1.8 million impressions and enjoyed a 291% increase in on-site search and increase in sales.
The premium Merino wool activewear collection developed by leading Australian sportswear label P.E Nation in partnership with The Woolmark Company featured in a womenswear homepage takeover, push notification to Farfetch mobile app users and social re-targeting on Facebook and Instagram. This was a high performing campaign in terms of high awareness generated, deep engagement and strong return on investment. The content had more than 1.6 million impressions, resulting in a 17% increase in sales during the campaign.