Sign up to Wool.com and create your own personal wool hub.
Mind Body Green partnership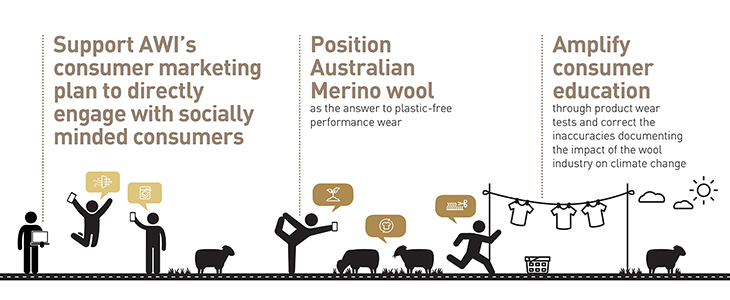 Fast Facts
Support AWI's consumer marketing plan to directly engage with socially minded consumers on key environmental issues relating to wool's eco benefits.
Position Australian Merino wool as the answer to plastic-free performance wear.
Amplify consumer education through product wear tests and correct the inaccuracies documenting the impact of the wool industry on climate change.
The Project
AWI's marketing arm The Woolmark Company partnered with eco lifestyle publication Mind Body Green to celebrate the inherent eco-credentials of Australian Merino wool, in line with Earth Day. The successful partnership allowed us to reach a conscious, informed and valuable audience during key time in the global environmental conversation, drive awareness and education on the impact of synthetic fibres on the environment compared with natural fibres like Merino wool, challenge consumer mindset and behaviours on consumption and purchasing choices and deliver education on the eco-credentials of Merino wool to an informed audience.
What We Delivered
1 x podcast with influencer Lauren Singer discussing microplastics. LISTEN HERE.
5 x Instagram stories
1 x EDM to MBG consumer database digital media buy
3 articles on Plastic-Free Performance Fashion:
The Results:
07M digital impressions
03M social impressions
5K podcast downloads
3K referrals to Woolmark.com