Sign up to Wool.com and create your own personal wool hub.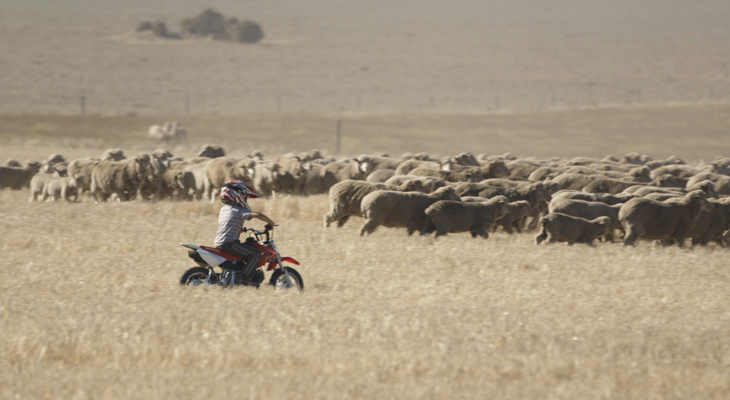 Grazing stubbles is an important component of many mixed farming systems and can be an valuable source of feed for livestock over the summer months to fill feed gaps, provided careful feed budgeting, monitoring and grazing management is in place. In a wool production system, being able to fill feed gaps to prevent breaks in the fibre is essential. Grazing stubbles can also allow pasture paddocks to be spelled during summer.
Whilst stubbles often provide a key feed resource for sheep, grazing stubbles can also provide a benefit to the cropping program by reducing the amount of stubble in preparation for sowing, increasing nutrient availability to crops by speeding up the breakdown process and reducing nitrogen tie-up, and assisting in preventing summer weeds.
It is important for producers to have a clear understanding of their flock's nutritional requirements and stubble quality and quantity is essential to support both livestock and paddock condition.
Assessing stubble feed quality involves evaluating the different components of stubble — residual stems, leaf, chaff and grain. Each component varies in terms of its nutritional value for livestock. Generally, most of the feed value in stubbles comes from the residual grain in the paddock following harvest.
There are various types of stubble grazing, including conventional full paddock grazing, and utilising chaff carts for chaff dumps or chaff lines. Each of these methods will require different assessments to ensure the nutritional needs are met as the stubbles' nutritional value will vary considerably.
The management of livestock grazing stubble is just as important as managing livestock on pastures. Grazing stubble with high stocking rates for short periods of time often results in the best utilisation of feed resources and can help to conserve paddock ground cover and condition. A rotational grazing style of management is preferable to set stocking for longer periods. Set stocking typically results in uneven utilisation of the paddock and overgrazing around water points and camp areas, leading to erosion and soil degradation.
AWI has been involved in substantial research of this valuable feed source over the years, including delivery of the highly regarded Grain and Graze program. Together with MLA, AWI engaged in a research project with CSIRO called 'The Nutritive Value of Modern Crop Stubbles' to deliver up to date information of the nutritive value of modern crop cultivars harvested with modern machinery and better understand the way sheep preferentially select the different components of stubbles when grazing. The project has yielded a stubble grazing guide for producers called 'Grazing modern stubbles: A guide to the nutrition and management of sheep grazing stubbles in mixed farming areas'.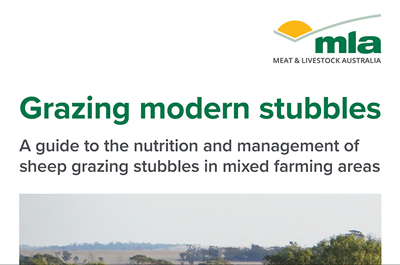 Download Grazing modern stubbles booklet
AWI, MLA and CSIRO's new producer guide 'Grazing modern stubbles: A guide to the nutrition and management of sheep grazing stubbles in mixed farming areas' is full of tips to help you get the most out of your stubbles.
DOWNLOAD PDF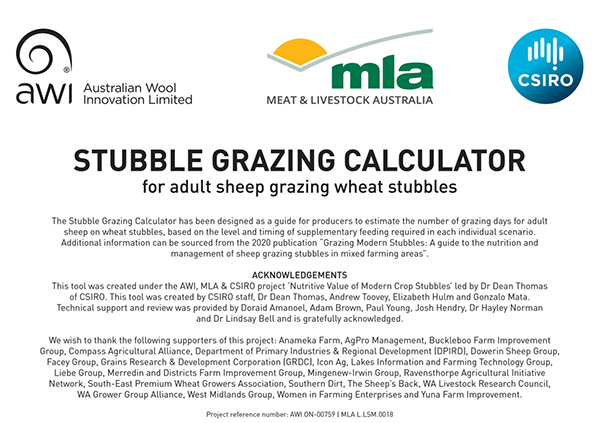 Stubbles Grazing Calculator
The Stubbles Grazing Calculator has been designed as a guide for producers to estimate the number of grazing days for adult sheep on wheat stubbles, based on the level and timing of supplementary feeding required in each individual scenario. An excel version is available for download.
DOWNLOAD EXCEL
Links to further stubble grazing information