Sign up to Wool.com and create your own personal wool hub.
Wool's future looks bright at NMC 2018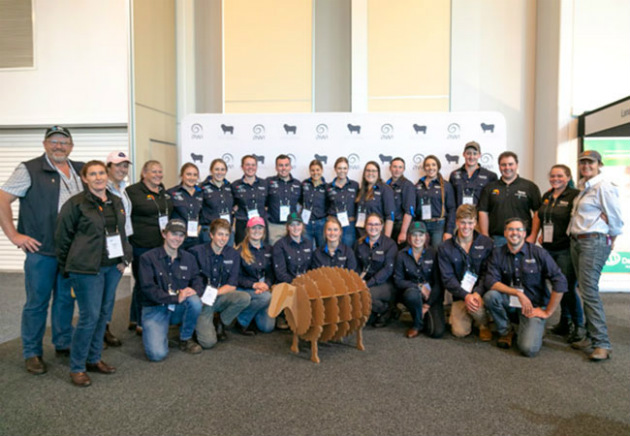 Tasmanian Teams. Click through for more images of the NMC.
Now it its sixth year, the NMC has introduced more than 600 secondary and tertiary students to basic wool industry knowledge and skills while also introducing them to a network of wool industry professionals. This year, more than 120 students took part.
The NMC gives young people an understanding of the career opportunities within the sheep and wool industries and delivers basic skills of appraisal using both traditional and modern methods.
The National Merino Challenge has established itself as a leading education program for students interested in a career in the wool industry. NMC project manager Ben Watts said the NMC continues to grow strongly because it delivered what enthusiastic young people wanted.
"It was great to see the eagerness and energy of the students so keen to learn about wool which is a credit to them and their teachers. The NMC is also fortunate to receive tremendous support from this great industry."
You can hear more from the NMC in the latest edition of The Yarn podcast here.
During the two-day event, students are introduced to and then assessed on their skills across a wide range of areas such as feed budgeting, condition scoring, breeding objectives, wool harvesting together with the commercial assessment and classing of animals and fleeces.
Australian Wool Innovation Sheep Industry Specialist Stuart Hodgson said the NMC is an example of the strong focus on education at AWI which is helping train the next generation of woolgrowers and wool specialists.
"It takes an enormous effort from a large team of people to run the NMC, we have a great NMC organising committee supported by AWI staff to make this a success. It's been a great team effort all round and a big thank you to Ben Watts for this."
AWI would like to thank the following partners of the 2018 NMC without whom the event would not be possible: Royal Agricultural and Horticultural Society of SA, Landmark, Government of South Australia, Australian Wool Network, Rodwells, Bank SA, Merino SA, Australian Association of Stud Merino Breeders, Elders, Australian Wool Education Trust, Techwool Trading, Michell, Fox & Lillie, Career Harvest.
For those keen on NMC 2019 in Sydney, please view www.wool.com/NMC for more information.
| | | |
| --- | --- | --- |
| PARTICIPATING ORGANISATIONS | TOWN | STATE |
| SECONDARY SCHOOL DIVISION | | |
| Cummins Area School | Cummins | SA |
| Cleve Area School | Cleve | SA |
| Molong Central School | Molong | NSW |
| Edmund Rice College | Bindoon | WA |
| WA College of Agriculture - Cunderdin | Cunderdin | WA |
| WA College of Agriculture - Harvey | Harvey | WA |
| WA College of Agriculture - Narrogin | Narrogin | WA |
| St Patrick's College - Launceston | Launceston | Tas |
| Launceston Church Grammar | Launceston | Tas |
| Scotch Oakburn College | Launceston | Tas |
| Burra Community School | Burra | SA |
| Hay War Memorial School | Hay | NSW |
| TERTIARY DIVISION | | |
| Charles Sturt University | Wagga Wagga | NSW |
| La Trobe University | Melbourne | VIC |
| Murdoch University | Perth | WA |
| The University of Adelaide | Adelaide | SA |
| The University of Melbourne | Melbourne | VIC |
| University of New England | Armidale | NSW |
| Australian Adult Learning Centre Online | | |
| TAFE Riverina | Riverina | NSW |
| Tasmanian Institute of Agriculture | Hobart | Tas |
| TasTAFE | Launceston | Tas |
2018 SECONDARY DIVISION AWARDS
Champion
Laura Hall, Cummins Area School
Second Place
Caitlin Watts, Molong Central School
Third Place
Angus Tomney, Cleve Area School
Champion Team
Tasmanian School Team (George Booth, Olivia Lawson, Brittany Hine, George Gray, trainer: George Darby)
Top Performer in Wool Section
Brittany Hine, St Patrick's College
Top Performer in Production Section
Angus Tomney, Cleve Area School
Top Performer in Breeding Section
Mackenley Harradine, Cleve Area School
Winning Trainer
George Darby, Tasmanian Schools Team
2018 TERTIARY DIVISION AWARDS
Champion
Lauren Rowlands, Tasmanian Institute of Agriculture, UTAS
Second Place
Rebecca Owen, Tasmanian Institute of Agriculture, UTAS
Third Place
Madison Carter, Murdoch University
Champion Team
Tasmanian Institute of Agriculture, UTAS (Lauren Rowlands, Rebecca Owen, Annick Wick, Olivia Cripps, trainer: Andrew Bailey)
Top Performer in Wool Section
Kieran Smith, University of New England
Top Performer in Production Section
Rebecca Owen, Tasmanian Institute of Agriculture, UTAS
Top Performer in Breeding Section
Damien Goodman, The University of Melbourne
Winning Trainer
Andrew Bailey, Tasmanian Institute of Agriculture, UTAS