Sign up to Wool.com and create your own personal wool hub.
The Merino Polo competes on price as well as quality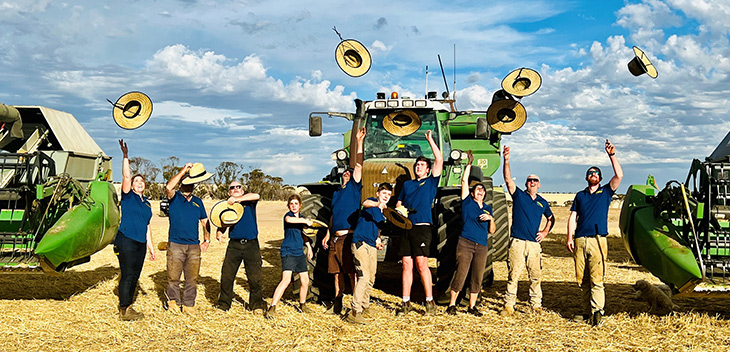 Staff at Karradale Trading at Varley in the WA Wheatbelt celebrating the completion of the 2021 harvest in December, wearing their custom branded Merino polos.
WA wool buyer Steve Noa has used his experience of 30 years in the wool industry to launch a range of Woolmark-certified Merino wool polo shirts, which he is marketing to businesses, clubs and individuals as the natural alternative to synthetic polo shirts, at a price people can afford.
Without a doubt, Steve Noa loves Australian Merino wool – and he has a long-held desire to see the fibre appreciated and worn by as many people as possible. Recognising the trend towards a more casual style of apparel in the workplace, Steve has launched a polo shirt made from Merino wool, known simply as 'TheMerinoPolo', which competes with synthetic alternatives on price as well as, of course, quality.
"The workplace as we know it has changed dramatically," Steve said. "Corporate and business wear has altered direction in a much more relaxed way. Sure, it's not good for the wool suit market but the versatility of wool can see our great fibre adapt and succeed in this new world.
"The polo shirt has now become the smart casual essential for business, sport and pleasure. It is so incredibly versatile, but the market is sadly dominated by the synthetic and cotton textile industries. Their polos fit poorly, leave your body suffocating in warm weather or under physical load and require constant washing while remaining in landfill for who knows how long.
"I aim for my new TheMerinoPolo to revolutionise the workplace. It is a versatile, stylish, comfortable and high-quality polo shirt, made at one of the most advanced wool knitting mills in the world, at a price comparable to those synthetic, suffocating, polluting polo shirts available on mass."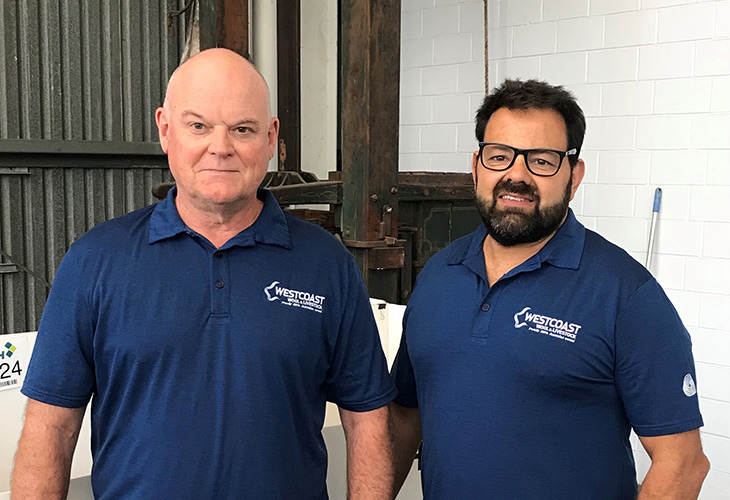 Westcoast Wool & Livestock's Gavin O'Dwyer and Luke Grant wearing their custom branded Merino polos at work.
The wool in the current range of TheMerinoPolo can be traced back to several Australian wool-growing properties. The wool was purchased in both Melbourne and Fremantle at auction by Endeavour Wool, Steve being their buyer in WA. The wool was then shipped to one of China's most progressive and modern wool processors. After scouring and top-making, the wool top was spun at Woolmark licensee and industry leader Xinao Textiles and then knitted into garments at Diyang Merino Textile Ltd, also a Woolmark licensee, which specialises in the production of circular knitted Merino wool fabrics.
The polo shirts in the current range weigh less than 150 grams which Steve says makes the garments "feel lightweight and like silk against the skin". They are made using 18.5-micron Merino wool and spun with 13% nylon to enhance durability. These machine washable, short-sleeved and collared polo shirts are available in five colours and several sizes for men and women.
"The qualities of wool have been well told," said Steve, "but there is one particular benefit where The Merino Polo excels: body odour management. We all know or have experienced how poorly synthetics and even cotton handle warm conditions and or moderate activity. TheMerinoPolo will protect you and your colleagues from those 'unpleasant' afternoons, without the requirement to wash after only one or two wears."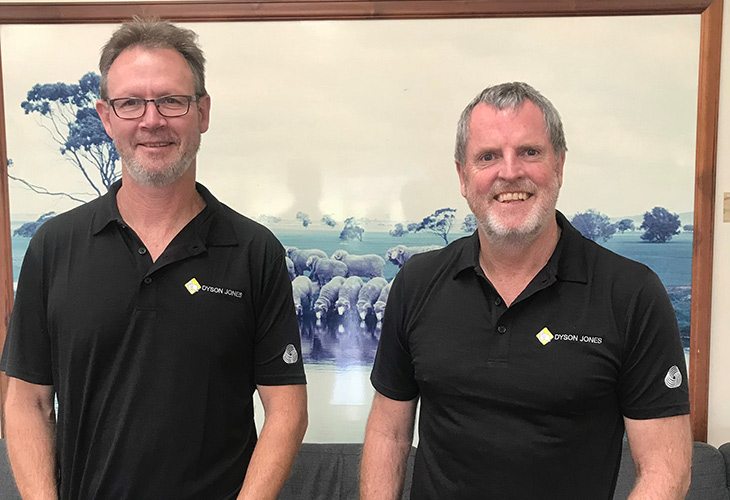 Peter Howie and John Stothard of Dyson Jones wearing their custom branded Merino polos.
Steve also aims to soon introduce a slightly heavier weight polo shirt, with 100% 18.5-micron Merino wool, that can be worn in cooler weather.
As well as being available for individual purchase, Steve sells TheMerinoPolo at bulk discount rates to corporates, clubs and businesses, complete with their own logo. Wool brokers Dyson Jones and Westcoast Wool & Livestock are already kitted out in polo shirts, along with other companies such large WA accounting firm Byfields, and farming business Karradale Trading. The polos can also be custom designed in different styles and colours to suit all requirements.
"Think of the great PR for your company in both 'wearing natural' and supporting Australian woolgrowers," Steve said.
"Importantly, TheMerinoPolo is available at a price that individuals and businesses can readily afford. While I applaud the many Australian businesses that have turned their efforts to taking wool from farm to fashion, I consider it important to introduce wool to mass markets that replace uniforms consistently and regularly.
"My aim is to get as many Australian businesses as possible wearing wool, thereby creating significant demand for the fibre each year and building a tangible supply chain for woolgrowers."
More information: www.themerinopolo.com.au
This article appeared in the March 2022 edition of AWI's Beyond the Bale magazine. Reproduction of the article is encouraged.