Sign up to Wool.com and create your own personal wool hub.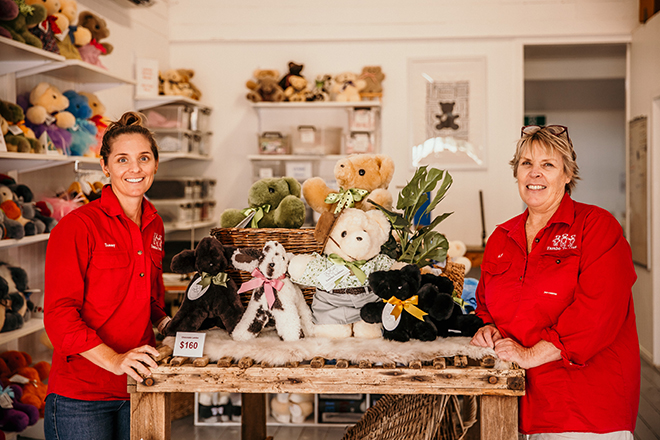 Made in Australia from Australian wool
Tambo Teddies is run by Tammy Johnson and Alison Shaw, pictured here in their shop on the main street of Tambo, Queensland.
Tambo Teddies are Woolmark-certified 100% wool sheepskin teddies hand-crafted in the Queensland outback town of Tambo. More than 68,000 Tambo Teddies have been sold since the first one was made thirty years ago back in 1993.
The inspiration for Tambo Teddies began in 1992: wool prices had crashed, the district was in the grip of a drought and the community of Tambo was challenged to come up with new industry to sustain the economy of the little town.
To help the ailing wool industry and local farmers plus attract tourists to Tambo, a brain-storming session during a government workshop spawned the idea of creating teddy bears from Australian sheepskin and stuffing them with Australian wool.
The original outback start-up
Helen Sargood, Charm Ryrie and Mary Sutherland were the pioneers who got together and decided to form a teddy bear company. After nearly a year of extensive planning, designing, trial and error, the first bears were ready for market in early 1993.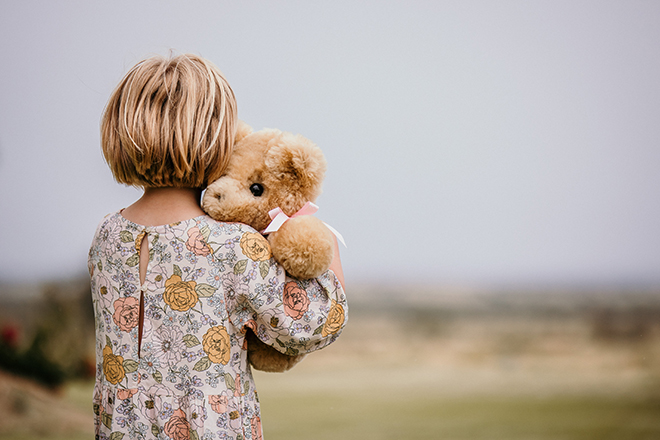 Long before the days of the internet and googling were commonplace, these three local entrepreneurs gave the Yellow Pages and the phone a workout sourcing supplies and raw materials.
Promotion was similarly challenging; Helen's main role in the business was the marketing of the bears and she travelled many miles carting bears to shows and exhibitions, remarking, "I wore out at least one car promoting those bears around the countryside".
Tambo Teddies celebrates 30 years of success
Working to establish a business from what was considered a quirky idea, their efforts paid off and Tambo Teddies has put Tambo on the map. Today in 2023, there have been more than 68,000 bears crafted with sheepskins. Tambo Teddies take pride of place in homes across the world, even including royal palaces in England and Denmark.
Tammy Johnson and Alison Shaw have been at the helm since 2014 and have implemented new products, ideas and methods including expansion online and into Toowoomba with a Regional Sewing Hub. They say the impact and enthusiasm of the public over the years has been overwhelming, with the business now employing 16 workers and keeping true to its Australian made origins.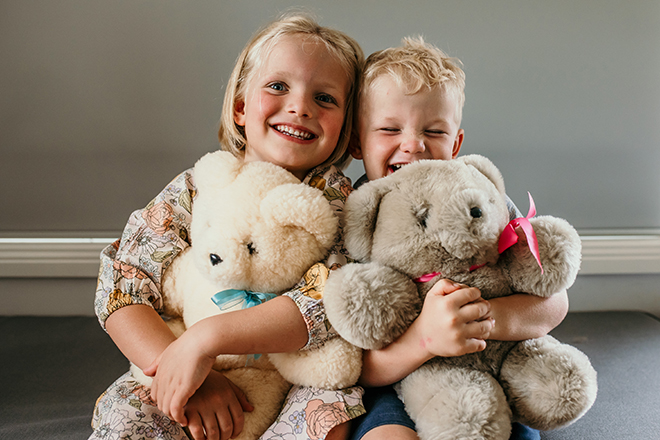 "We believe we have a great core product that customers adore; we continue to build upon this and are working to take our bears further across Australia and overseas, and at the same time helping to promote Tambo and Outback Queensland," Tammy said.
To commemorate its significant 30-year milestone, a limited-edition bear was released in February, the Banjo bear. Among other new releases early this year are a line of Branded Bears, and the largest Tambo Ted, a shaggy Goliath, crafted from long, fluffy sheepskins and the size of a small child.
More information: To purchase online, head to www.tamboteddies.com.au
Since the first Tambo Teddies were made in 1993, more than 68,000 teddy bears have been sold.