Sign up to Wool.com and create your own personal wool hub.
Sportscraft's winter campaign celebrates 54 years with Woolmark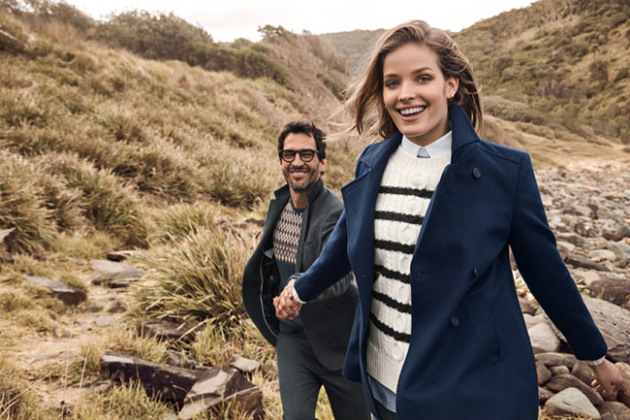 Sportscraft's wool rich winter campaign
With its winter collection, the iconic Australian fashion brand is highlighting the process and quality of Australian wool as well as Sportscraft's 54-year relationship with the Woolmark brand.
The winter campaign plays to the raw, textural qualities of wool and its connection to the Australian landscape, exploring the idea that wool is woven into the fabric of the land. It illustrates the life-cycle of wool, with the tagline 'sourced from nature, crafted by us'.
"As a brand that's always focused on providing quality for our customers, and having a longstanding and proud relationship to our Australian heritage and Woolmark, it's the obvious choice of yarn for Sportscraft", said Elisha Hopkinson the General Manager of Product at Sportscraft.
The campaign speaks to the craftmanship and quality of the product with a beautiful video illustrating the journey of wool - from humble beginnings to premium apparel, that will be distributed across Sportscraft's online and social channels. The video cinematically represents the design process behind the creation of the Woolmark product for the season.
Woven into the fabric of our land. 54 years with Woolmark.
A mixture of menswear and womenswear pieces make up this year's winter collection, with more than 150,000 items of wool and wool-rich clothing hitting Sportscraft's 246 stores and concessions across Australia and New Zealand. Key Woolmark items include a selection of womenswear jumpers in classic V-neck, turtleneck and cable knit styles, long-sleeve tops, three coats and a waterfall cardigan. Menswear includes a variety of jumpers, long-sleeve tops, vests, a cardigan and a knitted zip-up hoodie.
In further support of this campaign and leading up to Wool Week, Sportscraft has also exclusively collaborated with Jaqueline Fink – a renowned, Sydney-based fibre artist who works predominantly with high grade and naturally coloured Merino wools from Australia and New Zealand.
In a unique collaborative activation spanning across a four-day period, Fink will demonstrate her awe-inspiring knack for 'extreme knitting' by crafting a personalised, in-store wool window live in the Sportscraft Westfield Sydney store. From Tuesday, 15th May – Friday, 18th May Jacqueline will be in the window at 9.30am each day (for around 6 hours per day) creating her installation. The process will be filmed in time-lapse with the install remaining in the window for two weeks to align with Wool Week running from 24th May – 3rd June.
www.sportscraft.com
@sportscraft
#sportscraft
About Sportscraft
Founded in 1914, Sportscraft is one of Australia's most trusted fashion and lifestyle brands renowned for outstanding quality and consistent fit. Today, Sportscraft provides inspiration with its range of clothing and accessories that epitomise authentic Australian style, while maintaining the quality and craftsmanship that Sportscraft has built its reputation on.
Delivering quality apparel to an ever-expanding market base for over 100 years, Sportscraft has built a strong and loyal customer base across Australia and New Zealand. With over 200 locations including freestanding and concession stores and online, Sportscraft is owned by APG & Co.