Sign up to Wool.com and create your own personal wool hub.
RAMping Up Repro workshop enables woolgrowers to best manage their rams pre-joining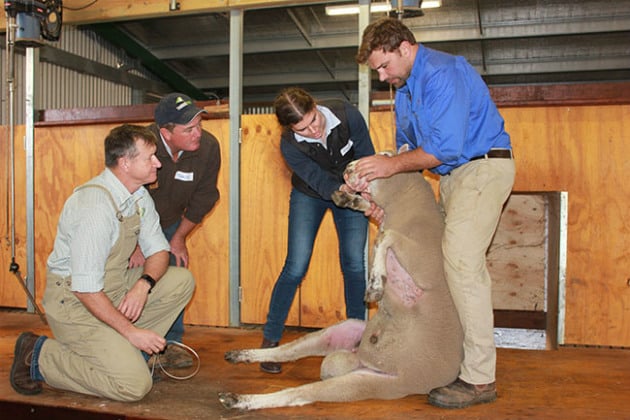 Matt Playford, Hamish Drury, Ellie Bigwood and Jock Munro at the recent Gulgong RAMping Up Repro workshop.
To help woolgrowers get the most from their rams, Australian Wool Innovation (AWI), in partnership with Zoetis, has developed a new, hands-on workshop called RAMping Up Repro. The half-day workshops are being rolled out across the country via AWI's state networks, using leading local deliverers. 
AWI Manager, Woolgrower Education & Capacity Building, Emily King, said the RAMping Up Repro workshop is designed to give producers the skills across the key components of what drives ram performance, to help improve the profitability of woolgrowers' enterprises.
"RAMping Up Repro covers the importance of ram health and pre-joining management, giving growers an understanding of the effect of how best practice ram management impacts on reproductive performance," she said. "This workshop provides a hands-on guide to making ram examination practical and achievable and helps woolgrowers manage their ram teams with confidence to make the most of their investment."
Sheep Connect NSW coordinator Megan Rogers says RAMping up Repro is a very practical workshop to assist with best practice ram preparation on commercial properties.
"As we all know, rams have an important function, and they require careful management and preparation that starts a few months out from the start of joining. The workshop focuses on timing of preparation of rams, as well as the practical aspects of preparing rams for joining," she said.
"Topics covered include nutrition and condition, animal health and management, checking the 4Ts (teeth, toes, tackle and testicles), managing shearing, assessing for structural soundness, and all things in between.
"The beauty of this workshop is that all participants are able to participate in the practical sessions, meaning that they are more confident in using this management on their own properties with their own sheep. We know that hands-on learning is very valuable in this context, and these events are an excellent example of using a practical setting to improve the skills and confidence of the attendees."
The RAMping Up Repro workshops complement AWI's popular Lifetime Ewe Management course which helps woolgrowers manage the nutrition of their breeding ewes and maximise reproduction efficiency.
For more information on upcoming RAMping Up Repro workshops in your area, contact your AWI state network coordinator or visit the website: