Sign up to Wool.com and create your own personal wool hub.
New short film explores wool's environmental credentials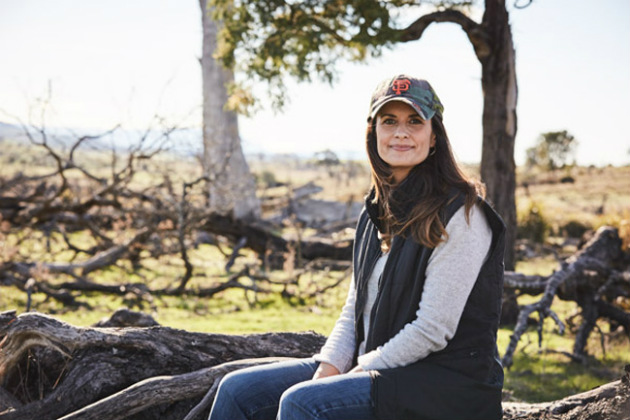 Livia Firth in Tasmania.
Over the past decade, Livia Firth has become well known for championing sustainable production and for telling the ecological and human stories behind the clothes we wear. She has followed the fashion supply chain across continents, taking in factories and fibres, driven by the quest to find production that allows the planet to set the limits. In Australia, she found woolgrowers passionate about the health of the properties they manage.
"All too often we're witnessing production travelling in the wrong direction. Increased volumes and the use of vast quantities of petroleum based, synthetic fibres suggest this model is consequence free. It isn't," she said. "But in Tasmania I found growers producing fine wool for the global apparel industry with a deep understanding of the need to work within the earth's biological capacity. They were clear that their role was not just as fibre producers, but equally as custodians of this incredible landscape."
Available in four languages, featured at premier events and on global news platforms such as Vogue USA, and highlighted on panel discussions in New York, London and Milan, Fashion-Scapes: Forever Tasmania explores woolgrowers' role in a landscape famed for both its biological and aesthetic importance.
Invited to Australian by Australian Wool Innovation (AWI), Livia Firth experienced the landscape, the way of life and farming first hand as she met a range of woolgrowers. Some were trapped in a boom-bust-cycle of increasing flock patterns and trying to produce through drought and floods before they made a decisive shift. Now they have embarked on an ambitious conservation arc, pledging to help restore the landscape and preserve both the environment and the fibre for future generations.
Watch Fashion-Scapes: Forever Tasmania on YouTube
As well as drawing on the emotional connection to landscape by woolgrowers, the film tackles the issue of the growing use of synthetic fibres in fashion and the impact of that choice. Washing clothes made from synthetic fibres, causes tiny plastic fibres to shed, travel through wastewater treatment plants into public waterways. It is projected that by 2050 an enormous 22 million tonnes of microfibres will end up as marine pollution.
"We live in an age where 100 billion new garments are produced each year from virgin fibre, increasingly synthetics. These don't degrade and are essentially without value. Now we know they become ocean pollution," said director Andrew Morgan who travelled the world of fashion supply chains for the 2014 hit documentary The True Cost.
"If we don't want this future we must make smart, value-led choices. Purchasing garments from the type of fine wool produced by the growers I met in Tasmania who are direct custodians helps us to become custodians too."
The properties are all preserving and keeping the farming operations sustainable, where their commitment to the environment, their animals, and the production of wool from sheep is displayed.
On her journey, Firth visits three wool-growing properties in Tasmania. Simon Foster's property 'Bloomfield' is shown and the film features interviews with Matt and Vanessa Dunbabin of 'Bangor', Roderick O'Connor of 'Connorville', Sebastian Burgess, Greening Australia and one the world's leading experts on the ecology impact of wool Dr. Beverley Henry.
Livia Firth, Presenter
Livia Firth is the Founder and Creative Director of Eco-Age Ltd.
Known for her pivotal role as executive producer of 2015 documentary The True Cost, Livia Firth is also an Oxfam Global Ambassador, she has travelled to Ethiopia, Kenya, Bangladesh and Zambia, connecting with the people at the beginning of the supply chain.
Through her work with Oxfam she has shone light on the major issues within the fashion industry and importance of ethical fashion.
She is also a founding member of Annie Lennox's 'The Circle', a powerful women's advocacy group, working to overcome poverty and empower women around the world.
Livia is a UN Leader of Change and has also been recognized with the UN Fashion 4 Development Award.
In 2014, Livia was awarded the Rainforest Alliance Award for Outstanding Achievement in Sustainability and the Honorary Award of the National German Sustainability Foundation.